I've decorated cakes for over 25 years and there are a few designs that even a beginner can learn and save money on cake decorating for special occasions. Make a batch of icing and experiment on an inverted cake pan or cardboard box until you've achieved the results you like.
Icing is made from 1 bag powdered sugar, 1 cup Crisco (DO NOT SUBSTITUTE) mixed with SMALL AMOUNTS of water until you get the consistency you desire and 1 tsp clear butter, vanilla or almond flavoring.
1. The easiest method is a plain iced cake. Using a long thin cake spatula, dipping it in HOT water while spreading to make smooth. After it has begun to dry using a textured paper towel, rub the design onto the icing for a nice texture.
2. Basketweave: This makes a beautiful cake. it looks difficult but is pretty easy. Using a Wilton Basketweave tip, do your top plain and on the sides draw straight lines with the textured side of your tip all around the side of your cake leaving less tha 1/2 inch between lines. When you've done this, starting at the top, (using the same textured side of tip) pipe icing across the line- leave next line blank -repeat this all the way around.
On next row, begin on BLANK LINE and pipe OVER the blank line and leave the space UNDER the one you've piped plain. You have to THINK --OVER-UNDER-OVER-UNDER-- until you get the hang of basket weave. Repeat this process to cover sides. Practice until you feel comfortable with this method,on the top of a styrofoam plate.
3. Another is put icing on the sides sides and then using a writing tip and a ruler for marking, mark slanted lines all around sides. Then again mark lines slanted in the opposite direction so that it resembles a trellis or diamond shaped effect. Then using the WRITING tip draw down the lines-one direction at a time. This also a pretty effect on a cake.
If you don't care to spend that much time on decorating buy a cake spatula with TEXTURE on one side, ice the cake and then scrape across the cake and around the base for a textured effect. Keep practicing with the icing until you feel you can do these designs. Scrape off the icing and reuse to practice.
Cake decorating is lots of fun and can eventually earn you money. I never took classes, I just taught myself.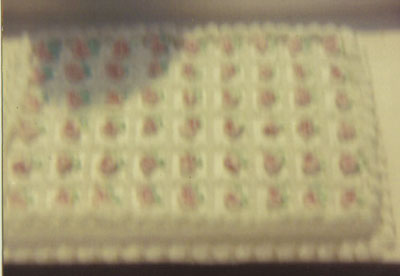 By Sharon,Ky