Do you like to knit or crochet? Yarn can be quite expensive and you can't always hit the sales.
Did you know you can find bags of yarn at some thrift stores? I often find big bags of yarn for very little money. I also find unused, unopened craft supplies like embroidery sets, etc.
Collect yarn this way and make pretty holiday gifts over the summer.
Happy thrifting.
By Gooby from Straughn, IN
Add your voice! Click below to comment. ThriftyFun is powered by your wisdom!
April 1, 2010
0

found this helpful
I do the same thing! :)
Add your voice! Click below to comment. ThriftyFun is powered by your wisdom!
March 29, 2010
0

found this helpful
A thrifty tip for knitters - look in thrift shops for balls of yarn. I have saved lots of money on my last few projects that way - and it's given me a variety of yarn I could experiment with. (And don't forget yarn goes on sale like everything else, I just saved more than $6 on my next few projects.)
By Pamphyila from LA, CA
Answers:
Get Yarn From Thrift Stores
I also buy yarn from thrift stores if I can find any. The last few times I've gone thrift store shopping, there wasn't any. (05/20/2009)

By MCW
Get Yarn From Thrift Stores
Along the same lines of the poster who said she buys afghans and unravels them, I saw a posting somewhere where the lady bought knitted sweaters that were in really good shape. She would unravel the sweaters to reuse the yarn. She ended up with LOADS of yarn at REALLY good prices.

God Bless, Sheila in Decatur, IL (05/21/2009)

By GrammySheila
Get Yarn From Thrift Stores
Better than thrift stores are garage sales. You can find good bargains if you hit the right ones. My sister got 57 skeins for $5.00 a couple of weeks ago. Now that is a bargain. (07/30/2009)

By tp12aug
Get Yarn From Thrift Stores
I get fabrics from thrift stores also. Make baby quilts. I also buy yarn for projects with my grands. Yard sales is a good place to find bargains. Blessings, Diane (07/31/2009)

By Rascalsmama
May 20, 2009
0

found this helpful
With the economy the way it is now, it is going to be a "homemade" Christmas for sure. I have visited several thrift stores around my area and bought beautiful yarn for crocheting warm scarves for family members this year. I have been able to make nice warm Chenille scarves for the older people on my list, fun and fancy fur ones for the teens and I am very pleased with how they have all turned out. Average cost per scarf is less than $1.00.

By Julie from Liberty, NC
Answers:
Get Yarn From Thrift Stores
Great idea. Thanks! (11/11/2008)

By momkaren
Get Yarn From Thrift Stores
I've been doing this for years, the only problem I've had lately (in the past 3 or 4 years) is that the people who price the yarn know NOTHING about yarn and are pricing the yarn at 2 to 3 times what I could buy it for NEW! And this is for a half used skein! I'm not talking about only ONE thrift store, I'm talking about many, many different thrift stores, with knitting on the rise, they seem to think this stuff is made of gold! What I usually do is tell the manager about this (in a nice way) and they will then thank me and (hopefully) educate the person who prices, but otherwise, I may as well buy it new at Walmart!
(11/11/2008)
By Cyinda
Get Yarn From Thrift Stores
I buy a lot at a nice place in Salem, OR called Helping Paws. They are a combination thrift and cat adoption place. I too find that some things like ribbons, are .99 and you can get them right down the strip mall four doors away for 3/.99.

So, I have developed a good rapport with the manager, and when something is too much, I tell her. She knows nothing about that kind of thing, and she really appreciates it. A lot of times, I see Dollar Tree knickknacks for 1.99 and tell them, plus like you said, yarn and other things like glitter, crochet hooks, etc.

I often find unroll, unsleeved skiens of yarn for about half the price, which means it's new but not used. Big difference! I also purchase afghans that are in good condition, and unravel the yarn. I recently paid 6.99 for a humongous' afghan, and spent about 8 hours unraveling it. At the final count, I had 27 softball size balls of yarn, at an average cost of 2.49 each. You do the math!!

Keep in mind when shopping at thrift shops. You can find new things that are not used. I find crewel and needle point kits, afghan kits, candles in tins that are unburned, unopened packages of potpourri, baskets that if they aren't new, no one can tell the difference, and the list goes on. Just last week, I found this wonderful little tea set for just 1.95 and it's never been opened. Since my friends in Stanwood, WA love tea, there you are!
A lot of people don't realize, but close outs and stores donate things to charity as a write off and it's great for us "thrifty people"! (11/12/2008)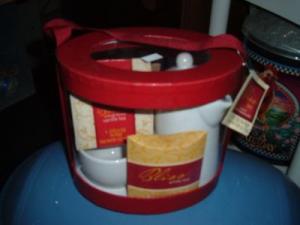 Get Yarn From Thrift Stores
If we all used this idea about recycling, we could blanket the world in scarfs etc. Think about back in the depression era when everyone was scraping for items. Unfortunately we have become an excess society. Kudos for sites like this that help us recycle things. (01/04/2009)

By Nicole