I don't know how they got this name; these cookies are tender and delicious, not at all like rocks. My mother made them every Christmas, and they were a real favorite. For some reason, they taste very buttery, even though they have no butter in them.
Ingredients:
4 cups flour
2 tsp baking powder
1 tsp salt
1 1/3 cup shortening
2 cups sugar
2 eggs
2 tsp vanilla
1/4 cup cream
1 cup chopped nuts
2 cups chopped dates
Directions:
Mix the flour, baking powder, and salt. In a separate bowl, beat the sugar into the shortening thoroughly, until light and fluffy. Add the eggs 1 at a time, beating well after each. Mix the vanilla and the cream. Add the cream mixture and the flour mixture to the shortening alternately. When well mixed, add the dates and nuts, and mix in with a spoon.
Put on a greased baking sheet about 2 inches apart, they will spread, though not a lot. Bake at 350 degrees F for about 10 minutes.
By Free2B from North Royalton, OH
These delicious chocolate and marshmallow treats are quick to put together.
Ingredients:
1 melted bag of chocolate chips
1 half bag of mini colored marshmallows
1 small bag of walnut pieces
powdered sugar
Directions:
Mix together melted chocolate, marshmallows and walnuts. Take a piece of wax paper and sprinkle it liberally with powdered sugar put one third of mixture on top of sugar and shape into a roll fold the wax paper around the roll making sure powdered sugar is in between mixture and paper all over. Do the same to other two and put into the refrigerator. When chilled cut into about half inch rounds.
Just wondering if anyone has any good quick and easy christmas cookie recipes? Let me know!

Lynn from Erie, PA
Answers
November 14, 2005
0

found this helpful
Best Answer
Truffles. Make them big from chocolate chips and sweetened condensed milk.
You can flatten them or roll into balls. You can decorate them with some splattering of red and green icing. You can do tons of things with truffles!
By Phyllis Powell (Guest Post)
November 14, 2005
1

found this helpful
Best Answer
It doesn't get any easier then this!!!
Easy Peanut Butter Cookies
1 cup peanut butter
1 cup sugar
1 egg
Preheat oven to 375 degrees
Mix all ingredients in bowl with hands. Roll into 1" balls. Place cookie dough balls on ungreased cookie sheet and press with fork to make criss-cross design on top of cookie. Bake 10-12 minutes & remove from oven. Let cool for a few minutes. Remove from baking sheet with spatula and ENJOY! Makes about 2 dozen cookies.
By michele (Guest Post)
November 18, 2005
0

found this helpful
Best Answer
These are so easy. Just take pretzels in the shapes of bows, place a Hershey kiss on top, place in the oven for a few minutes until the chocolate just starts to melt, take out and put a green or red M&M on top.
By Karen in NH (Guest Post)
November 19, 2005
0

found this helpful
Best Answer
We call these cookies Christmas Buttons. You take sugar cookie dough (homemade, a pouch mix or already made in the grocery dairy case) and roll the dough into 1" balls. Roll a dozen in red decorating sugar and bake according to package or recipe directions.
Then roll a dozen in green decorating sugar and bake according to directions. Keep going until all the dough is used up. The cookies flatten while baking. They're easy to make and festive to look at on a plate.
By abby-grace (Guest Post)
November 22, 2005
0

found this helpful
Best Answer
Hi, I love attending Christmas Cookie exchanges but my friends and I always get disappointed when so many have put time and effort to make something pretty and then one or two people end up contributing some cookies that look like they took 5 minutes to make. So here is an easy recipe, that makes tons and tons of cookies and are absolutely beautiful as well as tasty!
1 cup butter flavored shortening
2 cups sugar
2 eggs
1 cup oil
1/2 tsp. salt
1 tsp. vanilla
5 cups all-purpose flour
2 tsp baking soda
2 tsp cream of tartar
sugar for coating
small red and green gumdrops (bell shaped)
Cream together shortening, sugar, eggs, oil, salt and vanilla. Sift all dry ingredients and add to creamed mixture. Roll into small one-inch balls and roll in sugar. Press one gumdrop in center of each cookie. Bake at 350 degrees for 10 minutes. Should make close to 100 cookies.
By Ally (Guest Post)
December 10, 2008
0

found this helpful
Best Answer
Peanut Butter Ritz:
Place a bag of milk chocolate in microwave, add a little bit of olive oil to make the chocolate look shiny, and melt chocolate.
Take two Ritz Crackers and lightly cover them with a peanut butter of your choice on one side.
Put the two peanut butter sides together and once they are stuck together dip and cover entire cookie with chocolate.
After the Ritz peanut butter crackers are covered in chocolate, sprinkle cookies with Christmas colored sprinkles, place cookies on wax paper, and let cool.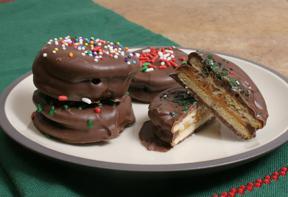 Answer

this Question

...
Here it is almost Christmas, and you don't have those dreaded cut-out cookies done yet? Easy. Go to The Dollar Store, and buy some packages of plain sugar cookies. Shake off the sugar and frost them. Now you have instant cut-outs and who is to know the difference?
By Joanne from Fond du Lac, WI
Comments
Read More Comments