This page contains tips, advice and information for organizing tools.
Browse
Recent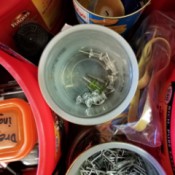 Coffee Tubs As Tool StorageThere were some pretty drawers in the kitchen where I kept some tools there and some in another place and still some in some other place. Well, it was getting a bit silly. So today, I sat a coffee tub inside the drawer and it fit, then I figured out another 3 fit.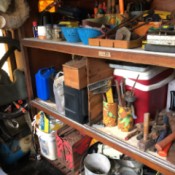 Organizing Your ToolsWe have a room that my boyfriend stores all his tools in. It is always a mess and you can't find anything when you need it. The screwdrivers are mixed in with the other hand tools and the woodworking tools are mixed in with the other tools. If you need any tools for the garden, they are mixed in with the power tools and you can't find what you need. You end up spending hours moving tools around to find the one you need.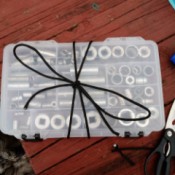 Tool OrganizerI wanted to help organize some loose tools, that were all mixed together, in an old bucket. I had seen my husband looking everywhere for the right tool. I decided to use an organizer, that I had previously stored colored rubber bands in. I put the various sizes together so they would be easier to identify.