EllenB
Gold Post Medal for All Time! 858 Posts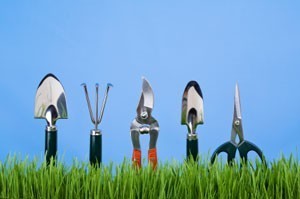 Gardening tasks are a lot easier to accomplish when you are using the right tool for the job. However, with so many tools and gadgets on the market, it can be confusing to know which ones are really worth your hard earned cash. Here are 10 tools every gardener with a garden shed should have.
A Long-Handled Shovel
To move dirt, lift plants, and dig holes for anything larger than seedlings, you need a good long-handled shovel. The best shovels have concave, round-pointed blades, with ample flat edges on either side of the top of the blade to rest your foot for on for leverage, and a D-shaped hand grip.
A Spade
Spades are similar to long-handled garden shovels, except their blades are squared off and flat. Spades are designed for cutting rather than lifting. They are excellent if you want to make clean edges around borders and beds, cut deep roots, or create straight-sided trenches. A good spade will have similar design features to a long-handled shovel-ample resting room for your feet on each side of the top of the blade, a comfortable handle, and a strong blade.
A Hoe
If you want to make quick work of shallow-rooted weeds, create a furrow for planting, or break up some compacted soil, a hoe is the right tool for the job. Hoes comes in several different style variations, each designed to excel at specific tasks. The most common types of hoes are the draw or garden hoe, (a large, rectangular flat blade) and the pointed hoe (a smaller, heart-shaped blade). Look for blades that are riveted onto their handles.
A Trowel
Can a gardener have too many trowels? Trowels are hand shovels. Useful tools for those "down on your hands and knees" digging and planting tasks that require a greater degree of precision than a shovel or spade. They come in handy for planting bulbs, transplanting seedlings, turning over soil, and weeding small areas between plants. Trowel blades come in several widths. Narrow blades work well for digging in hard-packed soil, while wide blades have the capacity to move more dirt quickly. A good trowel will have a solid steel blade and a handle with a comfortable grip.
A Leaf Rake
Leaf rakes are handy for raking leaves and for general cleaning-up of garden debris. Some are available with adjustable metal tines, which make clean up a breeze in-between plants and in narrow spaces. Look for an ergonomic handle and comfortable grip to reduce the stress on your back and hands.
A Garden Fork
These four-tined forks have shorter handles than pitchforks, and thick, rectangular-shaped tines. Garden forks are designed specifically for turning over and aerating garden soil. They work well in heavy, unbroken, or rocky soil, and can take the place of a garden spade. Look for heads made from a solid piece of forged steel.
Pruning Shears
Pruning shears are useful for deadheading and shaping plants. They are generally designed to cut stems and branches from 1/2 inch to 3/4 inch thick (larger branches require a lopping shears). When selecting a pruning shears, make sure the size and grip are comfortable by testing them in your hands. They should not be too hard to squeeze or too large or small to handle comfortably. Look for replaceable parts and sharp, heat-treated blades that are easy to remove and sharpen.
A Wheel Barrow or Utility Cart
Toting around dirt, plants, tools, and debris is much easier with a wheelbarrow or garden cart. The size and depth you will need depends largely on the size of your garden. Look for stability and maneuverability.
A Garden Hose and Watering Can
The cost and complexity of your irrigation equipment depends largely on the climate you live in. Most gardeners can get by with a hose and a fan-type sprinkler for irrigation. For areas where the hose cannot reach, you will need a watering can. When it comes to cost, you usually get what you pay for with hoses. Look for a hose that is rated for at least 50 lbs per square inch of pressure and reinforced with mesh to prevent puncturing. Non-kinking hoses are a bonus, and if you are ever able to find once that is absolutely un-kinkable, let me know!
A Garden Hod Basket
A traditional garden hod has a durable wooden frame and wire mesh basket. It is a handy device for carrying tools, flowers, and harvested produce to and from the garden. You don't need a traditional garden hod for these tasks. Any sturdy pail, basket, or plastic tote will do.
Read More

Comments

I have a problem in my garage. I have many shovels, rakes, snow shovels, a hoe, and many long-handled garden tools. I have nowhere to put them, though. My garage does not have inside walls, just the main beams, and I cannot put nails into the thin wood of the walls or I can damage the siding. Where should I store all of my long-handled tools? Any suggestions? And please don't tell me to get rid of some, this is not an option. Thanks for your help!
Joy from Pennsylvania
Answers
By chmlindsey (Guest Post)
August 5, 2004
1

found this helpful
I just read a tip on this subject. The tip suggested getting a wheeled garbage can to put your gardening stuff in and it can be used to wheel to the garden and carry all your tools with you. Too much stuff, get two of them.
By Doggy (Guest Post)
August 5, 2004
1

found this helpful
Can you store them, Handle side down, in round trash bins? In my area, the large ones are under $10.00 in walmart, but I'm sure they could be found for even less.
You might also consider using PVC piping (available from any do-it-yourself store) to make a standing storage rack as thin and long as you need. You'd need 8 - 12 corner pieces (depending on height) and 8 - 12 straight pieces. These can be bought in all varieties of length.
By (Guest Post)
August 5, 2004
1

found this helpful
Like the idea of the trash can but my suggestion is to add a little sand and motor oil to keep the shovels and rakes and such rust free just bury them in the sand and it will keep them like new. Also if you oil the handles with old English oil that will keep the handles in great condition also.
By Frugal Farmer (Guest Post)
August 6, 2004
0

found this helpful
Along the same line as the wheeled garbage cart: Use a golf-club bag with wheels. They can be found at thrift stores and rummage sales.

August 6, 2004
0

found this helpful
We have a garage with walls like yours. We are thinking about getting that "peg board" and putting that up on the walls. You then would get hooks that would fit into the holes and you can hang up your things on them.
By Allison (Guest Post)
August 9, 2004
0

found this helpful
I saw a great idea in a small organizing pamphlet by Martha Stewart! You put some nails in your beams and string a short bungie cord from one nail to the other. Then you store your shovels and rakes, etc. in those spaces within the wall between the beams. This is great for us because we don't have a garage, only a storage shed about 6 x 8 and the tools don't take up room "in" the shed so much as almost disappearing along the walls of the shed.
By junkyardartist (Guest Post)
February 19, 2005
0

found this helpful
buy a 2x4 and nail it across your studs in the garage about 36 inches off the floor the space inbetween the studs and outside wall will be perfect place for shovels rakes etc

December 19, 2005
0

found this helpful
Hi, I use a drywall bucket for storing shovels. Maybe you have enough tools that you need to use two drywall buckets. I add sand to the bucket. Then, to sharpen and clean the shovels after use I will jam the shovel into the sand-filled bucket.

June 23, 2010
1

found this helpful
You can store your larger outside tools such as shovels, rakes, hoes, etc inside of 3-4 cement blocks, the kind with the 2 holes in them, stacked.

November 15, 2010
0

found this helpful
My husband got some bike hooks and put them in the ceiling beams, and using two hooks per item he hung them up that way. I assume you could use one per item or do it on a vertical beam, which could leave an easy side opening to put up and take down?
Answer

this Question