Pine cones are a popular crafting item for kids and adults alike. This is a guide about crafts using pine cones.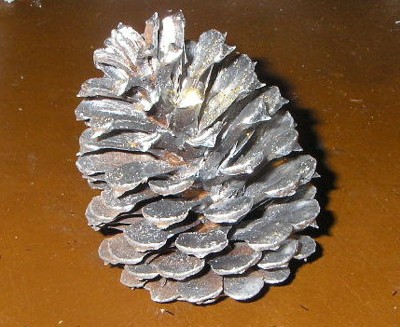 This is a guide about making a pine cone penguin. With all of the pine cones on the ground, now is the perfect time to make some of these cute little penguins.
A fun project for kids or adults around the holidays that cost next to nothing! These can be decoration or you can hang them as an ornament on the tree.

Approximate Time: 20 minutes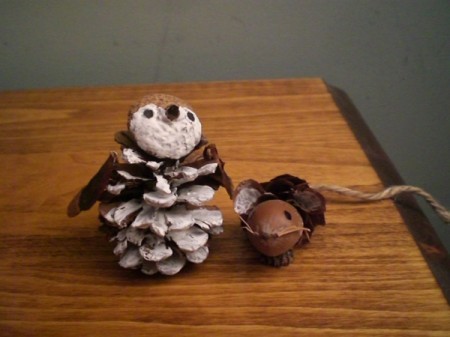 Supplies:
various pine cones
glue
white paint and brush
nail file
small piece of twine
cutters
black magic marker
acorns with caps
Steps:
For Penquin- Remove cap from acorn and file end of cap into a 'beak' point.

Glue acorn cap on top of one pine cone (snip off top to fit better if needed).
Paint the face of the penguin as pictured and add paint down the front of the pine cone as well. Draw two simple circles for eyes with a magic marker.
For Mouse- Snip off two pine cone 'pieces' to use for mouse ears and two for the penguin's arms and glue onto your pine cones. Snip off tip of mouse's pine cone to 'fit' the acorn head on front and glue. I used some stray dry pine cone needles to glue whiskers onto the mouse.
I glued on a twine tail and drew on two black eyes with my marker.
By jh jackson 7 1
My father has thousands of the long leaf pine cones from our state tree. He also has home grown gourds almost ready for harvest. He is semi retired and has farmed all his life. How can I help him sell his gourds? Picking up the pine cones gives him something to do at his age. I want him to stay active working the ground, we are blessed with nature crafts in NC.

JH from Eastern North Carolina
---
Most Recent Answer
December 9, 2009
Pine Cone Wreaths
We use to make these from pine cones from my parents property.
Flat round wire wreath. It looks like circles with slight rise in between them from Michaels or craft store.
Large bucket of pine cones.
Put pine cones in bag temporarily. Fill the large bucket about half full of HOT WATER. Submerse pine cones in hot water. They will begin to tigthen up. Once this has happened and water has cooled off take individual pine cones and put the bottom ends at an angle into the wired wreath spaces. Work around the wreath form until you have completed your circle. Let the wreath dry flat a day or so and the pine cones will open up and be snug in the wreath form (NO GLUE NEEDED). It's neat to see this happen and it looks so much harder once the wreath is complete than it actually was. I just can't imagine some of the time spent on the wired pine and nut wreaths.
Depending on the size of your wire wreaths, you can have large or small wreaths in the end. Once dried you can leave natural and add a bow or spray with a clear water based polyurethan, or spray with a little spray glue and add glitter. These store for several years easily. Have fun.
---
Does anyone have any ideas what can be done with whole lot of pine cones? I have hundreds in my yard and would like to help someone with how they could use them or what to do with them. Thanks.
---
Most Recent Answer
By guest (Guest Post) Flag
November 8, 2008
I put a lot on Freecycle.org website & many Scout leaders have taken trash bags full for crafts. If you have lots thay make wonderful "trees" by making a wide base, narrowing at the top w/chicken wire. You can first put Christmas lights inside the wire, then poke p cones into wire from outside & fill to top. Beautiful with red berries or ribbons added on outside. Great in an entry sitting on decorative urn. I understand they're more closed up when cold & expand when warmer.
---
By Mary Lou 15 6
Place Setting Pinecone Turkeys
I found some turkeys made of pine cones in a craft store, I added orange yarn, glued on leaves with guests names on them and used them for place settings. Everyone LOVED them and they were so easy to put together. They looked so cute on the table.
By Mary Lou from Abingdon, MD
I am looking for easy (ages, 6, 8, and 10) crafts to make with grandchildren. We live in a forest area so pinecones are readily available. Thank you for any help you can give.
By Henrietta M.
---
Most Recent Answer
By jeannette 4 98 Flag
April 23, 2012
Make a owl with Large pine cones. Level bottom of the pine cone. I use pieces of feathers for ears on top of Owl. Felt peak, and use Large Craft store plastic eyes. Take cloths dryer lint and stuff it in the pine cone. It appears as a downy whitish colored owl.
---
Adorn any tree with this darling angel ornament handmade and ready in minutes to spruce up your tree.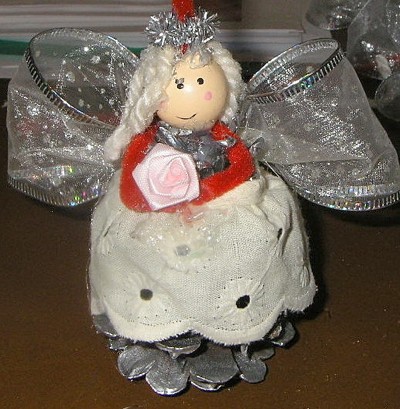 Approximate Time: 10 minutes each
Supplies:
1 pine cone*
lace
ribbon to hang with
beaded head with face
silver piece of chenille tinsel
red chenille stick
yarn for hair
3 inch silver wired ribbon
floral wire
glue
tiny flowers
*Paint pine cones first, if desired.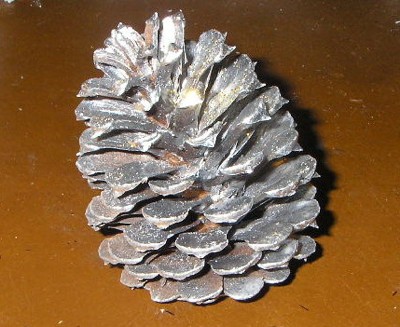 Instructions:
Wrap a piece of lace around a pine cone. Glue at back to keep it on.
Break away a few pieces of pine cone to set the head on. Glue and set the head in place.
Make the hair using the yarn. Glue a halo on the angel head and also glue the ribbon in the center of the ornament to hang her by.
Take the 3 inch wide ribbon and cut 6 inches off. Fold in half and secure with a piece of floral wire. Fluff the ribbon on both sides. Glue this to the back of the angel.
Take the red chenille stick and cut a 4 inch piece and add a bit of glue to the center of the back and attach to the angel head. Fold in at the ends a bit to form her hands. Glue in a small flower so it looks like she is holding it.
Hang her on your tree or make several more for a table decoration.
Tip: Pine cones that do not like to stand up can be fixed by removing a few pieces of the pine cone off the bottom.
By Gem from VA
By HerkDia 35 132
We made door hangings with the long pine cones by using red velvet, wide ribbon the length you choose for your door, and wired a couple of long pine cones at the end of the ribbon. We used a round gold ring at the top for hanging. We also added some artificial greenery at the top for decorative purposes. The ribbon could be used plain or add a little snow glitter for a different effect.
By HerkDia from Baltimore, MD
In the early 90s I made a turkey from 1 possibly 2 pine cones. For the life of me I can't remember how to do it. The legs were twigs and that is about all I remember. I would appreciate any help. Thanks.
By Margy from Kent, WA
---
Most Recent Answer
By jeannette 4 98 Flag
October 29, 2011
Can not help with Pine Cone turkey, but can tell you how to make a pine cone owl.
Large pine cone with small end up. Buy a bag of "eyes" at Michael's craft store and glue two of them to the top front of the Cone. Fashion a peak from a piece of felt that has been cut in a diamond shape and then folded in half. Glue this felt peak below his eyes. Use the lint from your cloths dryer to fill in the gaps on the pine cone. Most lint is grayish colored and your Owl will be nearly all gray or white when you fill in all of the gaps in the pine cone.
---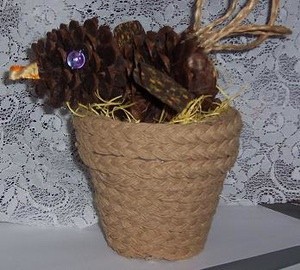 We love to use "things to make things"! My daughter (9) and I made this bird from 2 pine cones. We made his wings from some wide cloth ribbon, eyes from broken necklace beads, beak from scrap ribbon and the tail from braided jute. We covered a experimentally painted terra cotta pot with braided jute. You could use a variety of other things to decorate the pot and make the bird accessories.
By Ginok from Wayne, OK
Next time you take your kids out for a walk or you visit your local craft store, get yourself some pine cones. Take plain old white glue and coat just the tips of the pine cones. Take silver, gold or the new iridescent white glitter and sprinkle on the glue.

These little trees look good bunched together on a table. You can also spray paint the pine cones and put in a big bowl with some Christmas balls and set out by your door.

By Debra in CO