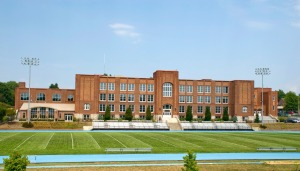 There are many fun activities you can plan for your high school to provide students with fun, exercise, and camaraderie. This is a guide about high school activities ideas.
Ad
---
Questions
Here are questions related to High School Activities Ideas.
I am running for senior class president next year and I was wondering if anyone has done any really fun or cool senior activities? Anything will work, even if it's not just for seniors. Thanks!
By Volleychika144 from Valley Center, CA
AnswerWas this interesting? Yes No
Ad
---
---
Most Recent Answer
By Becca 05/07/20090 people found this helpful
You could have a scavenger hunt. Use things that pertain to your senior year and hide them. Leave clues to where things can be found. See who can find them all the fastest. Or you could see who found the most within a set time limit.
---
I'm on Student Council this year (yay!), but I need ideas for raising money (fundraisers) and for awesome high school activities to get kids to participate (help?)
By KayLa from Lethbridge, AB
AnswerWas this interesting? Yes No
Ad
---
---
Most Recent Answer
By Anne Norman H. [1] 10/15/20140 people found this helpful
Google the C.O.W. Project at Washington Township High School, Gloucester County NJ - very cool group! About empowering kids!
---
I am currently in a leadership position in my school. The high school students have a gap between their lectures for a minimum of 45 minutes to an hour and half. I am in charge of gathering them into a special assembly room and finding something, like a daily activity to keep them busy, mixed with fun, and encourage them to join it rather than be wandering around in the school as they used to do before.
Does any one have ideas for activities that can be done daily to make our gathering full of educational fun or even just fun? Activities can be some for boys and some for girls as well as some others to be done by both of them.
I appreciate all your help and thanks.
By Ahmed R. [1]
AnswerWas this interesting? Yes No
---
Most Recent Answer
By Julia in UK [10] 08/03/20150 people found this helpful
Perhaps they could play board games: monopoly, scrabble, chess, etc. These take up lots of time and keep people thinking. If you could leave the games set up so that everyone could return to an unfinished game the next day, so much the better.
What sort of activities or things could I do to make my high school a fun school?
By JB
AnswerWas this interesting? Yes No
---
Most Recent Answer
By Louise B. [6] 07/24/20130 people found this helpful
At the highschool where I substitute teach, there is a club that is devoted to sponsoring fun activities. They organize special spirit days where kids dress up -- eg. Wear green to support the pro football team; they have watermelon helmets to purchase (paid for ahead of time) and then the free watermelon to eat, and then some sort of football related activities in the gym at noon.

Or say, for Valentines, dress in red and white, buy a "crush" (the orange pop) for your secret crush, and it get's delivered to them, sale of giant heart shaped cookies, and a dance in the gym at noon hour; dress up for Hallowe'en, and a talent program in the gym for the afternoon. There are all kinds of things to do. It just takes someone to spearhead the organizing. Talk to one or two of your teachers who would be interested in helping you organize such a "leadership" or "spirit" club, get some like minded people to help you out, and go for it. Likely setting a goal of one activity day a month would be good. You might also work in fundraising for worthy causes - having a walk-a-thon for Heart & Stroke, selling "helping hands" for a charity, having a hot dog sale for playground equipment for the elementary school nearby, or whatever. Special food sales, dress-up days, fun contests, all make school interesting and fun to attend.
I have a a problem. I'm in charge of high school lunchtime activities. I have no clue! Please help.
By Lexy from Perrydale, OR
AnswerWas this interesting? Yes No
---
Most Recent Answer
I'm in charge in my school. I want do to a camp, but don't how to do the most intelligent activities.
By Denesh
Our high school is planning on having Olympic games, which will be a grade level competition. It will be an indoor/outdoor event. However, we need game ideas? Things that can be fun, safe, and competitive, maybe even give the audience a laugh. Please help me by suggesting some ideas. Thank you. Your suggestions are truly appreciated.
By Mandy
Solutions: High School Activities Ideas
Do you have knowledge about this guide topic? Feel free to share a solution!