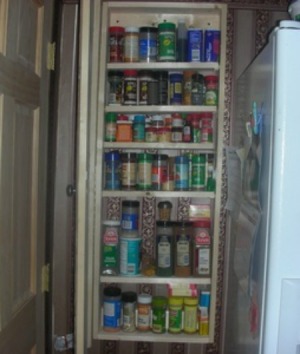 I needed somewhere to keep my spices, they took up too much space in my cabinet. My husband used some wood we had and built a frame. He then added shelves and a door. Now I have a spice cabinet. I really like this and it's so convenient. No more hunting spices, they are all in one place.
By my-secret from Clairton, PA
January 4, 2009
0

found this helpful
Top Comment
Your husband did a great job, that looks great! I'm sure you love it, it's very organized.
I purchased two door/wall mountable spice racks at a hardware store and my hubby attached them both to the inside of one pantry door so I could see all my spices at a glance. I don't have nearly as many as you but I love the convenience plus they don't take up any extra space being attached to the pantry door :)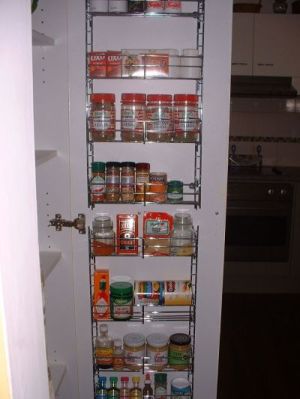 January 5, 2009
0

found this helpful
Where did you get the door-mount spice racks? Was it a big chain hardware store (so I can find one here in my neck of the wood)? What brand/company put out the rack? I'd love to get a couple of these myself.
January 5, 2009
0

found this helpful
Hi Chayil, I'm in Australia, and I'd seen these at both BigW and Bunnings stores. Both were selling them for under $15 each (well worth it for the convenience and organization). The shelf heights are adjustable also, we worked with the internal pantry shelves.
Depending on where you live I'd suggest you try the largest hardware type stores. I hope you can find something similar, I love them :)
By guest (Guest Post)
January 5, 2009
0

found this helpful
I love this! Great job, by your hubby. You think he can come make me one? ha ha
Read More Comments