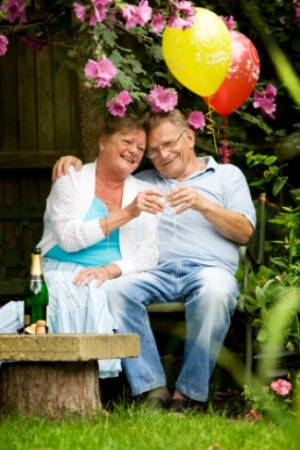 Planning a retirement party for a friend or family member can be both fun and overwhelming at the same time. This is a guide about retirement party ideas.
Ad
---
Questions
Here are questions related to Retirement Party Ideas.
I'm giving my supervisor a retirement luncheon. Does anybody have any good ideas or unique ideas?

Thanks,
Peggygv from TX
Ad
---
---
Most Recent Answer

By Heather (Guest Post)01/17/2006
I am doing the same thing for my mom, I am having a retirement luncheon for everyone she works with. I am making booklets with facts that people may not know about her, pictures, a note from her, notes from her colleagues, retirement quotes. I picked a pink and black theme. I also got a picture of her sketched and plan to have attendees sign around the edges.
My husband is a civil engineer who will be retiring after 37 years. I need ideas for party decorations. He loves old antique cars. Please help.
By Josie
Ad
---
---
Most Recent Answer

By onelove08/18/2013
Maybe a person doing 5 minute chair massages. Every one would love that, and probably needs one.
We are having a party for 3 correctional officers who are retiring. I would like to make some centerpieces for the table. I have about 3 yards of black and white striped cotton fabric. I would like to use plastic toy handcuffs and the fabric to make some kind of a centerpiece, but can't think of anything! If anyone has some ideas that they would like to share, I would really appreciate it.
By KH
---
Most Recent Answer

By Mary Lou [14]11/30/2011
Take the striped fabric and cut into napkin size squares and use the cuffs like a napkin ring. Or for a centerpiece, take a foam circle, cover air dry clay making it look rocky. When it is dry, glue a real rock or one you have shaped from the air dry clay to it and add a hammer made of a long piece of dowel with a shorter wider piece of dowel glued to the end hori zontallly. Prop the hammer against the rock and glue it to it.
My mom is officially retiring on Dec. 31. My sister and I would like to give her a retirement party. I am looking for theme ideas and is it OK for us kids to give it to her or should we leave it up to someone else? Please send me your ideas I need help.
---
Most Recent Answer

By Kim Churchman [3]09/07/2007
You can use all the Happy New Year theme to make it into "Happy New Life!"
I am having a retirement party for my boyfriend who is only 43 yrs old. He retired from a fire/EMS agency after 20 yrs. The party is being held at a local bar/grille and I need some neat ideas on funny things to do!
By Lori
---
Most Recent Answer

By JazzyMe [11]05/18/2012
I only have one idea but it's better than none.
Place an open beer bottle (not a can) on a small table or at the edge of a larger table. Place a ping-pong ball on top. Place the person about 20 steps away. Now tell them that they are going to "flick" the ping-pong ball off the top of the bottle with their finger. You know, hold one finger against your thumb to hold it back and then when you get to the item push your finger past the thumb so that it "flicks" out and pushes (or kicks) the item.

Here's the catch. They must close one eye. (You can get an eye patch for this so they can't cheat.) and hold their arm out straight. Using the one open eye, line up that stiff arm and try to "flick" the ping-pong ball off the top of the bottle. They will think they are drunk before they've had one beer!
Does anyone have any ideas for a retirement party? My sister will be retiring from Boeing after 20 years. It will be held at a restaurant, I'd like a few ideas for entertainment, games, and decorations?
By Jackie from Enumclaw, WA
Solutions: Retirement Party Ideas
Do you have knowledge about this guide topic? Feel free to share a solution!
Archives
Thrifty Fun has been around so long that many of our pages have been reset several times. Archives are older versions of the page and the feedback that was provided then.
I need ideas for a 40 year retirement party for a man.
Cookie from Missouri
---
RE: Retirement Party Ideas
I don't know if you are looking for serious or funny ideas, but this one could go either way. Ask the people who are coming to the party to bring him 40 of something. It could be 40 postcards for him to send as he vacations, or 40 aspirin he will no longer need with no more work headaches, or 40 silver dollars to play in slot machines. People can be really creative with this idea. (11/01/2006)
By Cathy C