Time spent together with family and friends can be enhanced with fun activities. This guide contains reunion game ideas.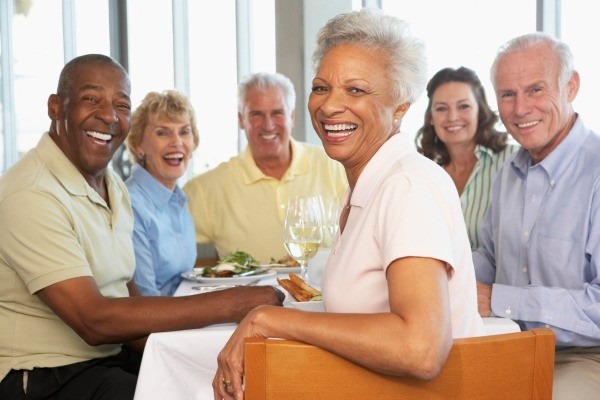 Filter

: All Articles
Sort

: Relevance
I live out of town from the school I graduated from. At the last reunion, I attended years ago, everyone was already seated at a table when we arrived. Many still live in the same town and see each other often. What activity can we do to stimulate some interaction among everyone. It is a small town school, with a class of 50+, and the 58th reunion.
By Jan I
Answer
Was this helpful?
Helpful?
Yes
February 28, 2014
1

found this helpful
Best Answer
Try numbering your tables. Then randomly put numbers under each plate, corresponding to the table numbers...i.e. 20 tables numbered 1 through 20...8 seats at each table... each place setting gets a number, 1 through 20, until you have 8 of each number (8x1's, 8x2's, 8x3's, etc.). After everyone sits down, and before they start eating and drinking, announce that everyone must check their number and move to the table with that number. After dinner, they can sit wherever they want.
Reply
Was this helpful?
Helpful?
Yes
On the web, I could only find left-right stories for Christmas or baby showers, so I wrote this left-right story for a family reunion, but with a few changes, you could use it for any occasion.
This is a fun game. Everyone stands or sits in a circle. You hand a gift-wrapped prize to some of the participants (fairly evenly distribute the prizes around the circle). Read the story below. When they hear you say "right", they will pass the prize one time, to the person on their right, and the same with the word "left". When you say "The End", any person holding a prize gets to keep it. You can change the story to suit your needs.
LEFTy WRIGHT reached into his RIGHT pocket with his RIGHT hand and pulled out the downRIGHT long string of firecrackers that his friend, Mike LEFTtoe, had given him. LEFTy strolled RIGHT into his neighbor's RIGHT nice yard, pulled a downRIGHT battered book of matches out of his LEFT pocket and mumbled, "alRIGHT! One match LEFT."
Then LEFTy veered LEFT and snuck RIGHT into the house. LEFTy was RIGHTly amazed to see so many downRIGHT good-looking (or you can say goofy-looking) folks to his RIGHT and to his LEFT. This must be the __________ family reunion. alRIGHT!
LEFTy dropped down on his LEFT knee, then his RIGHT knee. Then he silently fell LEFTward onto his belly. RIGHT on, no one saw him, but LEFTy would have to act downRIGHT fast.
LEFTy placed the firecrackers RIGHT on the floor, struck the match with his LEFT hand and lit the downRIGHT short fuse. And that is how all the folks at the __________ family reunion learned to tapdance.
THE END
By Fortunately from Fairview Heights, IL
My three sons and 2 daughter in-laws will be here in the beginning of January. We found that the plane flights were twice as many frequent flier miles or money at Christmas. We will celebrate Christ's birth then. We usually also have "game" night and I am looking for something new to purchase and play with them. They are all in their 20's and 30's. Any suggestions for new games that would be fun to play with them would be appreciated.

Harriet from Lakewood, CA
Answer
Was this helpful?
Helpful?
Yes
I'd have to chime in with the chorus and suggest Apples to Apples as well. It's a great game for family and guests.
I bought it recently for our family and it's always a hit when guests come by or just with family. You can try it out at www.playyourredcard.com and try it out before you commit to it.
Hope that helps!
Reply
Was this helpful?
Helpful?
Yes
Read More Answers...
I need some suggestions for games to play at a 55th class reunion.
By Janet from OH
Answer
Was this helpful?
Helpful?
Yes
Trivia game go through the yearbook and make trivia questions out of what people wrote under their picture in the year book and guess who wrote that.
Trivia who is married the longest, who has the most children, who been divorce the longest, etc
Reply
Was this helpful?
Helpful?
Yes
Read More Answers...
We do multi-year class reunions for years '75 - '85. A few hundred people show up each time we do one. We need an easy and cheap way of getting people talking to each other. It would be nice to be able to be able to tell which people were in which year.
We do these casual get-togethers a few times a year at restaurants and bars, so we don't have the time or money to do anything too extravagant. Thanks in advance for any ideas!
By Liz from FL
Answer
Was this helpful?
Helpful?
Yes
Thanks to everyone. I had been thinking of color coding using plastic leis, but the problems are lack of a variety of colors and cost. Thanks to your help I had another thought of using Mardi Gras beads, those are much cheaper.
The name tags could be hung from the necklace, or we could just ask people to put them on their backs. I hate the staring at peoples' chests, too! I think the first time we'll not try to color code the name tags, since people will be making their own (IF they make their own). I envision it being easier to walk around and hand out the appropriate color beads to bead less people rather than to get people to make and wear name tags.
For a mixer, I like all of these ideas. I had been thinking of a Q/A game such as asking people in advance to write out something about themselves unique to them post-grad, such as "I played minor league baseball" or "I am married with five kids, ages x, x, x, x, and x", whatever they like. They could write this along with their year on a slip of paper which then goes into a fishbowl. People pick out a slip and using the color of bead as a clue, they go try to find that person. This would be very inexpensive, easy to do on the fly (just provide pens and paper, no color coding needed here) - and it would get the classes mingling and be more simple than trying to contain it by year.
I like the scavenger hunt idea too. I saw one once where a grid of squares on a piece of paper was pre-filled in with generic things that could apply to many people, such as "Lived in a green house" or "Traveled to Europe". Each person gets a sheet of paper with the "board" printed on it and tries to find someone who meets the criteria. As for a winner it could be "most squares" or "in a row" type of thing. I suppose we could modify that idea to say something like "Had Mrs. So and So for English" and "was in such and such club." Maybe even something current such as "My spouse is here with me tonight."
I suppose the second idea would be easier to provide a prize for, you could get people to turn in their "completed" papers and do the fishbowl thing to get a "winner."
Thanks for the ideas, and keep'em coming, this is fun!
Reply
Was this helpful?
Helpful?
Yes
Read More Answers...
I'm trying to think of a few games that would suit a Family Picnic that would include young and old alike. We've been in a slump with a generation gap with no kids, and grandparents passing or unable to come. This is the first picnic in a couple of years, and I'd like to put some new ideas into the entertainment part. I want to refresh, surprise and put new life into the continuation of this gathering into the future.

Laura O. Ontario, Canada
Answer
Was this helpful?
Helpful?
Yes
At one of our reunions we took two plastic table cloths and one water balloon. Split into teams of 4 (one person for each corner of the table cloth). The idea is to launch the balloon and the other team to catch it without breaking it. There is a trick to this that I will not share - a learning curve if you may. It is so much fun to watch and to play this game!
At another, we took old clothing - bras, granny panties, hats, pants, etc. and put them in a laundry bag that you could not see through. We played music and when the music stopped whoever had the bag had to take out a piece of clothing and wear it. We had priceless pictures of my 80-something grandma in a big bra over her clothes. The grandchildren still talk about this game.
We played a game last year for the adults called 'Bullshi*' Put two things on a card that were random and the player had to write one true one. They could then choose to read the real one or a fake one. The players would either agree or say 'Bull' This had a group of adults laughing until they cried. Email me at kalaidescope2001 AT yahoo if you want ideas.
Reply
Was this helpful?
Helpful?
Yes
Read More Answers...
I wanted to share a game idea that's great for family reunions, neighbor game-nights or whatever, it's so fun and hilarious! I've never heard of it before, perhaps some of you have. It's called "How's Yours?" and everyone is sitting either in the living room or kitchen, wherever. The object is to come up with something that everyone has in common, like 'family' or 'house' - anything that's common with everyone. One person is chosen to leave the room, somewhere they can't hear, then the rest of the people gathered around decide what "thing" the one who left will have to guess this time.

For instance, the person in our group left the room and we decided on 'house'. The person is called back into the room and he or she ask each person around the room, "How's yours?" and you can just say one word clues, like, "clean," "big," "blue," etc. and the person has to guess what it is. After the person guessing has asked everyone in the room and still can't figure it out, they can ask each person again and everyone will have to say something different. A funny example of our clue "house" was the person guessing asked me "How's yours?" and I said, "Filthy," and everyone laughed because the person guessing thought it was 'music'. When he finally guessed it was 'house', I joked, "Yes, I listen to filthy music," lol.

Anyway, it's really fun, and it can get hilarious. The clue can be anything that is common with everyone. Just wanted to share the idea, does anyone have any other fun 'vocal' game ideas like that? I'd love to hear them! :)

By Stacey from Orem, UT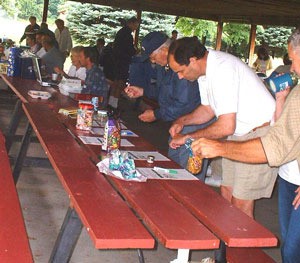 Great fun for a family reunion. It is called "Guess-for-the-Goodies" Everyone can bring something to guess, i.e. jar of candy, box of change, bag of beans, guess the length of string, etc. Anything someone can come up with. Guess sheets are by the item which lists who, what and what you win. People line up and start the guessing. It is always the highlight of the reunion!

By Mary Beth, Saginaw MI
We are planning a 20th high school reunion. What fun ideas can you share?
By Noleen from South Africa
Answer
Was this helpful?
Helpful?
Yes
At the last reunion I went to one of the gals had a bunch of questions about teachers, students and the school that were fairly relevent to the year we graduated (but not all). And whoever answered the question first got a prize.
Reply
Was this helpful?
Helpful?
Yes