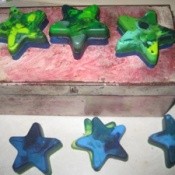 Supplies:
Old crayons separated by color
Silicone star baking cups
Exacto knife (optional)
Instructions:
Remove the paper wrappers on all the crayons. I used an exacto knife for speed, but if you have children helping with this project it would be best to do it by hand.
Separate the crayons into color groups. Try throwing gold or silver pieces in with another color, this will put streaks of gold or silver throughout the other color. Play with your color combinations and see what happens.
Preheat the oven to 275 degrees F.
Cut all the crayons into 1/2 inch to 1 inch pieces.
Place enough crayon pieces into each silicone cup so that the bottom is covered. Each cup will be filled about 1/3 of the way up.
Place the mold into the preheated oven for 8-10 minutes.
When the crayons have melted completely, take them out of the oven. Set the mold on a cooling rack for 10 minutes, then place in the frezzer for another 15-25 minutes or until the crayons have re-solidified.
When the crayons are solid, gently push them out of each cup in the silicone mold.
Now you have brand "new" crayons. This is a very thrifty and fun craft! These can be made before your kids go back to school, instead of buying new ones, use the old broken ones. Your kid is sure to have the coolest crayons in the class. These also make great gifts for children and adults alike.
I have a large amount of old crayons from a Sunday School class. I would love to use them up to make something for the kids in my class. Someone suggested melting them in cookie cutters to make shaped crayons. Any ideas on how to do this, or other uses?

Kelly from North Carolina
Most Recent Answer
December 12, 2007
Many years ago. my mom put my old pieces of crayons in clear plastic pill bottles and melted them in the oven. I imagine if you keep an eye on them and use a low temp this could work. When she took them out she pierced a hole in them and we strung them on string or leather and they made for a cool medallion. You get some really interesting shapes. oh take me back to the good ol'days....
Why does it take colored crayons longer to burn than white crayons?

Ronald from Savannah, Georgia
Most Recent Answer
By guest (Guest Post) Flag
March 16, 2008
I don't get the question - burning how? And as far as candles go, in my many years, I've never used anything BUT crayons to color them. I would guess they take longer to burn that way because they (crayons) aren't pure paraffin.