Solutions: Spelling Tips and Tricks
Read and rate the best solutions below by giving them a "thumbs up".
I always had trouble with these words; super and supper, diner and dinner, desert and dessert. I couldn't remember which words had the double letters in them.
My daughter, a 5th grade teacher, told me of a easy way to get the spelling correct. Supper, dessert, dinner: you always go back for seconds! I never spell them incorrectly after that tip from her!
Source: Donna, my daughter.
By dwedenoja from New Creek, WV
Editor's Note: Do you have any other tricks to remember how to spell words? Post then here.
I have ten kids so this tip comes in handy all the time. When my kids need help with spelling, I just think of all the words that start with A-Z and write them all down. I cut each one out and put them in a hat. Then I get each kid to take out a word and write it in a notebook. We do this until all the words are gone. Then we open the notebook to another page and write all the words out without looking at the words.
Whichever words they get wrong, I tape them around their room. Every time, they see the word, they have to turn around, find their note book and pencil and write out the word. If they get it right, they take it down. If they get it wrong, they leave it up there. We do this until all the words are down and everyone knows their words. It work wonders.
By mc4lifes from Sydney, NSW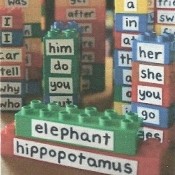 Use blocks or Megablocks (Legos) for spelling and reading aids for young kids. I used white surgical tape to create a white surface on blocks, then wrote words on them with black marker.
By coville123 from Brockville, Ontario
Share Your Feedback:
Once you try any of the above solutions, be sure to come back and give a "thumbs up" to the solution that worked the best for you. Do you have a better solution? Click "Share a Solution" above!
Questions
Do you have a question related to this page?