I always had trouble with these words; super and supper, diner and dinner, desert and dessert. I couldn't remember which words had the double letters in them.
My daughter, a 5th grade teacher, told me of a easy way to get the spelling correct. Supper, dessert, dinner: you always go back for seconds! I never spell them incorrectly after that tip from her!
Source: Donna, my daughter.
By dwedenoja from New Creek, WV
Editor's Note: Do you have any other tricks to remember how to spell words? Post then here.
February 9, 2014
0

found this helpful
The one bugging me lately is bear and bare - seems like none of the bloggers can get that right anymore. Every time I see this sentence, it's spelled "Please BARE with me" ...uh, you mean you're writing your blog naked & you want is to join you & read it naked? Because that's what "bare" means, naked :D . The word is spelled "bear", like the animal - "please bear with me". Just remember the old saying "bare - *ss naked", in other words, "Please bare - *ss naked with me" - you sure don't want your readers doing that with you - or do you :P
Spelling has always been one of my strong points, I am so glad I've never had a problem with it (with the exception of affect/effect). I'm always telling my kids they need to figure out how to spell right & look it up if they don't know, because it's one thing to spell wrong when writing to your friends, but another thing entirely when doing it for school and work.
My husband is a bad speller & get's annoyed when I correct him - but like I tell him, when you spell words wrong in official communications for business & such, it makes you look stupid.
I don't think younger people as well these days, they depend on spell check & some just don't care. One of my kids actually had a teacher who said "I don't care if they spell right, as long as they know what they are talking about in their papers"!
Judy = OK
Read More Comments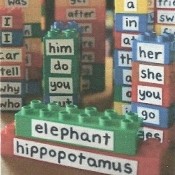 Use blocks or Megablocks (Legos) for spelling and reading aids for young kids. I used white surgical tape to create a white surface on blocks, then wrote words on them with black marker.
By coville123 from Brockville, Ontario
Related Content
(article continues below)
January 31, 2012
0

found this helpful
I used to play spelling railroad with my son when we were out in the car. One person spells the first word (the engine). The first letter in the next word must be the same as the ending letter in the first word, and so on. When someone gets tired or loses interest the next word is the caboose.