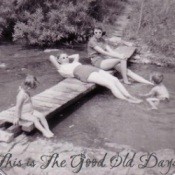 You have all heard about "the good old days". Well, they were. We never have had enough money to throw away (still don't, LOL). We traveled once every year or two to see family. The kids were small, and we didn't have money to eat at restaurants. So we'd just stop at a market or gas station and buy a loaf of bread, lunch meat, and maybe if we were lucky, a little cheese. No sodas, as we also carried a thermos of coffee and a jug of water.
Years later, we did go for car rides; just for fun. And once we went from San Fernando to Bakersfield, CA just riding (gas was 25 cents a gallon). We did stop to get a hamburger and shared a shake before going back home. Now that was a treat. Today people eat out so much it is a treat for them to eat a home cooked meal.
Yes, everyone is so busy making money these days, but where is it all going? Bills, payments, Ipods, fancy cell phones, etc. I know you're busy, but take a short ride to a park, beach, mountains, and walk if you can. Leave your electronics at home; all of them. Buy a loaf of bread, lunch meat, and cheese, but no mayo or dressing. Do not take sandwiches from home. No fuss.
Take a book to read. Sit on a rock, bench or the grass and just be quite for awhile, at least two hours. It will take some getting used to, all that peace, quiet and nature.
A Challenge; look for something to do that doesn't cost money.
That was the "good old days", even if we didn't know it.
By Great Granny Vi from Moorpark, CA
October 24, 2011
0

found this helpful
A Note of thanks......to everyone. It did my heart good to know that there are some of us left that can teach the great grands (I think it is to late for the grands, at least ours) how wonderful the world can be without all the commercials on TV to cloud up the picture. It is my great joy to teach the children that come through the Path Garden about flowers and plants. I'm posting a picture of a rose from two of them,along with a note they wrote. Their names are Skylar and Doug. God Bless the little children. GG Vi
Read More Comments
Spending less on entertainment had become a way of life. Being a single mom, working with "hungry" football players, homeschooling; and all of that before the economy went crazy. Now I find it's so much fun to see how much money I can save. It's better or as good as if I spent so much more on anything. I have many ways I did this.
So let's start with a night in with pizza. I made my own pizza before there was whole wheat pizza dough already made for you. Now at our local Fresh and Easy, everything you need is right there. It's wholesome, brown flour and so easy (you can get pizza dough in white reg. dough if you prefer). With the dough, I use corn, black beans, peppers (red, yellow and green), organic sauce and my favorite cheese topping. Have pepperoni, sausage or whatever toppings you prefer.
It is so much fun to make it yourself and save the money. When I had a house full of boys, it was so much fun doing an assembly line, or making your own personal pizza by dividing it into smaller ones. We played games or had challenges while making the pizza; all with not one child complaining "I'm hungry" or "when is the pizza ready". When it's done, there is an accomplishment with everyone involved. I do this now and freeze it for a fast, organic meal.
You can rent movies for a fraction of the cost of going to one. I do know that the latest and best movie is always coming out. If you choose to do that you have saved quite a bit by making your own pizza instead of buying dinner first. This should be a couple times a year choice. You can get free movies at the library. Entertainment is having fun; not spending tons of money. I have seen great movies at garage sales for $1.00. Even if you spend $5.00 on a new release one, you still save.
Try the library or swapping movies with another family. Look they have local clubs doing just that (with books also). Better yet invite them over and make a night of it, splitting the cost, of course. Afterwards you can play games on what was your favorite part of the movie, or a game of Pictionary about their favorite scene while others guess what it is. Everyone is laughing, having fun not feeling "guilty" on how much money you spent.
There is Banana Split night. The cost of ice cream toppings that you know what they contain and make them yourself. This is another way to have fun spend time together, and save money.
When you do Movie Night at home, don't forget you make the popcorn. The beverages can be juice or soda. If you do allow candy, the 4 for $1.00 at the 99 cent store beats the cost of a theater.
So if you do go to the theater, make sure the rules are clear before buying snacks. This is where they make their money. If the couple times a year you do go, plan in advance and do a matinee they have specials times where it may be a quarter/half of the other showings.
We have made entertainment not game night, or pizza night but a regular event instead of a special one. Everyone has a park near by. Why not go there after church let the kids play, and have a cook out, enjoy the day?
Being an adult, my priorities have changed. Money is tight so I enjoy everyday. If you make it a special event, the family will love it because you said it's special, or you are celebrating something outside the house.
During football, we "swapped" lunch bags with the others so it was a surprise to what each boy was getting (I had a list to pick from). It was the excitement that's brought the entertainment not the money.
Today as living alone waiting to start the next step, I feel the exact same way. I'll take the excitement every time. Life is a blessing. We can make entertainment out of anything. Using coupons and looking for buy one entree getting next one 1/2 price or free is great fun in today's economy and is appreciated by many.
I don't believe there is a reason to waste money to have fun, or ever pay full price for anything. Now that's entertainment being inventive, planning and looking forward to something out of the ordinary. Have a budget, that way it is even more exciting looking forward to the planned entertainment.
By Luana M. from San Diego, CA
I like to note all the restaurants in my area that have "Kids Eat Free" nights and capitalize on those. I also arrange play dates around the summertime "Free Summertime Movies" at our local theatres. Everyone you take will get in free, then they usually have a small "Child's Treat" tray for $3 that comes complete with popcorn, small candy and drink.
Another thing we do is trade off DVD's with our friends, we buy a few and they buy a few - not duplicating. Then, we can share and not see the same thing. It's alot cheaper to buy the DVD's than take a family of 3 or more out to a night at the movies! Even going to a matinee and buying no food will cost you a minimum of $30!
By Jamie from Benton, AR
July 9, 2011
0

found this helpful
My grandson and I have started renting from Red-Box. $1 a night. The same movie rents for $2-$3 across the street. Red-Box sends you special codes for free rentals.
They have also started renting games.
Read More Comments