Solutions: Organizing Crayons
Read and rate the best solutions below by giving them a "thumbs up".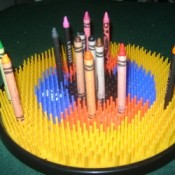 This was not being used anymore because the kids could not get the darts to stick on it. They would throw the darts at the board, and the darts would hit sideways and fall to the ground. It was only being used for decoration since I like the orange and yellow colors on it.
One day I was sharpening pencils on the table, out on the patio. I put an errant crayon on the this plastic dartboard. It stood straight up. I put another one, and then another one! Yaaa, a new use for this toy that no longer worked!
The kids were amazed and delighted. I think they like the feeling of placing the crayons on the board and seeing them stand up. I think it is just cute and you can see the colors you need to color with at a glance!
Blessings,
By Robyn from Tennessee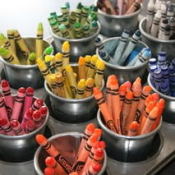 I've seen some people use muffin pans with mini metal plant pots inside to hold the crayons vertically and to separate colors. Accessible, colorful, functional.
Also, if you have the time, you can break the crayons into pieces and melt them in the muffin pan (use the special shape pans for more fun) to make new crayons and bring them back to life.
Source: http://homeschoolblogger.com/
By Jennifer B. from Leland, NC
I solved my daughter's problem of too many crayons, ink pens, and colored pencils by giving her a makeup organizer. This organizer has three zippered pockets, and folds into a square with a handle. This way, she can just grab it and go. All her supplies including a crayon/pencil sharpener and scissors are organized, and ready to go.
By Laura from Golden, CO
I use a lazy Susan type revolving plate to organize crayons. On the plate, I put small plastic boxes used to store paper clips, only without the lids. Each box is a different color. All the blue crayons are standing upright in the blue box, and the browns (and blacks) in the black box, reds and pinks in red box, and so forth. When coloring time is over, the crayons are easily sorted back into the correct container.
By Laura from Columbus, OH
I run a day care and we put all crayons in an old baby wipe container. We also have one with markers, and one with colored pencils. If you have a digital camera, take a picture of what is inside and put clear contact paper over it. Then glue or use double sided tape, to stick the picture to the outside of the container. Then the little ones can see what is in the container.
By Mell from Traverse City, MI
Give a "thumbs up" to the solution that worked the best! Do you have a better solution? Click here to share it!