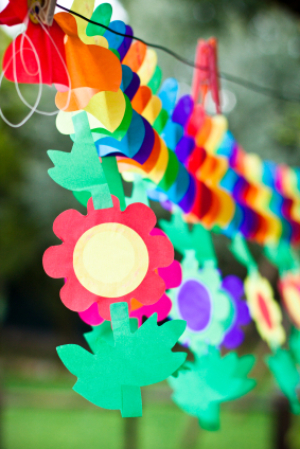 Making your own birthday decorations is fun and can save you money. It also allows you to match the decorations to fit what your child likes. This is a guide about homemade birthday party decorations.
Ad
---
Solutions: Homemade Birthday Party Decorations
Read and rate the best solutions below by giving them a "thumbs up".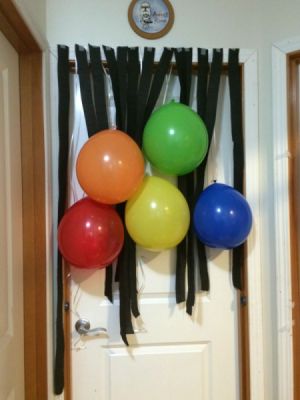 I decided to surprise my son on his birthday by hanging this curtain of balloons and streamers from his doorframe. I just used to tape to hang the balloons from curling ribbon and strips of paper streamers. When he opened his door in the morning he got a face full of "birthday cheer"!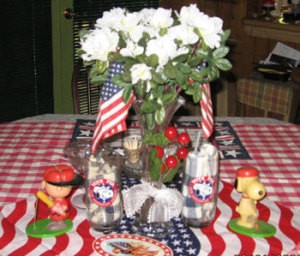 I enjoy decorating for the month of July because my son and husband's birthdays are in July (5th and 27th).
I decorate my table by putting a white lace tablecloth as the bottom layer, a red checked tablecloth as the next layer, and an American Flag scarf in the center. The centerpiece is:
a vase of silk white azalea flowers with small American flags on each side inside the vase
The front of the vase has a strand of red cherries tied with a white bow.
two 20 year old resin like Charlie Brown figurines
two 20 year old Charlie Brown drinking glasses
Which I placed a blue checked napkin with a candle fold.
a candy dish holds mints or candies
votive candles with white or red candles
Fourth of July placemats
a glass condiment holder holds S and P shakers and a small glass toothpick holder
The breakfast bar has whimsical 4th of July placemats with a 4th of July ice cream sundae bouquet on it. These decorations will remain until the end of July.
By WandaJo from Collierville, TN
Give a "thumbs up" to the solution that worked the best! Do you have a better solution? Click here to share it!
Questions
Here are questions related to Homemade Birthday Party Decorations.
What can I do with an old photo of my mom when she was a little girl to use it as a decoration for 80th birthday party?

Cathy from South Pasadena
AnswerWas this interesting? Yes No
Ad
---
---
Most Recent Answer
By Patti in PA (Guest Post) 07/24/20080 people found this helpful
If you have a computer and printer at home with scanning you can make your own invitations with the photo as the front of it and you can buy sticker and card stock to print the photo on them. You can also take the photo to a print shop and they can make all kinds of things for your party with the photo. For my Mother's 70th Birthday, I made a memory Quilt for her.

I had each family member make a 14x14 square to represent them so my mom knew who's square it was, Then I put them all together along with photos of my dad and my mom and ones of her poodles she had and gave her the quilt for her big gift at a surprise party. She still has the quilt on her bed. Only problem you might have is it took me about 8 months to get the family members to do their squares,

I stayed up two days to get the quilt together and done in time for the party as my family members only finished giving me the squares 4 days before the party. Or you could as part of the activities at the party have everyone do a quilt square there and then take it somewhere if you don't sew and have them put the quilt together for you and then give it to your mom later as a reminder of her party.
Hope my ideas help you.

Patti

You can email me if you would like, just email at the following froggypjs10 AT hotmail.com I will be trying to send a picture also of my mom with the quilt at her party for you to see.
Good Luck.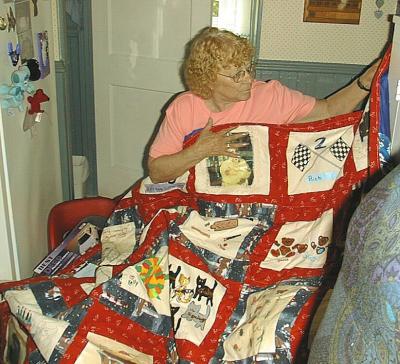 ---
I am looking for ideas for a Candyland themed party.
By Josie
AnswerWas this interesting? Yes No
Ad
---
---
Most Recent Answer
By nina 1 2 03/01/20100 people found this helpful
I love doing scavenger hunts for my kids' home parties. I make up rhyming clues like, "This is the start of your hunt for prizes, look for some loot where our pet lies es" and then put the next clue and one prize per guest at the cat's bed. I have about 5 or 6 clues and it is really fun to hear the kids work out the riddles and work together to get their goody bag items. If they can't read yet, you can have an adult read the clues but let the kids figure out where the next one is.
---
What can I make to decorate our house for a 4 going on 5 year old's birthday party? She wants it to be camo because it's November 19, the beginning of shotgun season and we hunt or horses, because she loves horses.
By bearcat from Carbondale, IL
AnswerWas this interesting? Yes No
---
Most Recent Answer
By cj 15 39 11/20/20110 people found this helpful
You can take lassos and set up in a way it becomes a decoration, but later you can have bean bags made with material that has horses on it and have a ring toss game. You can take old boots and use them for weights for the balloons.

Make bandana place mats or table runner. Have stick horses to play a racing game outside if weather permits. Bake a cake and frost it and for the decorations, go to dollar store and get horse figurines and use red rope or black rope licorice for lassos. Make rice krispie treats for bales of hay. Hope this helps!