January 16, 2007
0

found this helpful
The volleyball banquet that I hosted was in November - I went with a fall theme. I decorated the tables with burlap, white table clothes. Center pieces were white candes in glass holders. I sprinkled fall leaves as confetti on the tables. I had hay as my main display decorated with pumkins & white lights. The hightlight was a chocolate fountain...everyone went crazy!!!! Everything looked very elegant. Even the coach's were very impressed!! Also, as a gift to the coach the team pitched in to purchase a v-ball with the team picture on it and each girl signed the ball! It sure was a success!!
By guest (Guest Post)
April 16, 2007
0

found this helpful
I need ideas for Middle School Sports Banquet Decorations
By guest (Guest Post)
September 26, 2007
0

found this helpful
Checkout chairgowns.com for very frugal and colorful dance floor, columns, chair and table decorations.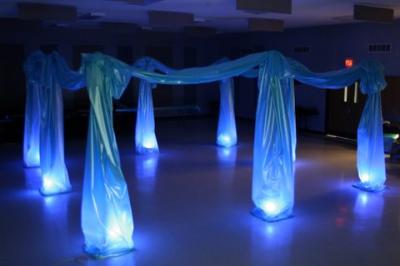 February 26, 2008
0

found this helpful
Have you considered covering the tables with outdoor grass carpet? You can get it at home improvement stores. I've used this for sporting events. It is fun, different and reusable. Check out Oriental Trading Company online for their inflatable baseballs (beach ball size & $9.95/dz) - they would be cute hung from the ceiling like paper lanterns. Or buy inexpensive white paper lanterns on Ebay and paint red lines for stitching. Or hang paper lanterns in your school colors. Oriental Trading Co. also has these broken glass baseball clings for $7.95/dz. They would be fun stuck to glass vases filled with flowers that match your theme colors. They are 3 dimensional. It would add a bit of humor to the party. Finally, consider using pendants in your decor. Good luck!
By guest (Guest Post)
July 9, 2008
0

found this helpful
I helped decorate a Baseball banquet in which we used Red Gerber daisies, tall cyclinders filled with black bird seed with a red tulle bow tied in the middle with silver sprays coming out of the middle of the cyclinder and 10 lb vegatable cans wrapped in red wrapping paper topped with black and white crinkle paper. We also used about 100 votives (not on the players tables, boys will be boys).
By guest (Guest Post)
February 11, 2009
0

found this helpful
We used cardboard boxes to build a backdrop and to stuff jerseys as decor. Also pinned jersey's on the front of the tables. See picture. Hope this gives you ideas.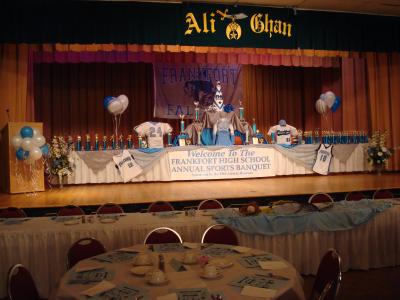 By guest (Guest Post)
February 11, 2009
0

found this helpful
These pictures were taken before we added football helmets and other game items....so get creative and use what you have. By also using the trophies as decorations, this table didn't cost anything except for the balloons!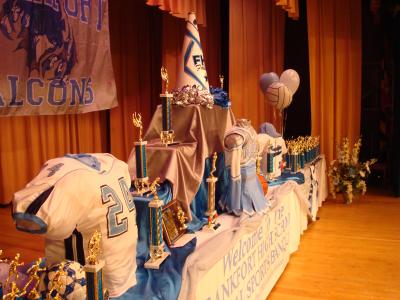 January 20, 2017
0

found this helpful
Get a couple of sheets of card stock ,cut in circles "baseballs"use markers to add in the baseball lines, glue/tape to bamboo sticks, you can get them in a large amount container. Buy clear drink cups add some green tissue (grass) shred if you prefer let it over flow over the top a little, fill with small pieces of candy to hold baseball pick in place. You can personalize each cup also by adding another pick using the players # and or picture, as a take home momentum. You can also use baseball shaped candy, you can get in party stores, and place those randomly on each table. You can also get green colored plastic table covers at any dollar store.