I am looking for ideas to decorate for a high school baseball banquet.

Rhonda from Louisville, MS
By Rhonda
Ad
---
The volleyball banquet that I hosted was in November - I went with a fall theme. I decorated the tables with burlap, white table clothes. Center pieces were white candes in glass holders. I sprinkled fall leaves as confetti on the tables. I had hay as my main display decorated with pumkins & white lights. The hightlight was a chocolate fountain...everyone went crazy!!!! Everything looked very elegant. Even the coach's were very impressed!! Also, as a gift to the coach the team pitched in to purchase a v-ball with the team picture on it and each girl signed the ball! It sure was a success!!
By Marla Thomas (Guest Post) 04/16/2007 Flag
I need ideas for Middle School Sports Banquet Decorations
By Mary (Guest Post) 09/26/2007 Flag
Checkout chairgowns.com for very frugal and colorful dance floor, columns, chair and table decorations.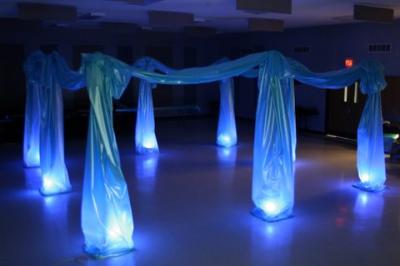 Have you considered covering the tables with outdoor grass carpet? You can get it at home improvement stores. I've used this for sporting events. It is fun, different and reusable. Check out Oriental Trading Company online for their inflatable baseballs (beach ball size & $9.95/dz) - they would be cute hung from the ceiling like paper lanterns. Or buy inexpensive white paper lanterns on Ebay and paint red lines for stitching. Or hang paper lanterns in your school colors. Oriental Trading Co. also has these broken glass baseball clings for $7.95/dz. They would be fun stuck to glass vases filled with flowers that match your theme colors. They are 3 dimensional. It would add a bit of humor to the party. Finally, consider using pendants in your decor. Good luck!
By klwalk (Guest Post) 07/09/2008 Flag
I helped decorate a Baseball banquet in which we used Red Gerber daisies, tall cyclinders filled with black bird seed with a red tulle bow tied in the middle with silver sprays coming out of the middle of the cyclinder and 10 lb vegatable cans wrapped in red wrapping paper topped with black and white crinkle paper. We also used about 100 votives (not on the players tables, boys will be boys).
By Lois (Guest Post) 02/11/2009 Flag
We used cardboard boxes to build a backdrop and to stuff jerseys as decor. Also pinned jersey's on the front of the tables. See picture. Hope this gives you ideas.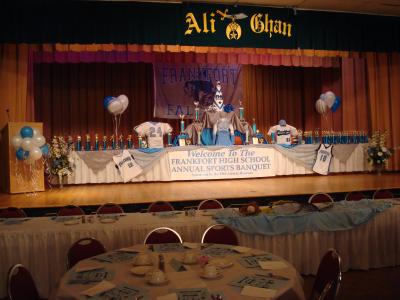 By Lois (Guest Post) 02/11/2009 Flag
These pictures were taken before we added football helmets and other game items....so get creative and use what you have. By also using the trophies as decorations, this table didn't cost anything except for the balloons!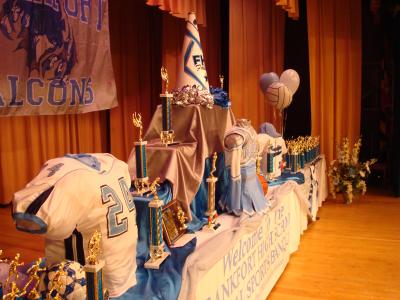 Archives
Thrifty Fun has been around so long that many of our pages have been reset several times. Archives are older versions of the page and the comments that were provided then.
If anyone has any ideas for a Sports Banquet, please let me know.
Answers:
RE: Decorating Ideas for a High School Sports Banquet.
I have created centerpieces using candles as bases. Glitter pipe cleaners of school colors were inserted into candle (I had to carve a little hole in each with steak knife). Styrofoam stars were spray painted to school colors and stuck on ends of pipe cleaners. Pipe cleaners were would in spirals and placed in between stars. Usually 3 stars per candle and 5 spirals. (09/20/2004)

By Cathy
RE: Decorating Ideas for a High School Sports Banquet.
One idea that our church does when honoring the graduates is to do a table with each participant bringing their pictures, awards and trophies, some will bring them framed, some won't. This gives each individual the chance to display their pictures and accomplishments. You may use this idea for your sports banquet. Good luck (04/07/2005)

By MamawKC
RE: Decorating Ideas for a High School Sports Banquet.
I purchased the large Hershey's candybars (cost .99 ea. on sale, 1.99 not on sale). Wrapped 2 per table - in school colors. I also purchased curling ribbon to tie bars together like a gift. Filled latex balloons (school colors) with helium. Tied 3 balloons (per table) with curling ribbon to the candy bars (about 3' off table). Gave centerpiece away at end of program to 1 'winner' per table. Also used small colored bags filled with candy in place of candy bars. (11/14/2005)

By XC Runner's Mom
RE: Decorating Ideas for a High School Sports Banquet.
We do a more formal banquet for the entire year. A nice way to add fresh flowers to your table is to go to any garden center and get a flower that is your school color, at least one color. For Example: Our colors are blue and gold. So I try to find a gold/yellow flower and maybe some white. Usually, they are pretty cheap, maybe .50-$1.00. Then purchase tissue paper and wrap it around they planter. In my case, I would buy blue paper and maybe a gold ribbon to tie onto it. These are really cute and you can give them away at the end of the night, and they can plant them in their own gardens at home. (05/02/2006)

By Maria
I am planning a volleyball/soccer sports banquet. Any ideas on how to decorate the tables? I would like to incorporate an actual net as the table cloth but do not know quite how to pull it all together. Any suggestions?
Debbie From Gainesville, Florida
Answers:
RE:Sports Banquet Table Decorations
Since the net would make it hard to eat off the table without things falling through the holes, you could cover the net with a clear plastic table cloth. You can buy this by the yard at wal-mart or some fabric stores. you could also put pictures, news clippings or banners over the net and under the plastic. (10/09/2006)

By Carla Bledsoe
RE:Sports Banquet Table Decorations
On the table cloth idea, can get those decorating fishing nets (they have them at the beach) place a glass top or a clear table cloth over it. Voila! (10/12/2006)

By LRP