Camping Advice for Cooking, Set-Up and More
I look forward to camping each year. Although I now camp in a Pop-up camper, when my children were little, my husband and I would take them Tent camping. Cooking over a campfire can be one of the most challenging things you will ever do. I almost always knocked one meal or the other in the fire. (My husband was always better at this than I was) Good thing I always had things wrapped in tinfoil so they were easy to get out of the coals. So first off the bat are some cooking tips and then here are a few of the tips, my husband and I came up with that just might help make your next trip easier.
Cooking Tips
Bring lots of tin foil: it is good for covering grills that are greasy, can be wrapped around dirty utensils until you get home if you have to leave unexpectedly, and can be used to line pans.
Channel lock pliers make good pot holders.
Canning rings can be use to cook your eggs in for egg sandwiches. This is a great tip as it makes eggs just the right size for English muffins or hamburger buns.
We always use plastic butter tubs for storage containers for our camp kitchen. Those new coffee containers that have the handles built right in are great for carrying food that you just want to re-heat at the campsite. They hold a lot.
Always carry a couple of milk jugs of water just in case. Keep one for drinking and one for emergency use only, like cleaning cuts. A couple of empty ones to fill while you are there to keep by the fire is a good idea too.
Use a cookie tin as a Dutch oven; this came in real handy when I forgot one.
Bring your own: Grills from old ovens can be used for fire grills. Refrigerator shelves cannot be used as they will release toxic gasses when heated. Good tip when every fire pit in the campground's grill has gone missing or when cooking for a crowd and you need a second one.
Save your wooden kitchen matches after you use them, they can be used as tinder for your next fire.
Soak charcoal briquettes in paraffin to make fire starters.
Do the handles get hot on those old cooking pots you take camping? Buy a couple of dollar store pot holders fold in half and sew down the side and across the top so you now have something you can slide over the handles.
Use zip-lock bags for mixing foods: be sure it is closed tight and the top is held shut before shaking or kneading.
I also now use a wide mouth juice bottle like you get from "Simply Orange" orange juice and pre-measure pancake mix into it. I also buy the complete kind so all I have to do is add water and shake away until completely mixed. Almost Instant Pancakes!
Line your cooler with foil and then add your ice. Cover with another sheet of foil it will help your ice last even longer.
If you camp a lot, you might want to consider building your self a camp kitchen box. Build a three foot by four foot box with a back to it. Now with L brackets put in some dividers where you can store your spices and can goods and box mixes. With a piano hinge, add a lid. Now when you get to camp and have un-packed it, stand it on end and you have a cabinet that can be set next to the cooking area with everything neatly in it's place.
A Frisbee will add support to paper plates when the plate is place inside the Frisbee.
Tent and Gear Tips
Use a large zip lock plastic bag, filled with air, as a pillow.
An old closed cell foam exercise pad or egg crate bed mattress will make a passable sleeping pad. It can be made even better by padding it with an old torn blanket and sewing a nylon cover over it.
If you have inherited one of those mammoth old canvas cabin tents and still want to use it, it can be made waterproof again by spraying it with Thompson's water seal for decks. Cheap and it does make them waterproof again.
This is a great tip for young boys (toddler age) that you don't want to take to the bathroom in the middle of the night; a plastic bottle makes a good latrine. (You don't have to 'go' very far from your sleeping bag). Keep it just outside the tent flap.
Old shower curtains make great ground cloths.
A length of chain and a piece of coat hanger bent into an S-shape will allow you to hang your lantern from a tree limb. Shepard's hooks also work well for this and for a hanging shower.
A small automotive water hose clamp can be used as a stop for your dining fly's upright poles.
Make a camp washing machine from a five gallon bucket and a toilet plunger. With a hole saw, cut a hole in the lid and slide the plunger down. Add water and some soap and have the kids take turns plunging their dirty clothes. They will think this is great and, especially with a baby or toddler, you will have clean extra clothes for them. Hang out to dry.
Making a slit in a trash bag large enough to let your head through will make an emergency poncho.
Laundry lint makes good tinder.
Cutting slivers off scrap lumber and heating in the oven to dry out the wood will produce some very dry tinder. Tuck into a square laundry box and you will have a fire going in no time.
To prevent night accidents in camp, use phosphorescent paint to mark the the top of corner pegs of tents, etc. Use glow in the dark rope for clothes lines or for hanging anything in trees that you might need to find in the dark.
Keep a dry bar of herbal soap in your sleeping bag to combat musty odors which develop during damp-season camping. It will also keep some bugs away.
Keep your toilet roll dry by packing it in a coffee tin with a snap-on lid.
Old worn out nylon tents can be recycled as stuff bags, tent bags, bear bags, etc., with a seam across the bottom and up the side to form a bag. If you want a draw string, just sew the top over on itself and thread a thin nylon rope through the hole.
Miscellaneous Tips
Make sure that each kid on your trip wears a whistle and is told not to blow it unless they are lost. Teach them that when they figure out they are lost and can't find their way back to sit down and don't move and blow their whistle.
Take a digital camera and take pictures, instead of picking wildflowers. If you must pick, be sure to pick only the blooms, not the whole plant. Some wildflowers are also endangered species so take along a nature guide before you pick anything.
If you are not familiar with poison oak, sumac or ivy, make sure you make yourself a little chart off your computer so you can have it handy in case you need it. One with poisonous snakes and spiders or other creatures is helpful too.
Ice cubes are handy when you have to remove a splinter from a hand or foot. Use the ice to numb the area around the splinter before operating.
When handling evergreens or pine cones, you can remove the sticky sap from their hands easily if you use baking soda instead of soap to wash.
To prevent batteries from wearing down if a flashlight is accidentally nudged on while you're traveling, put the flashlight batteries in backwards.
Kitchen foil can add extra warmth to your boots. Trace each foot on a piece of foil and add a 1 inch border. Place the foil inside your boots, shiny side up so you benefit from radiant heat.
For those long hikes, here is a life saver: Wear nylon footies next to your feet to help prevent blisters.
To keep mosquitoes away, rub the inside of an orange peel on face, arms, and legs.
Wrap fishing gear in foil to keep line from tangling and hooks from rusting. By lining the compartments of a tackle box with foil, you can prevent rust damage to plugs and other equipment.
To remove musty smell from a canteen, put three teaspoons of baking soda into the canteen with a bit of water. Swish it around and let sit for an hour, and then rinse out the canteen. This also goes for musty coolers or water jugs.
Cut a rubber glove, when discarded, into thin strips to create varied rubber bands. Store with your camping gear for quick repairs of tarps to poles or tarps to tents or anything else.
Slit a piece of old garden hose lengthwise to use as a sheath for your saw or axe.
Carry some sanitary napkins in your first aid kit. They are inexpensive, sterile, and very absorbent. Use them as compresses to stop bleeding. Small squirt bottles from drinks also make handy containers for your first aid kit to hold rubbing alcohol or peroxide.
Duct tape can be used to repair most everything on a trip. Use it to patch tents, mend poles, patch torn shoes, hold poles for mosquito nets to cots, etc.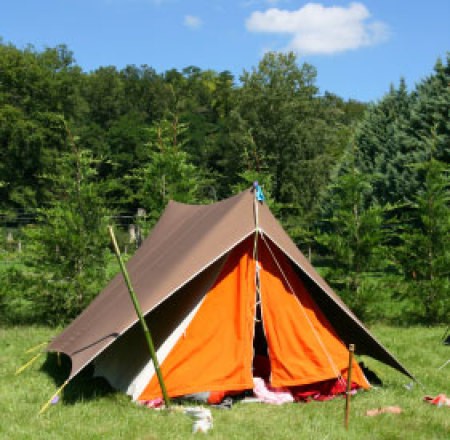 About The Author: Debra Frick is a mother of 5 and a grandmother to 8 grandsons and one granddaughter. She is a published author and poetress. Recycling and saving money are her passions. She also loves crocheting and cooking. She is also a pet rescue volunteer and has many pets of her own.
Add your voice! Click below to comment. ThriftyFun is powered by your wisdom!
Add your voice! Click below to comment. ThriftyFun is powered by your wisdom!
Related Content
In This Guide
Categories
Guides
More
Categories