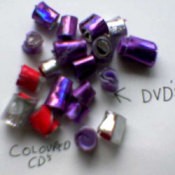 These beads were made from recycled CDs. When you make them, they are a bit stinky so use a well ventilated area or a mask.
Do be careful - They get hot!
I hope the pictures show you all you need to know. But here are some instructions to help I hope.
Heat CD over heat-gun.
Cut CDs into small strips wide or narrow (about a 1 cms or 1/2 inch works best).
Hold one end in pliers and other end in needle nose pliers over heat gun.
As they begin to become soft and wobbly, roll up the end held in the needle nose pliers (Like a Swiss roll or paper bead. Do Not Touch as they are Hot!)
Heat the end over heat gun and press hard with pliers or worksurface top to end the bead and so nothing is sticking up.
It takes a bit of trial and error to get them right, but that's the basic idea. Anyway have fun. DON'T INHALE THE FUMES! BEWARE BECAUSE THEY DO GET HOT!
If you discover an idea to modify the making or something please let me know! Have fun!- Cathy :o)
By Cath from Bradford West Yorkshire
Ad
---
Feedback Forum
Feedback about this article is posted here. Want to contribute? Click above to post feedback.

By david alksnis (Guest Post)06/04/2007
not trying to be nosy, but are you my sister cathy? if you are contact me on david_alksnis AT msn.com .thank you .david

By MOM (Guest Post)02/26/2006
Since there are so many types of plastics which give off toxic ( and I mean cancer producing ) fumes when heated AND there is a danger of getting burned doing this..........I suggest NOT trying this at home. WHY take the chance? MOM xxxooo

By samaree [5]02/18/2006
I am not sure what you mean by a heat gun. Please clarify. Thank you!

By Kathy (Guest Post)02/17/2006
You are so clever.

By Ziggee02/16/2006
those are so neat.......thanks for the tips.

Zig
Post Feedback
Add your voice to the conversation. Click here to share feedback.