Storing Nails in Recycled Plastic Containers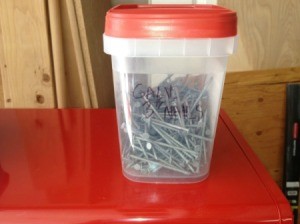 I found a great new use for the sturdy plastic containers that our dog treats come in from Costco. I use them to store large nails and screws that I buy in quantity for various projects. It's superior to large glass jars, which break easily, and these particular containers are made from thick plastic, so they should last a long time. I label them with permanent marker, but they also are see-thru, so it's easy to see what is stored inside.
By Lewissan
Feedback
Post Feedback
Add your voice to the conversation.
Related Guides
Related Posts