Tootsie Pops can be used to create many cute seasonal decorations and gifts. This is a guide about Tootsie Pop craft ideas.
Ad
---
Solutions: Tootsie Pop Craft Ideas
Read and rate the best solutions below by giving them a "thumbs up".
We made these at my son's school to be used as place cards for their Thanksgiving Feast. They would be perfect for both a school party or placed around the "kid's table" for your Thanksgiving meal at home!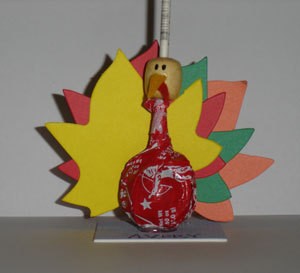 Approximate Time: 20 minutes
Supplies:
cardboard square (approx. 2x2 inches)
scissors
hot glue gun
felt (yellow and red)
construction paper (yellow, red, green, and orange)
Sharpie marker
wooden bead (hole big enough to fit over stick)
Tootsie Pop
"feather" template, your design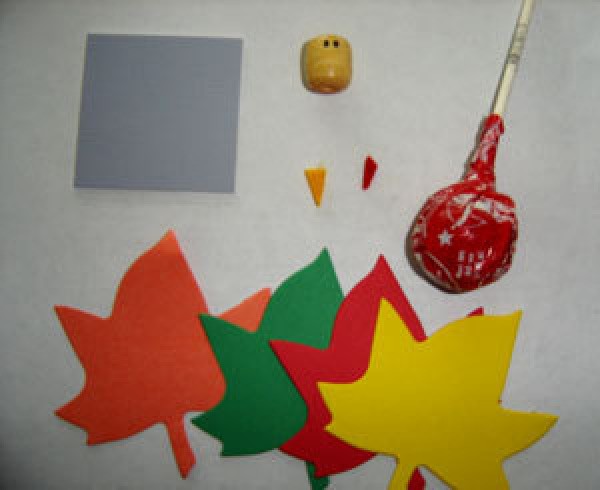 Instructions:
Make and cut out the "feather" template. Trace once onto each color of construction paper. Cut them out.
Fan out the "feathers" and glue together.
Glue the Tootsie Pop to the square piece of cardboard.
Cut out a triangle for the "beak" from the yellow felt.
Cut out a small, narrow triangle for the "wobble" from the red felt.
Draw eyes onto the bead "head".
Glue the "beak" and "wobble" onto the bead "head".
Glue the fanned "feathers" to one side of the Tootsie Pop.
Slide bead "head" over the stick. (If the bead does not fit snuggly you can place a small dab of glue on the bottom side of the bead to hold it in place.)
Write the person's name onto the cardboard square. (Optional)
By Laurel from Port Orchard (Thank you Turi!)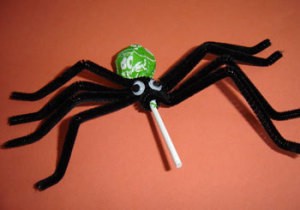 This simple craft takes a Tootsie Pop and makes it into a cute spider. It's great for a Halloween party or to hand out to trick-or-treaters.
Time commitment: Less than 5 minutes per spider.
Supplies:
lollipop of your choice
4 pipe cleaners
googly eyes
glue
Directions:
Hold all four pipe cleaners and center them on the lollipop then twist them around the stick.
Bend each end of the pipe cleaners to make them look like spider legs.
Glue on two googly eyes.
For a fun Halloween treat, you will need Tootsie Roll Pops, squares of white fabric, rubber bands and a black Sharpie pen.

Cut the fabric into 4 inch squares. Place over Tootsie Roll Pop so the Pop is in the center of the fabric.

Pull tight over the Pop and secure with a rubber band on the stick directly under the Pop.

Using the Sharpie, dot on two eyes.

With scissors, cut the fabric to give it a torn, ragged look. Or you can leave the fabric intact.

Halloween Tootsie Roll Pop Ghosts!

By Susan D. from Portland, OR
Easy to make Tootsie Pop Santa. To go along with my Tootsie Pop Snowman, this Santa would make the perfect treat a child on Christmas. These make great party favors or place cards. Another option in presenting this to someone might be to attach a string and hang it on the tree as an ornament!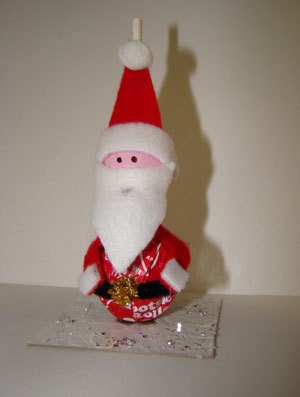 Approximate Time: 30 minutes
Supplies:
cardboard square (approx. 2x2 inches)
scissors
hot glue gun
felt (red and white)
pompom, small (white)
Sharpie marker
wooden bead (1 inch)
acrylic paint (light pink)
Tootsie pop
pipe cleaners (black and metallic gold)
glitter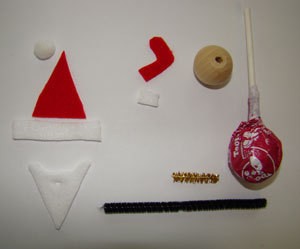 Instructions:
Paint wooden bead light pink. Let dry. Slide bead onto stick of Tootsie Pop.
Hat: Cut triangle (approx. 1.25 inches wide x 1.75 inches high) out of red felt. Trim: Cut thin strip (approx. 2 inches long) out of white felt. Glue trim to "hat" leaving a little over hang on both sides of "hat". Glue pompom onto tip of "hat".
Wrap "hat" around bead "head". Put glue on ends of "trim" and attach to "head". Draw "eyes" on "head" just below the bottom of the "hat".
Cut a triangle (approx. 1.5 inches wide x 1.5 inches long) out of the white felt. This makes his "beard". Cut a "U" shape out of the top of the triangle. Fold triangle (lengthwise) and snip a small triangle out the "beard" for his "mouth".
Glue the "beard" to the sides of the "head".
Cut a piece of black pipe cleaner long enough to wrap around the Tootsie pop. Cut a small piece of gold pipe cleaner, wrap around the center of black pipe cleaner to make the "buckle". Twist the ends of the "belt" together to secure it to the pop.
Cut two two "L" shaped pieces of red felt to make the "arms". Cut two small pieces of white felt and glue to the ends of the "arms" to make the "cuffs".
Glue the "arms" to the sides of the Tootsie pop.
Glue the Tootsie pop to the piece of cardboard OR attach a string to it and make it an ornament. (Optional) Paint cardboard white and sprinkle glitter onto the wet paint!
NOTE: I did not glue any parts of the Santa to the Tootsie Pop stick. That way it can be easily removed prior to eating.
By Laurel from Port Orchard, WA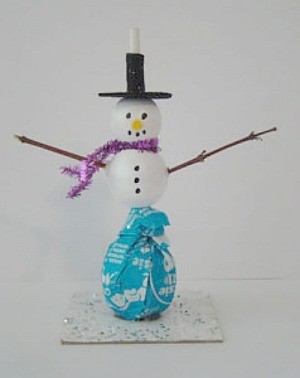 Easy to make Tootsie Pop Snowman. After making the Tootsie Pop Turkey this year, I kept trying to think of something similar to make at Christmas! This is one of the ideas I had. They would be cute as place cards at a meal or stuck on top of a present!
Give a "thumbs up" to the solution that worked the best! Do you have a better solution? Click here to share it!
Questions
Here are questions related to Tootsie Pop Craft Ideas.
I would like some Tootsie Roll Pop craft ideas.
By Karen from Port Orchard, WA
AnswerWas this interesting? Yes No
Ad
---
---
Most Recent Answer
By Grandma J 54 1,041 11/20/20100 people found this helpful
We just did one as an office warming gift for the new pastor.
Took a small sized real pumkin, took a small drill it, drilled holes all over it in a pattern, stuck in dumdum suckers so that as new people came into meet him, he could offer them a sucker.

I have posted a valentine decoration using tootsie pops, could be altered for any holiday.
---