Painting Over Varnish
Preparing a varnished wood surface properly before painting is important. This guide is about painting over varnish.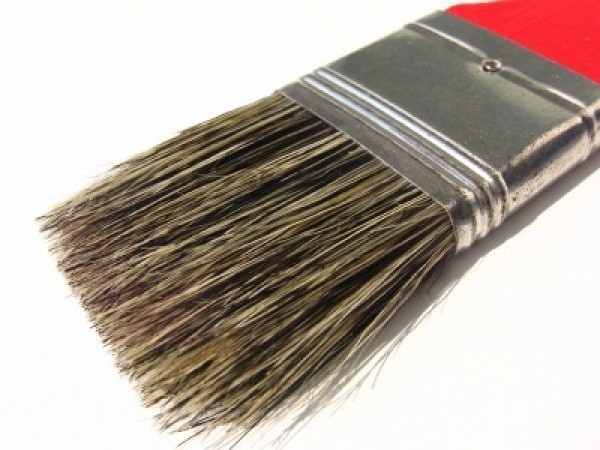 Filter

: All Articles
Sort

: Relevance
I have brown, I think varnished (it has a shiny coat on it, I assume it's varnish), trim in my bathroom. I want to paint it white and was hoping I wouldn't have to do any sanding before hand. Can I add Kilz or some type of primer to the area before I paint and avoid sanding?
By JS
September 13, 2011
0

found this helpful
Well, if you want another answer. Paint will not adhere to the shiny substrate. You need to scuff the surface for the paint to bond. You don't need to use sandpaper but you can buy a product from 3M called Scotchbrite. It is a nylon pad impregnated with either a silicone carbide or aluminum oxide mineral. Grey is the silicon and red is the aluminum product.
The difference is the silicone cuts finer. You can fine this product at auto part stores, big box stores and paint stores. I don't use Klix as I have found it difficult to cover with a top coat. I have used it a few times but found after several top coats the white still is visible through the top coat.
September 13, 2011
0

found this helpful
A product called "gripper" (similar to kilz) actually allows paint to adhere to slick surfaces, even glass.
Yes, the obvious is sand to give a "tooth" to the wood. There are liquid sanders also.
Ask if the clerk is an experienced painter at your local big box store for advice.
September 13, 2011
0

found this helpful
Any finish should be prepared before painting. Find some "liquid sandpaper" at your paint store, and follow the instructions exactly. 'Paso' is the best I've ever used, but it can be hard to find. Only one store in our city carries it. I haven't looked online.
What is the least intensive way to paint over varnish?
By Randi from Williamsburg, KY
April 14, 2011
0

found this helpful
I painted over a varnished piece of furniture very successfully by leaving it out in the hot sun. I have the advantage (?) of living in a country with very hot summers so that the sun would bleach out the varnish. After a few days, I painted over it with no problems at all. Hope this helps.
April 17, 2011
0

found this helpful
I painted over every door in my condo, all were varnished, that's 9 doors on both sides, and 6 that are part of double sliding or bi-fold doors of which I only did the visible side, plus the interior surface of the two doors going outside.
I used a power sander just to scratch the surface, but not to remove all the varnish, then 1 coat of Zinsser's Bullseye 123 Primer, and then 3 coats of semi-gloss paint. I don't know how long ago that was, at least 10 or 12 years ago--and they still look great. There are just a few tiny nicks which I can touch up with leftover paint.
It's the best thing I did to this place, the doors were very dark and made the condo look very dreary. Now they're a creamy white and brighten every room. I left the trim the way it was a medium stain.
April 17, 2011
0

found this helpful
What is TSP? I live in Europe and might be able to get it if I know the full chemical name.
I've seen some older posts already about painting directly over varnished furniture, but it's not exactly the same problem that I have. I was just wondering, I have a small, mahogany corner shelf unit that someone forgot to move when we were oil-painting the door next to it.
It's full of white spatters, but I don't want to toss it if I can paint over it to hide the spatters. It's very hot here where I live, would it be a good idea to stick it outside in the hot sun so as to fade away the varnish before I paint it. Sanding it down is too difficult as it is full of carvings and swirls. Anybody have any suggestions?
By Cettina from Malta, Europe
August 7, 2010
0

found this helpful
Go to the hardware store and get liquid sandpaper, comes in a variety of names. It is a cleaner, slight stripper. I use this in my 100 year old house to clean woodwork without having to refinish anything. Cleans it up nice and shiny.
This is not tsp.
August 10, 2010
0

found this helpful
Never heard of such a thing as liquid sandpaper but the concept seems exactly what I need. Thanks for the suggestion. I will go and see if such a thing is available in my country.
March 30, 2016
0

found this helpful
It's called sugar soap
I've already made the mistake of painting two coats of enamel over varnished cabinets. The yellow streaks still bleed through. What product can I use to correct this mistake without starting over?
By Jeff B.
October 20, 2014
0

found this helpful
I have the same problem. I'm using Annie Sloan Chalk paint on wood and the varnish is bleeding through.
June 9, 2016
0

found this helpful
Steps to paint over kitchen cabinets after varnish is stripped and sanded
Can I use water based varnish on previously petroleum based varnished floors? The drying time is the main factor in this regard.
By Lynn
July 27, 2013
0

found this helpful
If you use a water based application on an oil based surface you will have bigger problems than just a prolonged drying time. First and most important of those problems is that the water based application will not be able to form a bond with the oil based application - this will lead to peeling/blistering and will look awful.
Prepare your surface properly before attempting the water based application for long-lasting, high quality results. A bit of elbow greased effort now will save you a lot of elbow greased effort to repair the horrid mess of applying any finish to an improperly prepared surface, not to mention the amount of money you will save doing it right the first time!
I have hardwood window frames (mahogany). I want to paint them gloss white to smarten them up. What is the best way of going about this?
By Alan from Liverpool
December 25, 2014
0

found this helpful
Have you tried contact primer which according to SW does not need sanding and sticks to any smooth surface?
What is the best way to paint over varnished doors and doorways that are very dark?
By Shir from Sydney, Australia
January 20, 2012
0

found this helpful
The very best way is to remove the doors and sand the varnish off. Then use a good primer, and paint the colour you want. The sanding removes the varnish that if left on could cause your paint job to peel and look nasty; the primer creates a paintable barrier-the paint goes on and stays on, but you don't have the paint soaking into the wood and causing you to need more than three coats to get good coverage.
Another, quicker way to paint a varnished surface, is to 'rough' the surface of the varnish with either a commercial product like TSP (labelled as a cleaner), or a homemade rougher like vinegar and water. Apply wearing protective gloves, and use a nylon scrubber pad.
Roughing the surface should break the chemical bond the varnish has with the wood, and makes it easier to paint over without having to worry about the new paint peeling. It doesn't always work, though, so the best thing to do really is to sand the varnish off and start with bare wood.
I've heard that it's possible to paint over varnish without sanding by using Zinsser BIN primer. Has anyone tried this?
Read More...
Our home was built in the early 70s. The wood was finished with high gloss varnish and now we want to paint over it. What is the least labor intensive way to prepare the high gloss surface?
Read More...
Related
© 1997-2016 by Cumuli, Inc. All Rights Reserved. Published by
ThriftyFun
.
Page
generated on September 26, 2016 at 5:16:35 AM on 10.0.1.95 in 3 seconds. Use of this web site constitutes acceptance of ThriftyFun's
Disclaimer
and
Privacy Policy
. If you have any problems or suggestions feel free to
Contact Us
.