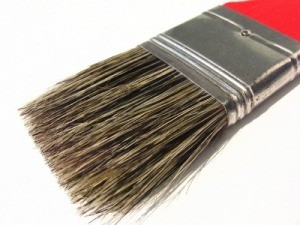 Preparing a varnished wood surface properly before painting is important. This guide is about painting over varnish.
Ad
---
Questions
Here are questions related to Painting Over Varnish.
I have brown, I think varnished (it has a shiny coat on it, I assume it's varnish), trim in my bathroom. I want to paint it white and was hoping I wouldn't have to do any sanding before hand. Can I add Kilz or some type of primer to the area before I paint and avoid sanding?
By JS
AnswerWas this interesting? Yes No
Ad
---
---
Most Recent Answer
By Shirley Darby [7] 09/13/20110 people found this helpful
Any finish should be prepared before painting. Find some "liquid sandpaper" at your paint store, and follow the instructions exactly. 'Paso' is the best I've ever used, but it can be hard to find. Only one store in our city carries it. I haven't looked online.
---
What is the least intensive way to paint over varnish?
By Randi from Williamsburg, KY
AnswerWas this interesting? Yes No
Ad
---
---
Most Recent Answer
By joanfry [28] 04/17/20110 people found this helpful
What is TSP? I live in Europe and might be able to get it if I know the full chemical name.

---
I've seen some older posts already about painting directly over varnished furniture, but it's not exactly the same problem that I have. I was just wondering, I have a small, mahogany corner shelf unit that someone forgot to move when we were oil-painting the door next to it.
It's full of white spatters, but I don't want to toss it if I can paint over it to hide the spatters. It's very hot here where I live, would it be a good idea to stick it outside in the hot sun so as to fade away the varnish before I paint it. Sanding it down is too difficult as it is full of carvings and swirls. Anybody have any suggestions?
By Cettina from Malta, Europe
AnswerWas this interesting? Yes No
---
Most Recent Answer
By cettina [78] 08/10/20100 people found this helpful
Never heard of such a thing as liquid sandpaper but the concept seems exactly what I need. Thanks for the suggestion. I will go and see if such a thing is available in my country.
---
Can I use water based varnish on previously petroleum based varnished floors? The drying time is the main factor in this regard.
By Lynn
AnswerWas this interesting? Yes No
---
Most Recent Answer
By Frugal Sunnie [11] 07/27/20130 people found this helpful
If you use a water based application on an oil based surface you will have bigger problems than just a prolonged drying time. First and most important of those problems is that the water based application will not be able to form a bond with the oil based application - this will lead to peeling/blistering and will look awful.

Prepare your surface properly before attempting the water based application for long-lasting, high quality results. A bit of elbow greased effort now will save you a lot of elbow greased effort to repair the horrid mess of applying any finish to an improperly prepared surface, not to mention the amount of money you will save doing it right the first time!


I have hardwood window frames (mahogany). I want to paint them gloss white to smarten them up. What is the best way of going about this?
By Alan from Liverpool
AnswerWas this interesting? Yes No
---
Most Recent Answer
I've already made the mistake of painting two coats of enamel over varnished cabinets. The yellow streaks still bleed through. What product can I use to correct this mistake without starting over?
By Jeff B.
AnswerWas this interesting? Yes No
---
Most Recent Answer
By Sucharita S. 10/20/20140 people found this helpful
I have the same problem. I'm using Annie Sloan Chalk paint on wood and the varnish is bleeding through.

What is the best way to paint over varnished doors and doorways that are very dark?
By Shir from Sydney, Australia
AnswerWas this interesting? Yes No
---
Most Recent Answer
By Frugal Sunnie [11] 01/20/20120 people found this helpful
The very best way is to remove the doors and sand the varnish off. Then use a good primer, and paint the colour you want. The sanding removes the varnish that if left on could cause your paint job to peel and look nasty; the primer creates a paintable barrier-the paint goes on and stays on, but you don't have the paint soaking into the wood and causing you to need more than three coats to get good coverage.

Another, quicker way to paint a varnished surface, is to 'rough' the surface of the varnish with either a commercial product like TSP (labelled as a cleaner), or a homemade rougher like vinegar and water. Apply wearing protective gloves, and use a nylon scrubber pad.

Roughing the surface should break the chemical bond the varnish has with the wood, and makes it easier to paint over without having to worry about the new paint peeling. It doesn't always work, though, so the best thing to do really is to sand the varnish off and start with bare wood.
I've heard that it's possible to paint over varnish without sanding by using Zinsser BIN primer. Has anyone tried this?
By Janis T.
AnswerWas this interesting? Yes No
---
Most Recent Answer
By Elaine S. [39] 10/14/20110 people found this helpful
Yes I have done this. But I still think it is better to go over it with some rough sandpaper first. You don't have to sand that much and it makes the primer adhere better in my opinion. If you absolutely don't want to sand, they make a liquid sand that works very well. It is sold anywhere where they sell paint.
I am painting some chairs which are either varnished or stained. The coating is really light and goes back to the wood in most places easily, but some areas are harder to sand back. Do I have to take the entire varnish off or can it just be heavily sanded so it is rough?
By Tracey
My question is, should I paint the door first or varnish it first? Please offer suggestions, because the sun's rays are reflecting directly on our front door.
By Jaypee
Solutions: Painting Over Varnish
Do you have knowledge about this guide topic? Feel free to share a solution!
Archives
Thrifty Fun has been around so long that many of our pages have been reset several times. Archives are older versions of the page and the comments that were provided then.
I want to paint my bathroom vanity and door. It is varnished and I want to paint over it. Since it is in the bathroom will the paint peel off because of the moisture in the bathroom?

Pat from Ohio
---
RE: Painting Over Vanished Cabinets
I don't know if this will work in your situation, but check out a product called Kiltz. We have used it to cover things before painting them. You will find it in the paint dept. at Home Depot or Lowe's and you would paint it on the cabinets as a primer. Ask someone working in the paint dept. about using it for your cabinets. (06/29/2004)
By Ann
RE: Painting Over Vanished Cabinets
No need to use Kiltz, it isn't designed to adhere to slick surfaces. Zinsser makes a primer called Cover Stain. Valspar makes one called Glossy Surface Primer. They should both work on the varnish and the laminate. With either of these, it is still best to slightly rough up the surface with 60 or 100 grit sandpaper (wear a dust mask). There is also a product called Liquid Sandpaper that claims you don't have to use sand paper, but save your money and time and just use sandpaper. Clean with a solution of TSP, rinse very well to make sure you don't leave a residue (Jomax makes a TSP that you shouldn't have to rinse). Allow the surface to dry, fill any scratches or holes with spackle or wood putty. Once the putty is dry, sand it smooth, then prime. Both of these primers are oil based so they smell very strong, make sure you have the windows open and a fan pulling air out of the room.
Once the primer is dry, top coat with a quality high gloss or cabinet paint. High gloss paint will last longer and be more chip resistant than other sheen levels. You can top coat oil based primers with latex or acrylic paint. Always make sure that the primer is totally dry before applying the top coat. Use a low nap or foam roller to avoid brush marks where possible (high gloss paint is very thick and may leave brush marks if it dries too quickly). It is best if you can take the cabinet doors off and lay them out in a garage to do all this. This gives you the opportunity to really clean all the hardware. (06/29/2004)
By Patticat
RE: Painting Over Vanished Cabinets
If you strip the cabinets, you will still need to sand, clean and prime them before you can paint, and the chemicals in the stripper may cause the plywood to de-laminate (it may dissolve the glue holding the layers together). You could use a hand stripper or a sander (palm, orbital, or belt) to remove the layers of varnish, but that will take a lot of time and is really only recommended for slab doors (doors without any decoration). If the doors have decoration or detail, you will need something like a Dremel to remove the varnish from the decoration. Or use a product called Peel Away 7 (check your local hardware store, Ace stores in some areas of the US can get it). With the Peel Away, you apply the stripper, then lay a special kind of paper on top. When the stripper is done reacting with the varnish, you "peel away" the paper and the varnish together. Once the varnish is all removed, fill any holes and scratches and allow the filler to dry. Sand the dried filler and surfaces smooth, clean the surfaces and allow to dry. Then prime with an enamel undercoat (or any interior primer that will work on wood) and paint with a quality high gloss or cabinet paint. (06/29/2004)
By Patticat
RE: Painting Over Vanished Cabinets
My suggestion is to go to the paint store, where you can get a professional opinion, and ask what should be done. I don't think you can beat a professional opinion! (06/29/2004)
By Syd
RE: Painting Over Kiltz
Does it make a difference if you use an oil base or water base Kiltz primer to paint oil, or water base paint over it? Can you use any kind of Kiltz primer to use water base or waster base paint over it? Please help. Thank you, Harry. (01/12/2005)
By Harry
RE: Painting Over Vanished Cabinets
Just for your info- I painted wood dressers, that had been previously varnished, after sanding them and putting a coat of Kiltz primer on- the varnish still bled through. (05/19/2005)
By Alisa
RE: Painting Over Vanished Cabinets
We bought Bullseye 123 primer at Wal-mart. It is water based and you just clean the varnished surfaces with ammonia and water and make sure you clean them well. Put on the Bullseye Primer and wait about one hour. Then paint. Have had great success. (05/24/2005)
By Byron
RE: Painting Over Varnish
I would think that after you paint it, as long as you put on a sealant it should be all right. The sealants work for wood that is left outside in the rain and snow. Vicki in SC. (07/05/2005)
By s8fhaven
RE: Painting Over Varnish
All of my bedroom furniture was varnished wood but I wanted white! I just cleaned it really good with an ammonia & water solution. Then painted with Wal-Mart white enamel paint. No bleeding, no chipping. That was 5 years ago and it still looks great. (07/06/2005)
By hugmehugs
RE: Painting Over Varnish
I paint over varnish, you may have to do it twice if you use an inexpensive paint. (07/06/2005)
By Annette
RE: Painting Over Varnish
Kilz is usually water and methanol based, which may mobilize softer varnishes, rather than coating them. I've had good luck with TSP, light sandpapering, wipe, and then a good primer layer. Get something for high wear surfaces. (07/31/2005)
RE: Painting Over Varnish
I am putting my house on the market shortly and all the doors to the bedrooms, bathrooms and closet doors look worn. I got a few quotes to replace them and it was much too expensive. How could I paint them so that they look good. I was thinking of either white or off white paint. (04/09/2006)
By ann
RE: Painting Over Varnish
Behr (can be purchased at any Home Depot) has a primer that works over laminates, glass, and any other slick surface. It's in a purple can. Just apply this, then your paint color. Depending on the surface you are painting, you may want to finish with a few coats of poly (water based poly will not change the color painted, while oil based will change color to look amber-if using a white finish coat). (04/20/2006)
By debi
I am wanting to paint over a banister around the stairs with a cream gloss. It is varnished brown at the moment. Is that possible without sanding?
Can I paint over varnished wood?
By Sandy from Buffalo, NY
---
RE: Painting Over Varnish
Yes, wash the area to be painted to remove old dirt and grime. Then scuff up the surface with fine sandpaper so the paint will be able to adhere to the old surface. Not scuffing the surface can have the new top coat peel off. (01/12/2010)
By foxrun41
How do I paint over a varnished and marked table?