My girls love to do jigsaw puzzles and hate to break them apart after doing them. What to do with all those puzzles? I decided to cover the puzzle with clear contact paper. I can then use it as a beautiful placemat, furniture protector under plants, dog dishes mat, and I'm sure there are other uses I will find later! Very simple to do. After completing puzzle, simply measure the contact paper, adding 1 inch on all sides. Take off paper backing and cover finished puzzle. Carefully bend the 1 inch excess to the back of the puzzle. Then turn the puzzle over, cut a piece to fit and attach contact paper. Washable and beautiful. Hint: I found out with my dog mat that I needed to put an extra 2 inch strip around the edges to provide a better seal for waterproofing!

By Cynthia from Ava, IL
Ad
---
Feedback Forum
Feedback about this article is posted here. Want to contribute? Click above to post feedback.
By Sandi/Poor But Proud [446]04/09/2012
I put duct tape on the back of mine and hang them on the walls. I never buy a puzzle I don't want up on my wall, but I like your idea, too.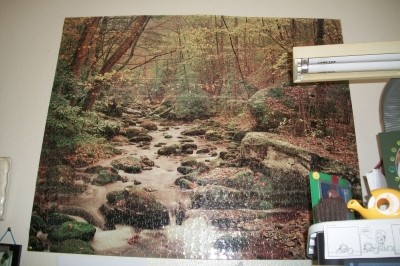 By great soccer (Guest Post)09/13/2006
I think it is very cool, but I always like redoing my puzzles again and again. It is just so much fun to amaze my friends by finishing it in just a couple minutes.

By Mom (Guest Post)06/15/2006
Check with you local craft store for puzzle glue. You simply brush it on the front of the puzzle, let it dry (it dries virtually invisible), and you will have a new family-made piece of art! We have several in our house, and my daughter always points them out to any visitors.

By Alicia [3]06/08/2006
You can also find it at Wal-Mart in the contact paper aisle. Worst comes to worst, they sell it in preschool teacher catalogs. Google it and buy it like that. It's not too expensive. Like $20 a roll of like 50 feet. I have never seen it at the actual $ store. Ussually $ General or Family $.

By Tammi Bailey06/08/2006
Where do you find clear contact paper? I've been told to look at the $$$ store and it is never there. They have many different styles but not clear. I've been to 3 around my area and no luck. Any suggestions??

Thanks,
Tammi
Post Feedback
Add your voice to the conversation. Click here to share feedback.