Create an easy garden tunnel for your kids. Use 10 foot long, 1/2 inch diameter PVC pipe and push each end into the ground to create an arch. The arch will be about 4 feet wide at the bottom, and about 3-4 feet tall. Make another arch about every 2 feet apart. Attach plastic garden fencing to the frame with cable ties. Morning glories will cover the tunnel quickly; you can also plant pole beans and other climbing vegetables. This is an inexpensive way to create a natural fort for your kids!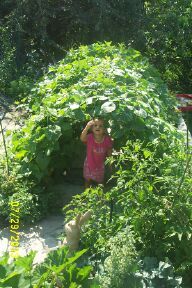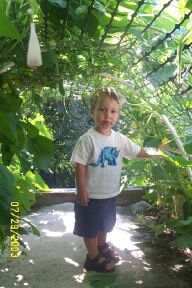 By Betsy
Ad
---
Feedback Forum
Feedback about this article is posted here. Want to contribute? Click above to post feedback.

By luna09/09/2010
This is the coolest thing I have ever seen, I wish mine were small enough for it but I may have to do it anyhow.

By Cookie [1]09/09/2010
This is the best idea ever! This will be my first garden project next April. I love Thriftyfun!

Cookie

By Candy Killion [9]06/02/2010
Repeating what everybody else has said. This is so very cool! Great idea.

By Annie Rios Hill [12]10/03/2005
Good idea and looks like a cool spot.

By Sue from Boston (Guest Post)10/03/2005
I LOVE this idea, and the pictures are great ! My 12
year old son still loves to build forts in the house out of whatever he can find, but this would be fabulous for my front yard.... only trouble is, the yard is all shade, I wonder what else I could plant that would climb so well in the shade... I've got
all winter to plot it out... Thanks for such a fabulous idea !

By Ruth Kennedy [4]09/30/2005
that is soooooooo kewl.....my 4 grandsons would really enjoy that.....thanx,

By Joyce [12]09/30/2005
I love the idea i am going too have too try it. My grandkids will just love it.
Post Feedback
Add your voice to the conversation. Click here to share feedback.