Bathroom counters are prone to being filled with various products. It can be difficult to find a way to organize these things in manner that makes the products you use daily easily accessible, and also keeps the area to looking tidy. This is a guide about organizing your bathroom counter.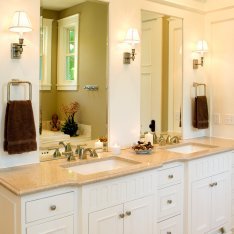 Filter

: All Articles
Sort

: Relevance
I have a tip for those of us that still like to do dishes by hand. I was tired of looking at the bottle of dish soap on my sink, so I decides to get a cute pickle dish with 3 sections at the dollar store and place my sink items I use every day in it. I also got a lemon squirt bottle for my dish soap. That way you don't waste as much and no big bottle at your sink. You can use ketchup/mustard any refillable smaller bottle.
I know I could put it under my sink, but, with everyone using the sink, it's easier for us. I hope some one can use this idea!
By diva53d from Foymount, Ontario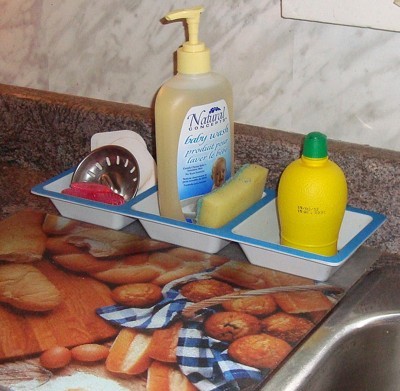 I moved into an apartment that has almost no counter space, especially in the bathroom.
I took one of the spacers from a pressboard book case and cut it to fit the width of the back of the sink's counter. Then I covered two vegetable cans with contact paper, and then the board. It made a nice shelf for pretties against the back. Nothing would have fit, and now I don't have to worry about it!
N-JOY!
By Sandi A. from Salem, OR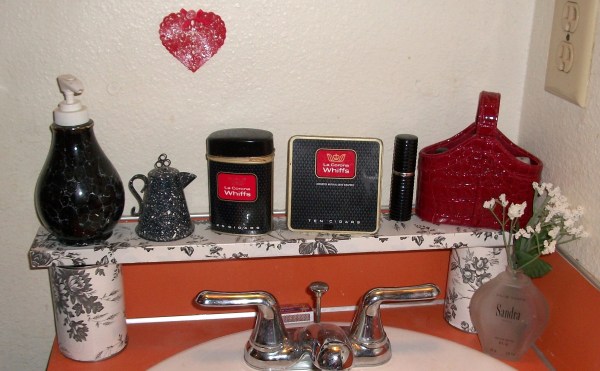 Because we have a couple of our adult children living at home, I find there are too many different bars of soap lying around the bathroom. To keep them tidy and also to give a pretty look to the room I found a way to organize the sudsy mess!
I simply used a country looking container (I like enamelware, so I used a small enamelware piece, you could use a decorative square or rectangle "plate" or a pretty glass piece that you want to display, pewter, etc.) I laid pretty river rocks on the bottom (the bigger ones) on the bottom of the enamelware, and lined the soaps on top of the rocks. They are great for keeping the soap dry and look so nice!
By Joynchocolate from Landisville, PA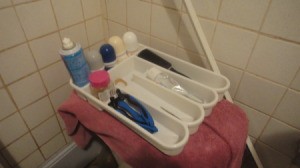 I had an extra silverware holder so I put it in the bathroom to organize things laying all over the sink.
By Coville123 from Brockville, Ontario
I have a small bathroom with limited space on the countertop. I have a cabinet under the sink but no drawers. Any ideas on how I can organize my things? My counter is cluttered with toothpaste, floss, combs, mouthwash, etc.
Answer
Was this helpful?
Helpful?
Yes
By guest (Guest Post)
Flag
I had the same problem until I hung one of those shoe holders on the bathroom door. The pockets are clear, so I can see what I'm looking for right away.
I read about this idea, but it was suggested to keep extra towels, soaps, toothbrushes etc for guests. But I found that this worked best for me as a place for the things that I use on a daily basis.
I have one row for dental things (mouthwash, toothpaste, floss, toothbrush, teeth bleaching kit), one for hair stuff like brushes, gel or hairspray, combs, hairties or barrettes (I even use one pocket as a "holster" for my hair dryer), one row for a lotion, powder, perfume, another row for make-up, etc. I even have a row with air freshner and crosswords puzzles with pens for those longer toileting visits :)
Reply
Was this helpful?
Helpful?
Yes
Read More Answers...
Individual items don't look like clutter if they are gathered on a tray or in a basket. Look around your home to see what you can find to use for that purpose. You may decide to include a candle or ribbon to dress it up a bit.
Years ago people often had a tray on their dresser to hold their comb and brush. Often the tray included a mirror. Perfume bottles were somtimes included as well. Maybe you will find a mirror or glass filled picture frame to use in your bathroom.
Don't be afraid to try new things!
By Carol from Wyoming, PA
Comment
Was this helpful?
Helpful?
Yes
Yes, all those bottles! I still use one of the old chrome and metal mirrored bottom trays with chrome pipe sides. They are easy to clean and all the bottles, tubes and such are contained in a small area. I think you can still buy the trays at bath stores and I have seen them at resale shops, too. You can spray paint to match your taste.
By Shelly from Florida
Comment
Was this helpful?
Helpful?
Yes