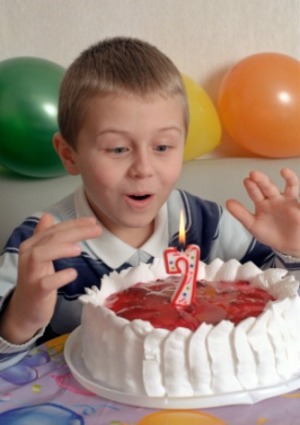 Coming up with fun ideas for your child's birthday party is not always that easy. This is a guide about 7th birthday party ideas.
Ad
---
Questions
Here are questions related to 7th Birthday Party Ideas.
What is the best theme for my son's birthday party, he's turning 7 years old?
By Mayet from Philippines
AnswerWas this interesting? Yes No
Ad
---
---
Most Recent Answer
By pesto345 1 04/29/20150 people found this helpful
OMG I totally love the detective game idea! The mystery of the missing cake, I already have in mind how I want to do this. Thanks for the great idea.
---
My son is really into ninjas. I can't think of any games that center around that. Any ideas?
AnswerWas this interesting? Yes No
Ad
---
---
Most Recent Answer
By Mary Lou 14 765 08/27/20150 people found this helpful
You don't say how old he is. Maybe a Best Ninja stance contest, pin the sword on the ninja and like that.
---
I need ideas for an inexpensive birthday party for a seven year old girl. She wants bubbles.
By Amanda from Graham, TX
AnswerWas this interesting? Yes No
---
Most Recent Answer
By Lee 6 111 11/13/20100 people found this helpful
Blow up your balloons and rub them on her head the static. It will make them stick to the ceiling.
---
I need ideas for a 7 year old's indoor birthday party.
By Mary from Chicago, IL
AnswerWas this interesting? Yes No
---
Most Recent Answer
By Michele 18 64 01/28/20100 people found this helpful
Growing up in Brooklyn, most parties were inside. We always played musical chairs and pin the tail on the donkey. Another game we played was the parent who is hosting the party would put about a dozen items on a tray, for instance a rubber band, paper clip, a pen you get the idea. The kids would have 5 seconds to look at the tray, then would have to write down as many items that they remembered. The person who can name the most won. Maybe you can get a bunch of party hats and have the kids decorate them. When my son was turning 6, I had a sponge Bob party for him. I bought a bunch of yellow sponges, google eyes, felt and other craft odds and ends and I had the kids make their own Sponge Bob. Hope these ideas can help you out!
---
Solutions: 7th Birthday Party Ideas
Do you have knowledge about this guide topic? Feel free to share a solution!
Archives
Thrifty Fun has been around so long that many of our pages have been reset several times. Archives are older versions of the page and the comments that were provided then.
I am going to be having a birthday party for my daughter in November which she will be 7 years old. Does anyone know of any neat games to play or treasure hunt ideas any suggestions will help.
Lori
---
Foam Art
A fun activity for children of that age is to take the foam packaging from meat (wash in soap and hot water so nice and clean) and using wax crayons, make a lovely picture. When the pictures are done they can be put into the oven for about 3 or 4 minutes - the foam shrinks up and makes a fun party favor. (10/21/2004)
By Barbara
Pirate Party
In "The Complete Tightwad Gazette" which is available at most libraries, they go into detail about a pirate party for children involving a treasure hunt, cake design, and party decorations including building a pirate ship with old sheet sails, paper pirate flag, and a ship's wheel made from scrap wood. They also had several activities, take home giifts, and a budget listing how much it cost (under $10). (10/23/2004)
By Kelly
Treasure Chest
I found cute small treasure chests to fill with candy pieces and quarters and we are going to hide them around the yard. Also, I found a talking Pinata for only $14.99. (05/10/2005)
By Ellen
Count The Jelly Beans
Fill a jar with jelly beans make sure you know how many are in there. When each child comes in ask the how many they think are in there then at the end reveal who got the nearest to the actual total. That person gets the whole jar of jelly beans. (08/22/2006)
By jayde.
7 Year Old Birthday Party Ideas. I need birthday entertainment ideas for a 7 year old.