My Ozzie is a Boston terrier mix, he is a little over a year old. I'm having problems with him when people are coming in the door. He jumps all over them and scratches, of course not on purpose. But when little kids come over I don't want them getting scared or hurt. I want to control him more when people are entering my home, what can I do?
Nikki from Chicago, IL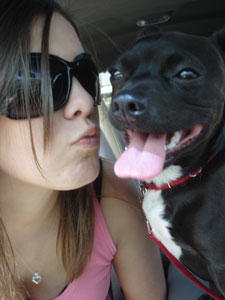 Answers:
Dog Jumping on People
When I took our dog to novice dog training, we were taught a collar correction. Because it requires a training or pinch collar, I recommend having a seasoned trainer show you the technique so you don't hurt your dog. The idea of those collars is not to choke or hurt them, but give them a quick surprise to teach what not to do. Usually it just takes a couple of times of being corrected to stop the behaviour so it's not something you have to do for long.

After I got the initial jumping stopped, I started to teach my dog that she would not get petted unless all her feet were on the ground. I'd put her in a sit and if she jumped I'd stop petting her, put her back on position and then would resume petting and treating her. You could just try the second part without the correction, but it would depend on how quickly your dog learns. (10/29/2007)
By Cindy
Dog Jumping on People
Do not use any kind of collar training. That's very old news. The reward system is best. If you search this site you'll find lots of good info. Basically, you need to have the dog out of the room on a leash when company comes. Have plenty of small treats. Put him in a sit, reward him. He will jump up and that's expected. Put him in a sit etc.

When they are comfortably in the room walk him in. If he jumps up, have them turn around, away from him. He needs to know he gets no attention when he does it. As soon as he's down on all fours, reward him. I've done it, it works. At some point take him off the leash and let him have free fun. If he does it again have them turn around again and reward him when he's on all fours again. This is just one way. (10/31/2007)
By Me
Dog Jumping on People
Have you been to obedience training (for you, that is) as the first poster recommended?
I would make the dog sit before I opened the door, and sit again as needed until the excitement of visitors dies down. When you come home yourself, ignore him until you have unloaded your things, and make him sit to be greeted by you.
I would also make him sit to be fed.
I assume you walk him daily, do you not? He should never go through a door before you or pull/ walk in front of you when on the leash.
You have a darling species, so teach him to be a wonderful pet. It's up to you, since you set the rules.
(10/31/2007)

By the Oracle
Dog Jumping on People
For your own protection against lawsuits, have you considered a "beware of dog" sign? I'm not saying your puppy is a killer but when I say "hurt" I might mean a greater or lesser degree of injury than you might mean when you say "hurt". Consider that there are some people who complain about the tiniest things either to get attention or sympathy or even money. So, if a child cries that your puppy scared it, that child's parents could construe that to mean that they have a terrorist in the neighborhood with a dog of prey!
For your own protection a "beware of dog" sign would be what I would opt for. Even though, little kids might not be able to read it, it's there. So the individuals can't come back on you about it. It also might "ward off" other unwanteds who would be swayed by the sign. (10/31/2007)

Dog Jumping on People
My trainers told me to put the knee up to stop this.

Jennifer from Northern Virginia (10/31/2007)

By ILuvDobes
Dog Jumping on People
Here is how you stop a dog from jumping on you. First of all when it does, you ignore it and walk away. Then when it realizes its attitude isn't getting him any attention he will adopt another one. That's when you guide him to sit. When he does you reward. After a few days of constant routine it should be learned.
Oh, and if he scratches, try trimming. If you can't do that, then when he scratches you say ow! and go into another room for 3 minutes come back and repeat once again. After a few repetitions he will understand that scratching makes people go away. (01/27/2008)

By John-Kevin
Dog Jumping on People
With a stern voice tell them no! (11/23/2008)

By