I'm looking for some magical remedy to get rid of a horrendous smell that permeated our "new" refrigerator while it was in the garage, courtesy of the previous homeowners. It sort of smells like gasoline, but sort of not; I don't know how to label this smell.
I've tried vinegar, baking soda, the blue stuff in the container (odor sponge or some such), even a crystal that is supposed to remove "your worst smells". Well, nothing's doing it, and every time the fridge or freezer is opened, well, there it is again.

Any suggestions? Thanks!

Kat
Answers:
Refrigerator Odors
Be sure the drip pan is clean, then stuff the fridge with crumpled newspapers. The paper should absorb most of the offending odor. My bil is an appliance guy and this is his fav remedy for fridge odors. Depending on how persistent the odor is, you may have to replace the paper several times over a few days. (05/30/2005)

By beanygurl
Refrigerator Odors
Try a apple cut in half. My granddaughter gave me this tip and it worked for me.
(05/30/2005)

By Judy
Refrigerator Odors
Try a bag of charcoal briquettes. They absorb most odors. Just put the briquettes in loose. Hope this helps. (05/30/2005)

By Tom
Refrigerator Odors
Try cat litter. We once had a freezer full of meat that went bad when the power went out during a hurricane. I tried vinegar, Lysol, and Clorox, but nothing worked except the cat litter. I bought the cheapest kind and put several saucers full on the different shelves. After a few days of keeping the freezer closed the only odor that was left was the cat litter. We wiped down the whole interior, then left the door open for another day or so. It took several days, but the odor of rotten meat (Uck!) was gone. We used the freezer for about ten more years. Good luck! (05/30/2005)

By Margaret
Refrigerator Odors
I use fresh coffee grounds for absorbing odors from many things from clothing stored which had gotten damp and mildewed, to a box trailer that was damp and the stuff in it had mildewed, it was a very strong odor. I made cloth bags and put fresh coffee grounds and hung them, but you could put them in an open container, maybe 1/2 cup to start. (05/30/2005)
By Anna from ME
Refrigerator Odors
Have you tried just opening the doors and letting it run for awhile. This will bring fresh air into it to be circulated. I had a terrible smell in my fridge from broccoli left in it for too long. I finally took everything out and wiped everything down, but I let the fridge run while I was cleaning it. I think the fresh air circulating in it was the key. I didn't even have to clean out the freezer. (05/31/2005)

By Shirley M (IA)
Refrigerator Odors
Use a solution of warm water and borax, it will freshen it up and make it super sparkly! (05/31/2005)

By Kimber1962
Peeled Raw Potato Removes Smell
If you have an odor in your fridge, put a raw, peeled potato inside to absorb the bad smell. Once it does, just toss out the potato.
By Terri (06/17/2005)

By ThriftyFun
Refrigerator Odors
Try Fridge Odor Absorber - from IBAUSALLC.com
Or call 805 565 2233 (10/19/2006)

By Andrew
Refrigerator Odors
There is a product called FRIDGE IT odor absorber made just for this. It is a little purple cube with an activated carbon filter inside. I've tried lots of other products including baking soda and other products, but nothing works as well as this little purple cube. You can find it in kitchen gadget sections of stores like Walmart. Definitely worth trying. (02/07/2007)

By Jen
Refrigerator Odors
I saw some others recommend a product called Fridge it. I too love this product. Works fantasticly because of the activated carbon filter. I've been using it for years in fridge and other places like under sinks and trash. Even have friends that use it on their diaper pail and other things. I usually just buy my supply of these on line at www.innofresh.com. The company is called innofresh products. (10/21/2008)
By kengie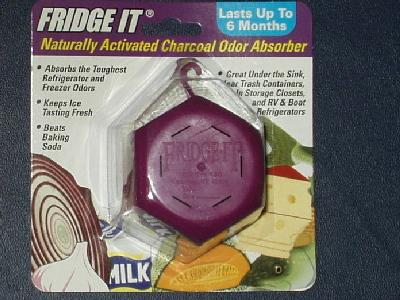 Refrigerator Odors
We had a smell in our refrigerator so awful, that when the door opened, people all the way in the bedroom would be nauseated by the smell. I tried many of the different suggestions, including taking every shelf/part out and disinfecting the entire refrigerator. (Also tried the onions, potatoes, newspapers, cat litter w/ carbon, charcoal briskets). All those helped. So for small odor problems, I think anyone of those would be fine.

But the solution that helped me and was so much cheaper and easier to use, was "Fresh Air Activated Carbon Refills (8 pack)". It appears to be a replacement for some sort of portable air filter. (99 cents at a thrift store).

I only put two of the little pads in my refrigerator and within hours, the smell had dissipated to tolerable. By the next day, we thought maybe we had imagined the awful experience. It felt like a miracle!
The activated carbon in the filters is what does the trick, so I think any replacement filter that has the stuff will work.

Side note: While you're working on the smell, or shopping for something that has activated carbon in it, these two suggestions helped the most:
Crumpled newspaper - use it freely in your refrigerator, but change often. Take a wiff of the used paper after just a couple of hours and you'll understand why. =)
Fabric softener and water - heat in a small crock pot or on the stove in a small sauce pan, water and a little fabric softener. Just keep adding water when it runs down. 1/4 cup of softener worked for days. (04/30/2010)
By Lady Dozen