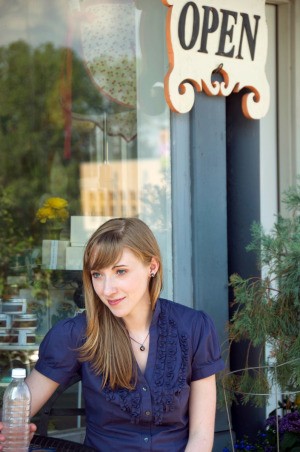 I have read and heard things while giving this much thought. I believe Christmas has been taken way out of what it is suppose to be about. We can make a difference, start new traditions, save money and maybe help out local businesses while buying gifts. In the United States so many small businesses are shutting their doors. There are cut backs in retirement, disability, single moms are hurting like never before and it is almost impossible for our youth to get jobs in this economy.
Christmas isn't what it was when I was young. Growing up in a very small community, the closest town with a mall was 70 miles away. Everything that was done at Christmas was done thriftily and never over the top in our little town. I cannot remember going to a mall, up until I left home. My dad however believed in supporting the couple of restaurants near by, the skating rink, and our local mechanic. I could go on and on, it all was local. He put his money back into the town he loved, with the people he loved and lived by.
If we all did that today maybe not so many businesses would be shutting down. Teenagers would be able to make some money and we could help out a single mom who needs extra work if we all thought about it. We could start or, in my case, go back to a tradition that made sense. Just maybe if we thought outside what has became the "norm", the charge card holders wouldn't be in debt for the next several months, if not more.
Children may appreciate the gifts if they knew this year we are going to get a book of bowling or Chucky Cheese passes instead of buying that new game. Then those business will be there when we want to go again.
If only we explained what Christmas is really about and showed everyone how helping one person can create a chain of events that lead to helping your whole community. Someone has to start this way of thinking, why can't it be us this year? Let's take on some of the responsibility ourselves. Instead of asking who, when, and how, we just start now making a change. That change is helping your neighbors out.
Eat close to home where the person there really appreciates your visits, use the entertainment close by in your neighborhood or town. In our communities, we can start this year right now making a new tradition, one I know my dad would be proud of. In years to come, it may be brought up at Thanksgiving as one of the "remember when we decided to do that." Yes, a new tradition in a community where you live, with people you know, the true gift of giving back.
If you know a single mom, why not help her, either by trading a day of baby sitting or hiring her to clean your mom's house? Your mom would love it much more than a random gift you choose at a mall. I promise most moms would love having a card with a few days off of cooking or cleaning. Maybe you can even make her an appointment to go to spa or get her hair done. Near the place where you live, someone in your church or someone else's mom may be having a hard time paying her bills. Bring back bartering and trading services, this will help you and others all while being "merry".
It feels so good knowing you blessed someone in your community that will not only help today but in years to come. If that local diner stays open, it may be paying for college educations instead of something in a box, maybe even imported. Make it personal, help keep a business open. In doing this, you end up helping many people, not just a large company on the other side of the world. Help the local salons, boutiques, mechanics, restaurants, theaters, or just the kid next door who you hired to mow the lawn as someone's present.
Everyone has these daily needs. Each of us have over whelming days; a card for someone to do the grass is a gift that will be appreciated next summer. College kids need work experience and have tons of talent. Why not hire them instead of sending off a computer to be fixed. Ask the local college for suggestions. Blessing others is what Christmas should be about.
We all need hair cuts, would love a spa date, or theater tickets. Just sit down and think outside your usual way of checking off the list. If you have a tight budget, remember the best gifts are free and full of love. It may take longer to think of a special something. Try to keep it local, it can be done. Remember it was always done that way before, before online orders, shipping costs, and larger cities where we don't even know our neighbor's name.
Before my grandma spent hours or days making quilts for all her grand children, now that is caring. I still have it. These things are few in number. She spent her time to really try making a difference. Why not go visit a nursing home where people are alone or take someone who is house bound to church or a movie.
If anyone thinks none of this matters; that's why "going out of business" signs are everywhere. Small towns, where I am from, are ghost towns now. We all move, go our separate ways, forget to teach our kids the whys and take for granted all is going be all right. It has to start somewhere. Maybe that single mom has no family and she would love to get to know you better. Those college kids aren't bad kids, they just need a chance to feel worthy. Make sure they understand life is not hopeless. Things aren't always as they appear. People don't want you to know they may be close to foreclosure, so go give them your business, send someone else and keep our communities ones we can be proud of.
My daddy would never have thought of taking his money outside that small county of 5000, life for him was simple. Friends were friends for life. Your neighbor's name was always known and everyone gave each other a hand when needed. Christmas was more than presents, you could always bet those presents came from town, not shipped in from a place he didn't know.
Things won't change overnight. It took decades to get here. Start now to save our communities and help our neighbors. Taking a step back to help each other would be a great way to start. I'm sure you can come up with tons of ideas all bringing back tradition.
By Luana M. from San Diego, CA
Do you have a frugal story to share with the ThriftyFun community? Submit your essay here: http://www.thriftyfun.com/post_myfrugallife.ldml
Read More

Comments