I have a suggestion for those of you with house dogs that won't stop barking. We have two Silky Terriers and one of them loves to bark. She watches TV and every time an animal is on she goes crazy. I took a 1lb coffee can and put some loose change in it and put the plastic lid back on. When she barks and won't stop I tell her "No!" and if she won't stop I shake the can hard one time. Now if my "no" won't work all I have to do is to pick up the can. Hope this helps someone.
Mary
Answers:
Training a Dog to Stop Barking
Be very careful. My trainer said not to do this. It can severely scare the dog because their hearing is so sensitive. (05/28/2005)

By Sandy
Training a Dog to Stop Barking
We use a squirt bottle with water in it all we have to do now is go PSSSSSSSS! (05/29/2005)

By kimmcg
Training a Dog to Stop Barking
Try a Citronella collar, we use it for incorrigible barkers and it works wonders. Its harmless, painless, and Vet approved. Also it does not scare the dog it ony startles them by introducing an unfamiliar scent and interrupting the barking. (06/01/2005)

By Sue
Training a Dog to Stop Barking
Your dog may be responding to the attention he receives from you or others. The attention may be negative but he doesn't know you are annoyed and is in fact receiving negative reinforcement for his behavior. You may need to try medication for anxiety, the vet can prescribe something. If this doesn't work, putting your dog in the kennel for the hours you listed isn't too long. Some owners kennel their dogs while they are at work all day. Good luck. (06/13/2005)
By Chell
Training a Dog to Stop Barking
Shaker cans, squirt bottles, and shrieker alarms should be used as a last resort to barking or any other behavioral problem. If these things are used, it is important that the dog not see you use them. If he sees you, he may stop barking the moment you pick up one of these items. If you are going to use one of these, you must be out of your dog's site so he doesn't know where it's coming from.
Also, you need to learn why your dog is barking. Is it play barking, alert barking, etc. Any constant barking is certainly annoying, but it can be stopped if the proper techniques are used. My German Shepherd likes to bark at people walking by our house on the sidewalk. These are the same people he sees every day and he knows they aren't threatening to us or him. When he starts barking, I will distract him away from the window by calling him into another room or even out to the back yard. Because dogs live in the moment, he forgets about the people and now is interested in what I have for him. A treat, a toy, or just going outside.
My puppy on the other hand, barks for two reasons. One: she wants to be with her "pack" and two: she is play barking. Her bark is so high pitched and shrill that it goes right through our brains so when she starts yapping, I hold the leash close to her harness and force her to stay in one spot until she calms down. She calms herself and lays on the floor.
I don't stop my Shepherd from barking when someone rings the doorbell or knocks on the front door. I want that person to know that there is a very large dog on the other side. However, after I see who it is and know it's alright to open the door, I make my dog back up and sit several feet away from the door just in case I want that person to enter. So, there are ways to manage barking and you have to decide what type of barking it is.
For Suziehomemaker's dog I would take some time to train him to sit-stay several feet from the door where people come in. You can put a little mat down and that will be his "spot" to go to when guests arrive. If you must leash him to that area then do it just so he isn't jumping on anyone. Important! Praise your dog when he isn't barking. If you are consistent with this he will soon get the idea that he will be petted and praised for being quiet and ignored for barking. Remember that any attention from you for barking is welcomed by a dog even if it's negative. They don't care. If you work on this constantly and diligently, your dog will stop barking. If you are not consistent about this, he will quickly learn that you aren't serious.
Barking, jumping, digging and chewing are all perfectly acceptable in a dog's world. This is what dogs do. When people "humanize" dogs, we change the things that come natural to them and it's hard for them to understand, but if we show them that we are the leaders and we behave as leaders, dogs respect us and will submit. Be a leader, not a follower. (03/12/2006)

By Anonymous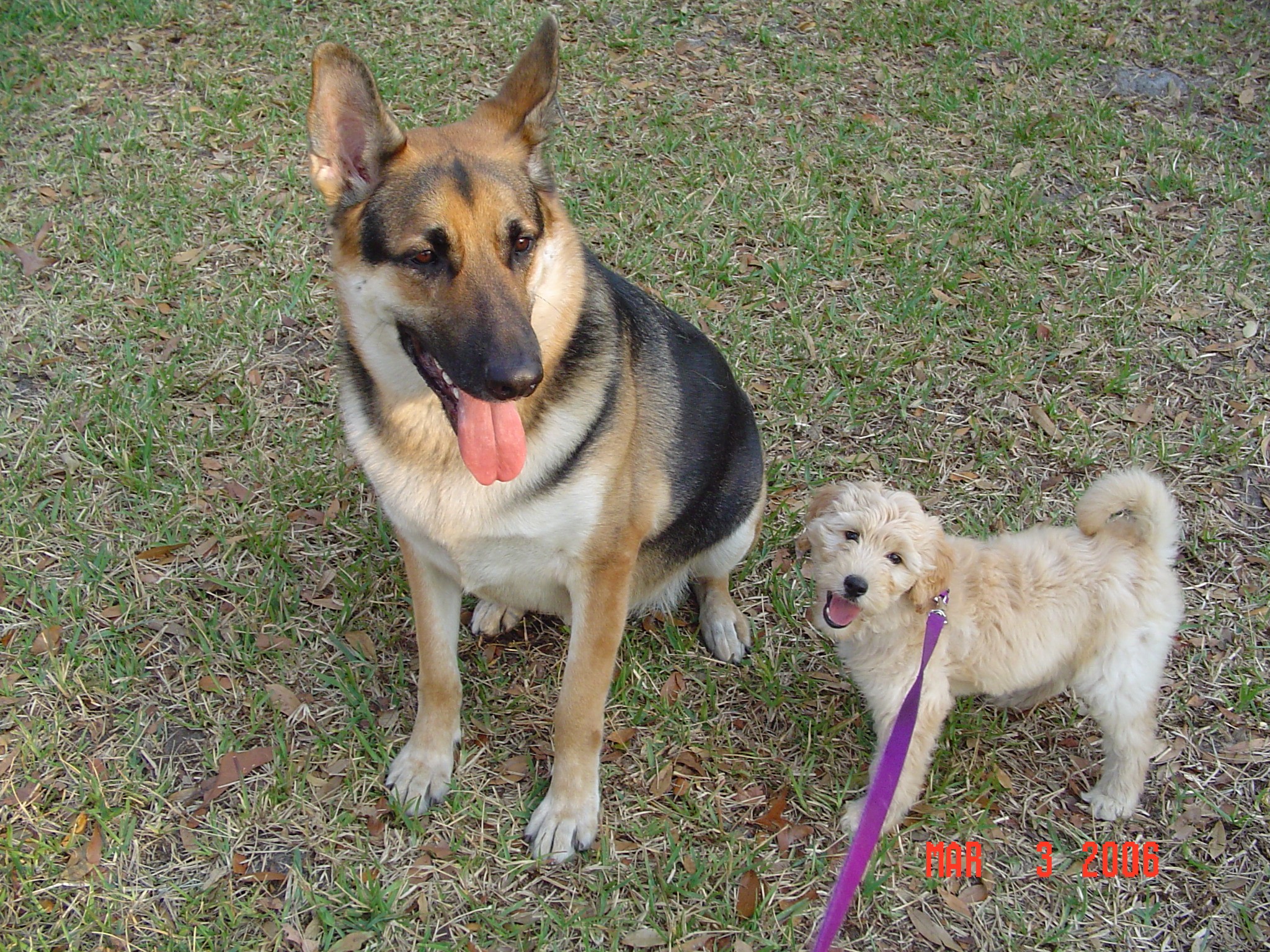 Training a Dog to Stop Barking
Re: I finally got my neighbor's dogs to stop barking!
I used to have a problem with my neighbor's dogs that would constantly bark day and night. At first I thought it would stop but it went on day after day. I finally confronted my neighbor about the problem and he said that he would try to do something about it.

I work very long hours and try to get as much sleep as possible but I am constantly awakened by the barking dog many times during the night. You cannot imagine how frustrating this is unless you have been in this situation.
I finally ended up going on the internet to research my problem and I am so glad that I did. I ended up buying a compact disc from a website. You play the disc and it actually stops the dogs from barking. I put the disc in, pointed the speakers towards the dogs, and nearly fell out of my chair when it actually worked! Somehow, the dogs can hear the sound but humans can't. This was the best money that I have ever spent and I am so happy.

I have not had a problem in 4 weeks. The dogs kind of acted up about 2 weeks ago but I just repeated the above process and it worked like a charm. I am so glad that the freaking dogs have stopped barking. If you want to check it out, it might be worth a try. The website is http://www.TheBarkingDogCD.com
Good luck, I hope this helps.
(09/01/2008)

By Ron BO