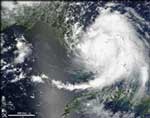 We have had a couple readers write in because they are concerned about preparing for hurricane season this year. They are low income so do not have the money to go out and buy a lot. If you have any tips on how to prepare for what could be an active hurricane season, please share them below. Ideas that are inexpensive would be most welcomed.
Answers
By sueey (Guest Post)
May 25, 2006
0

found this helpful
One of THE most cost effective ways to prepare for disaster is to assemble emergency supplies NOW -- don't wait. There are lots of lists on line. American Red Cross has one. Get water and food first (and a can opener), then work on the rest as you can afford it.
AND -- keep your gas tank 3/4 full of gas. In an emergency, you won't have to pay the elevated prices.
By sandy (Guest Post)
May 25, 2006
0

found this helpful
i am trying to get prepared for any of these many disasters THEY SAY ARE coming. i have face masks, latex gloves, water in bottles from the spigot. i am preparing my home for not using the air conditioning because of rising costs for electric. blocking windows from sun and making it ok to open windows. that would all come in handy if i lost electric also.
By Melinda B, former hurricane-zone resident (Guest Post)
May 25, 2006
0

found this helpful
I have to agree that the cheapest thing to do is buy at least some supplies ahead of time, when they're on SALE. Most grocery stores & mass retailers have very cheap, generic, gallon-sized drinking water that you can get. To save more, ask if you can buy a case for a good price. (This water is just as good as the name-brands, usually.) Water is the most important thing to have. Then buy a box full of fortified breakfast bars on sale for some emergency food.
For cheap, all-night light, grab a twin-pack of lightsticks (the kind you break & shake to light up) at your local Wal-Mart or Target. They both carry these. One of those will last you all the dark hours of the night, and two should have you set in most hurricanes. Then you don't have to waste expensive battery life on your flashlight or run a fire risk with candles. Plus they're highly portable--you can take them anywhere, they're cool to the touch & perfectly safe.
Put your food & light sticks & other essentials (medicine, phone numbers, travel sizes & free samples of toiletries, first aid kit, diapers, etc.) in a small duffel bag, or if you don't have one, an extra pillowcase, so it's ready to go.
If you live in a very high risk area and might need plywood, see if there's a second-hand building supply retailer near you. In our area, we have a store that sells leftover materials from Habitat for Humanity. It's less expensive. If you wait till hurricane time, the prices of plywood skyrocket. You could also see if a local construction site has scrap plywood they'll give you.
Finally, call someone you know--ahead of time--who lives farther inland/on higher ground to see if you (and your pets?) can go stay with them in the event of a hurricane evacuation. Then if you're ordered to evacuate, leave the minute they tell you to and go to your friend's place. Then you aren't stuck paying for an expensive hotel room or forced to go to the local free shelter. But whatever you do, evacuate if told to. Whether you have to evacuate or not, bring in or tie down everything that can become airborne during a hurricane. If you're on a tight budget, the last thing you need is a broken window or medical bill from that flying lawn chair. Hope this helps!
By (Guest Post)
May 25, 2006
0

found this helpful
i went through Hurricane Rita and I listened to the news as to where it was heading and as soon as i found out i filled up all containers i had with water put the small ones in the freezer, got gas for generator and car, stored it well away from the house in the storage shed, got plenty of candles and canned soup as it takes a while before any one comes to see if u need anythink and this is the biggie if u have to leave town do it as soon as u can and if u know the back roads take them as i live in a small town that they had to come through it and it was bad. some was stranded on the highway during the storm so please if u do have to hit the road do it as soon as u know were it is heading but get a generator as soon as u can and keep it u never know when u might need one its a good investment

May 26, 2006
0

found this helpful
My family and I have been through a couple of very bad hurricanes and the best suggestion is to check out the available shelters before hurricane season. It doesn't do any good to prepare your supplies and head to a shelter when the shelter is nearly destroyed around you. Please do not go to a shelter that has never been through a hurrricane. We went to a brand new shelter in a safe area during Ivan and the roof lifted up and the whole shelter ended up flooded. One other thing if your area is hit but a hurricane everyone needs to be nice! It will be hard driving without major lights and trees on the road so slow down and give way and be nice.
Thanks!
Karen in Pensacola, FL
By missy (Guest Post)
May 26, 2006
0

found this helpful
There are several inexpensive solutions to hurricane preparedness, but by all means start now. I live on the gulf coast and the best way I have found to prepare inexpensively is to fill clean empty plastic jugs with water from home. These can be empty 2 liter soda bottles to gallon milk jugs. (You can also keep them in your freezer to take up empty room.) Water is good in plastic for 6 months. Another thing is I keep my old linens in a "disaster" box instead of throwing them out. If you go to a shelter you should be prepared to care for your own family if possible, so old sheets, towels and blankets are very handy. As for the canned food, every January I start to stock my supply, one or two items a week. The American Red Cross is an excellent resource, so is your local office of emergency management.
By Karen in SC (Guest Post)
May 26, 2006
0

found this helpful
I went through Hurricane Hugo in 1989 we were the bull's eye for the storm.I thought I was going to die, it was so horrible.
My advice... Listen to all newscasts. Do what officials want you to do. And here in Charleston since we are a coastal community they always have hurricane preparedness brochures in stores. Just stay alert!

Kelly
Bronze Feedback Medal for All Time! 233 Feedbacks
May 26, 2006
0

found this helpful
I found some good types for any kit at theepicenter.com/
which also sells military surplus and survival gear. There are also some archived tips of the week. Water is the best in that situation, and what I do for my family is after we finish milk/juice I clean it out and fill with water (from the tap, better than nothing!) and I freeze it. We have a chest freezer, and I line it with these bottles. I use smaller bottles in the regular freezer. That way your food also stays colder longer, or you have "ice blocks" for the cooler! Refill any medications before they run out, and save the 2-3 week supply for your emergency kit. Even if you always keep your regular meds with you, those extra will come in handy when the pharmacies (and records) aren't available...just keep in original container! Buy enough "meals" to last one week, if you can't afford a lot. It's better to have a little bit of food that is good than alot that you won't eat or can't use. And please, pack coffee or cocoa, some kind of easy treat! Times like that (being uprooted) are when you need your comfort foods! American Red Cross (local chapters) and your county government sites are great to check out for emergency preparedness updates and nearest shelters (some have search engines that automatically tell you the closest.) Have a communication plan and someone out of state to contact. Also (thinking of my family in Tampa...) just save your money and buy what you can now, even if you have to put off things like movies and dining out for a month or two. You may be depending on these things for a month or two, so don't wait until the mobs start! Rotate your food supply to get used to the taste and keep it fresh. Note: Mountain House brand meals are great for carrying (we use them for hiking) and epicenter.com has a great deal on a case.....they are not bad either!

May 26, 2006
0

found this helpful
If you can, get yourself a new (clean) plastic garbage can with a lid and begin to stockpile things. I would go for high food-value items in cans and plastic (or aseptic) packages: tuna, fruits, puddings, processed cheese, stew, and so on. Avoid the stuff with little or no nutritional value, or things that need to be cooked. Watch for sales and don't worry about brands. (Who's going to be picky in such a situation?) Into this trash can, also store things like candles, light sticks (check the dollar store for these--they often have them, and they're cheaper there), a can opener (buy a spare at the dollar store); matches, extra batteries, a portable radio, and so on. I would also go to the camping department of one of the big box stores near you and get some water treatment tablets. Should you run out of stockpiled water, you can use them to make drinking water safe. No, it won't taste the best, but it will be safe! (You can buy soft drink powder to flavor it, if you desire.) First aid supplies, medicines, etc. All the things folks have mentioned are helpful. If you have a pet, stockpile pet food, as well as water for it. Watch thrift stores or garage sales for a crate, if you do not already own one! This can be essential! Also, make sure your pets have current tags--you may also want to have one made with a non-local number to call if your pet is lost in transit. (Like a relative outside of the hurricane area.)
If you don't have a place to store the trash can, buy an inexpensive "accent table" top and tablecloth, and you have a new accent table. If you have to evacuate, you may or may not be able to fit the trash can in your car, but you can unload it at that point--but at least everything will be together in one spot.
Don't forget to "rotate" the food in there at least once a year--use the old and replace it. The same with any batteries or other things that might be "perishable".
If you have family photos or heirlooms, you might want to invest in some sturdy plastic storage containers for them; or several tarps--so you can move these pieces to the safest area of your home and cover them well with the tarps, just in case.
By Vicka (Guest Post)
May 30, 2006
0

found this helpful
PREPARE AND KEEP A 72-HOUR BACKPACK THAT YOU CAN GRAB AND RUN WITH. YOU'LL NEED ONE FOR EACH FAMILY MEMBER (have a small one for pets)
1. 3-DAY SUPPLY OF MEDS
2. BOTTLES OF WATER
3. HI-ENERGY SNACK FOODS
4. CLEAN UNDERWEAR
5. SWEATSHIRT OR JACKET
6. FAVORITE BOOK OR SCRIPTURES
7. SMALL TOYS OR CRAYONS/PAPER FOR KIDS
8. HYGIENE ITEMS (sample size is good)
9. ROLL OF TOILET PAPER (smashed flat to store)
10. FLASHLIGHT W/EXTRA BATTERIES
11. RADIO W/EXTRA BATTERIES
THIS IS NOT A COMPLETE LIST AND CAN BE ADAPTED TO INDIVIDUAL FAMILY NEEDS. HAVE THE PACKS PREPARED AND READY IF YOU ARE REQUIRED TO EVACUATE YOUR HOME FOR ANY REASON. YOU CAN GRAB AND GO.
IF EVACUATION BECOMES NECESSARY, USE A PERMANENT MARKER AND WRITE FIRST AND LAST NAME AND A PREVIOUSLY DECIDED UPON OUT-OF-AREA CONTACT PHONE NUMBER ON THE INSIDE FOREARM OF EACH FAMILY MEMBER. NAME AND NUMBERS ON THE PACKS TOO.
A 72-HOUR PACK IS GOOD PREPARATION FOR EVERYONE AS DISASTERS CAN HAPPEN ANYWHERE.
DON'T SPEND A TON OF MONEY- USE WHAT YOU HAVE IN YOUR HOME.
MAKE AN EVENING OF IT AND INVOLVE THE WHOLE FAMILY IN THE PREPARATION.

June 23, 2006
0

found this helpful
Important Photographs and papers. Should never be kept in your home, They should be in a bank safety deposit box. Today it is easy to scan and copy your photos and store them on a CD-Rom. you can do the same with your important papers. That way if a disaster hits your home,all you have lost is just the CD-Roms.
How many times have you heard home owners saying the same thing about their treasured photos being lost.. Do something TODAY.
The cost of that Safety Deposit box? A Trifull when you consider the agony of the loss of all those momentos.INSURANCE CAN NEVER REPLACE THEM.
Answer

this Question