I have well over 100,000 digital recordings. I can't see the benefit of tagging them. I went through a 'tagging' period. I also made icons for each artist's name and a thumbnail picture for each artist's folder. I downloaded three different tagging software to add all sorts of meta data to each file. All these things consumed a lot of time and didn't help me enjoy the music any more.
Here is how I organize my digital music:
Each artist has his/her own folder, and those folders are arranged in alphabetical order. With exceptions, all music by a single artist goes in one folder. It's not important to me whether a song was on this or that album, or whether it was recorded in 1998 or 2004.
Some of my exceptions include a change of style. I separate 'Early Marty Robbins' from Marty Robbins. I do this because his style was very different during his early years of recording. He also did an album of romantic mood music, which is totally uncountry. I separate that, as well.
Another exception is special recordings and seasonal music. All my Johnny Mathis music is in one folder, with the exception of his Christmas albums which get their own sub folder.
I know my music. Rimsky-Korsakov is placed after Ricky Nelson and before Roberta Flack. I know he was a classical composer, and when I want to hear 'Scheherazade', I don't have to rummage through a 'Classical' folder to find him.
The first picture shows how my music collection used to look. (You'll have to imagine each folder closed and a picture of the artist on each folder). It took a while to scroll down to what I wanted.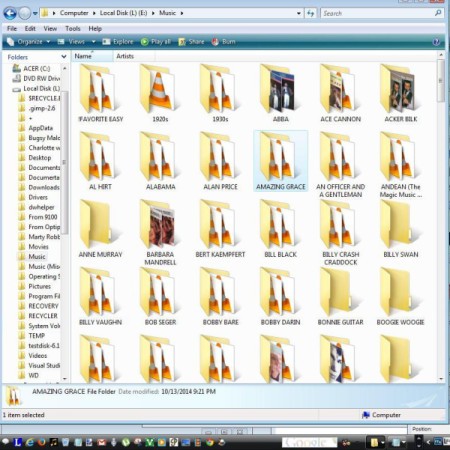 In the second picture, the view has been changed to 'Details'. I can find what I want almost instantly.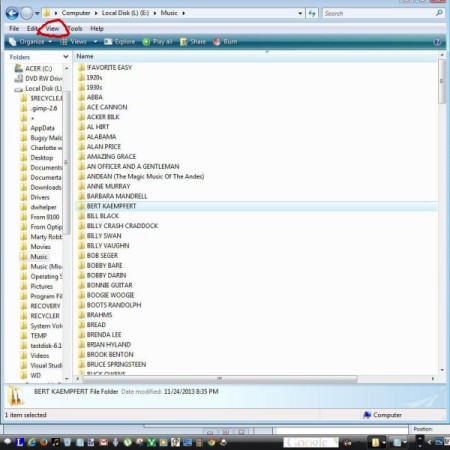 When you are in the mood for a particular type of music, don't forget 'Search'. As shown in picture three, I have brought up every song with Blue(s) in the title, regardless who is the artist. I can now hit the 'Play All' button and listen to every one, or I can highlight certain ones and drag the lot into a player and listen to just those few.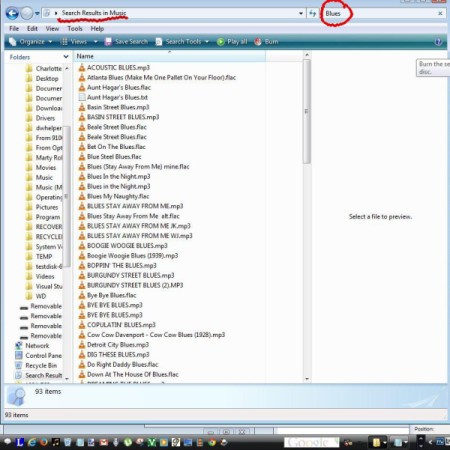 If you have songs by different artists which you would like to group together for an evening of listening, make 'Play Lists'. Most media players including Windows Media Player and my two, free favorites, VLC and Media Player Classic, give you the option of making Play Lists. They can be kept for playing at any time. These playlists are just short cuts to the actual music. You wont be making copies which take up precious hard drive space.
I could give you many more tips on your digital music collection, but I will leave you with this important note. If you truly value your music collection, and all other documents and files stored on your computer, please invest in an external hard drive to back up these files. External hard drives are better and cheaper now, than they ever have been. Once your computer's hard drive dies, all on it is lost forever. I've read that there are specialists who sometimes can recover data from dead hard drives. Their fees can be around $20,000. Makes a $100.00 external hard drive sound real affordable, doesn't it?