Organizing Crayons
Solutions
Share on ThriftyFunThis guide contains the following solutions. Have something to add? Please share your solution!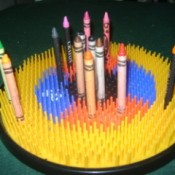 This was not being used anymore because the kids could not get the darts to stick on it. They would throw the darts at the board, and the darts would hit sideways and fall to the ground. It was only being used for decoration since I like the orange and yellow colors on it.
One day I was sharpening pencils on the table, out on the patio. I put an errant crayon on the this plastic dartboard. It stood straight up. I put another one, and then another one! Yaaa, a new use for this toy that no longer worked!
The kids were amazed and delighted. I think they like the feeling of placing the crayons on the board and seeing them stand up. I think it is just cute and you can see the colors you need to color with at a glance!
Blessings,
By Robyn from Tennessee
My son is entering Kindergarten and on his school supply list was 4 boxes of 8 primary crayons. K-Mart was running a special on a box of 24 Crayola crayons for .25 cents. A box of 8 was .89 cents. I bought 3 boxes of crayons and had one perfect set at home. I pulled the 8 primary colors out and put them into a snack sized zip lock bag and put the rest of the crayons in his own box. The boxes never last anyway. :)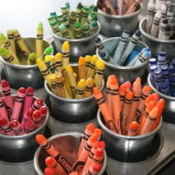 I've seen some people use muffin pans with mini metal plant pots inside to hold the crayons vertically and to separate colors. Accessible, colorful, functional.
Also, if you have the time, you can break the crayons into pieces and melt them in the muffin pan (use the special shape pans for more fun) to make new crayons and bring them back to life.
Source: http://homeschoolblogger.com/
By Jennifer B. from Leland, NC
I solved my daughter's problem of too many crayons, ink pens, and colored pencils by giving her a makeup organizer. This organizer has three zippered pockets, and folds into a square with a handle.
Read More...
When we ran low in our crayon containers, the big boxes would provide the unusual colors, but the basics (red, blue, black pink, green, etc.) would get used more often. I would throw in a 24 count for the quickly used colors more often than the 64 count.
Read More...
I use a lazy Susan type revolving plate to organize crayons. On the plate, I put small plastic boxes used to store paper clips, only without the lids. Each box is a different color.
Read More...
I run a day care and we put all crayons in an old baby wipe container. We also have one with markers, and one with colored pencils.
Read More...
Related Content