Keeper
Gold Feedback Medal for All Time! 690 Feedbacks
May 26, 2010
0

found this helpful
How awful for both you and your fur baby. I do hope she's better. Sure makes you think before hand.
Thanks for sharing.
Yes, I once took my baby Pierre (pic attached) to a groomer (PetSmart) and once we got home I noticed he kept winking at me. I looked in his eye and it looked like someone had put a blob of that fake Halloween blood in there. I immediately took him to the vet, who told me that he had been poked in the eye with a sharp instrument! When I went back to the groomer, they denied it. I did not care about all the eye drops and vet bills, but I felt so guilty that I took him somewhere where he was hurt.
And then I had to keep taking him into the vet. They would put a yellow drop in his eye, then look at it with a violet light. Then I would have to continually put drops in. It just broke my heart.
Then I found a great groomer. Sometimes my mom would groom him too, but I never went back to you know where again, or anywhere else.
Oh, I now have a schnauzer mix too. Sophia mia.
Here is my schnauzer mix. Sophia Mia ;)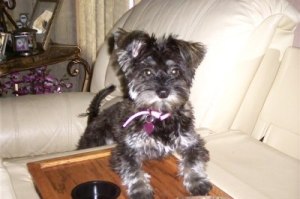 Sorry. Here is Pierre, my baby that was hurt by the groomer. Sorry about your baby, Loretta. Would love to see a pic to see if your baby looks like my Sophia.

May 27, 2010
0

found this helpful
I no longer take my babies to the groomer. I had 2 Poodles a tea cup of 4 lbs and a miniature of 10 lbs. My teacup, I learned 3 days after a trip to the groomers' that she had a cut on the side of her ribcage. The groomer had cut her with a scissors and said nothing.
I took her to the vet at a cost of $245 plus the cost of a her hair cut of $45. I complained to the District Attorney, Peta ASPCA and no one was able to do anything. Lesson learned, I will never never take them to a groomer. I cut them myself. Oh, and my baby was put to sleep a few months later as she stopped eating. I will never know if this was a result of the cut and something going on inside that the vet didn't see. But she went from 4 lb to 2 lbs the vet told me she would not get better so I made the tough choice of putting her to sleep.