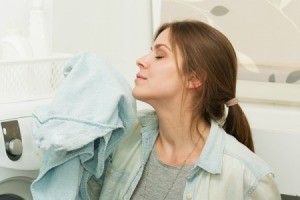 I make the homemade laundry detergent all the time now and was wondering if any one has tried the Irish spring soap for it and if it works okay for the laundry cleaning? I think it would spell good on the clothes but, wanted to check here before making it.
Scarlett from Murray, KY
Answers

susan
Silver Feedback Medal for All Time! 472 Feedbacks
February 25, 2006
1

found this helpful
Best Answer
I always make a double batch of laundry soap at a time. I mix half made with a laundry soap bar (usually zote since it's cheaper than fels naptha and easier to find where I live) and the other half is made with leftover slivers of regular hand soap (yes, there have been several slivers of Irish Spring in it). It works just the same, and I've had no problems.
As with any recipe, you need to make allowances for your type of water, the dirtiness of the laundry, etc. But go ahead and try it, I'm sure it'll be just fine.
If you don't like the results, you can do what I do--make a batch with a laundry bar and mix the two. Just remember, if you make the liquid, it's watered down so much that there won't be much of the original soap scent left anyway.
By guest (Guest Post)
January 13, 2009
2

found this helpful
Best Answer
My 9 year old daughter and I made the liquid laundry soap with Irish Spring Soap last week. It did make the liquid smell good, the clothes smell fresh, and cleans better than the detergent we bought.
The recipe is:
Boil 4 cups of water and wittle one bar of soap into it. Stir until soap disolves.

In 5 gallon pail with cover, add three gallons of hot water (I used right out of the spout).

Add the boiling water and soap to the 3 gallons, Stir for 1 - 2 minutes.

Add 1 Cup Washing Soda, stir for 1 - 2 minutes and then 1/2 Cup Borax, stir for 1 -2 minutes.

Cover and let sit at least overnight.

In the morning it will be like slime.
Note: I found the ingredients at my local grocery store above the liquid detergent. This is great and will save money (borax and washing soda was less the $5.50)
By Mary (Guest Post)
February 25, 2006
2

found this helpful
Hi, I've never tried making home-made laundry soap, but do use Zote & Fels Naptha for stains. Have u noticed on the store shelves they are selling very little powdered detergent.....it's all liquid! I hate liquid as I feel it doesn't clean as well.
To me it just cleans the clothes surface & doesn't remove deep-down dirt. Does anyone feel as I do? Does homemade soap clean better? If anyone has a recipe for home-made soap, let me know. Thanks!

February 26, 2006
1

found this helpful
You can go on this site and click on the Make Your Own and for the Categories select Cleaning or on your computer just type in homemade laundry detergent in the search area and all kinds of recipes will be there for the powder and liquid form.I believe these recipes work better than the store bought and would encourage you to make some and save money Good Luck!
By (Guest Post)
February 26, 2006
1

found this helpful
I make the liquid and use any kind of unused bath soap.I also add ocean waves fragrance oil to it.Smells great!
By SARA (Guest Post)
August 15, 2006
0

found this helpful
I HAVE WANTED TO MAKE MY OWN SOAP FOR A LONG TIME. BUT...HAVE TO ASK, DOES IT REALLY DO A GOOD JOB?I'VE NEVER HEARD OF LAUNDRY SOAP NOT MAKING SUDS YET CLOTHES ARE CLEAN

April 19, 2009
1

found this helpful
If you have very sensitive skin beware of using Irish spring for anything. My two daughters and I have been unfortunately cursed with very sensitive skin. My husband loves Irish spring but every time I've run out of my own sensitive skin soaps and reluctantly used his Irish spring (my girls have found this out the hard way as well), we break out in massive itchy rashes.
It's awful. So just be careful if you know you have sensitive skin avoid Irish spring. otherwise if not and your blessed with non sensitive skin...go for it! Irish spring smells so fresh and cleans well if not allergic.

April 2, 2010
1

found this helpful
I just started making my own laundry soap using washing soda, borax, and a bar of soap. I used zote in the first batch and I switched to Irish Spring in the second batch.
My three year old son broke out into the worst rash I have ever seen. It covers his whole body. He has itched it raw, and is on prednizone to clear it up. meanwhile, I am rewashing everything in the house, because even the towels and things that were cleaned in that soap are irritating him.
My advice if you want to use that soap, is make sure nobody in your house has allergies or sensitive skin. Good luck

September 8, 2017
0

found this helpful
How much of this mixture do you use for one load of clothes?

May 23, 2018
0

found this helpful
Curious question. Why do some recipes use a whole box of washing soda and baking soda and 2 bars of soap. (Dry) Then some only use a cup of each with the bars. Is it bad to use the whole box of each?
Answer

this Question