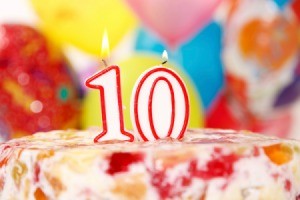 Reaching 10 years of age is a very special milestone. This guide is about 10th birthday party ideas.
Solutions
Share a solution for this guide today!
Questions
Here are questions related to 10th Birthday Ideas.
What should I do on my daughter's 10th birthday? It is on the 12 of December, but she doesn't want to go to the cinema, bowling, or a theme park because she has done all those things before.
By Tina from Lewisham
---
Most Recent Answer

By angeltea909/06/2011
How about a Bowling Party, Tea Party or Tie Dye Party. You can purchase bags of white socks inexpensively at Walmart, & boys or girls white T-shirts -Reg. kind or tank types too. And plain white headbands at the Dollar Tree or other Dollar store, & die them to match too. Other crafts is another option.

A Blue Jeans cake would be really cool, for her age. Bake a Rectangle cake. Cool & cut in half with dental floss or thread. Cut an upside down V from 1/3 down in the middle to the bottom, cut triangle in half from top to bottom, turn each over to the other side & put pieces on bottom of outer legs for Bell Bottoms.Put frosting between to make stick to sides of cake,& of course top & bottom layers. Frost the cake. Easy! And then decorate with cake tube icing for zipper, belt loops, pockets & other stitching, & different candies for flowers, happy faces, stars, peace signs, love, etc. Any thing goes really; rock star, DIVA, a favorite singers name? Use fruit roll-ups for belt & cut fringes on belt with scissors.

Girl teens & tweens love these cakes. I hope this helps you out, & saves you some $$. Have fun & good luck, whatever you choose. : )
My daughter's having a 10th birthday soon and I was wondering what the best party activities might be. I would like to know what type of party to have, by type I mean sleepover, scavenger hunt, etc.
By Lea
My son is turning 10 on 19 August 2010 and I want to celebrate his birthday on 21 August 2010 because his birthday is during the week. I want to take him and his friends to a park for a day. What can I do to make his party special? He likes the idea of going to the park.
By Busisiwe
---
Most Recent Answer

By louel5308/14/2010
Ten year old boys don't need a lot of organization. My sons liked rowdy things like water fights or organizing themselves into teams and playing commando. We lived on a farm, so they just did it themselves.

If your son and his friends are sports orientated, you could take along a soccer ball or softball equipment.

Get him involved in the planning-- see if he wants ice cream cake or cup cakes baked in ice cream cone cups or???? I always served hot dogs which we roasted over a fire, but you might have to do something different. Most parks don't have firepits, unless they are in the country.

If he wants something organized, I like the relay ideas that others have suggested. If he just wants to play with his friends, you really have far less to do!

I would suggest a water fight, though. That is what comes to mind for me -- water pistols and water balloons. You could give water pistols and pumps as the "goodie bag" item, and they could just have at it! ( Let the kids know they will be doing some active playing. Once one of our 'guests" wore his new white pants, and got a grass stain on it. He went off by himself and wept and wouldn't do anything else till the cake was served! Naturally, the guys have never forgotten it-- and they are in their 20's now!) Take along pails of water and pre-filled balloons. I think this might make you the coolest mom in the neighbourhood.
What could I do for a 10 year old's best birthday party ever?
By Maggie from Albany, NY
My daughter's turning 10 and she wanted her birthday to involve Shakespeare. Fortunately there's a free summer Shakespeare festival in Fresno and we can take her and her friends to see the Merchant of Venice under the stars. We could be admitted to the amphitheater at 7 and party at a picnic table or on the grass there until the show starts at 8, or we could set things up earlier elsewhere in the park, but not much earlier, because it's hot here in July. Any tips or ideas?
I was thinking we could have a bit of a Venice Carnevale theme and decorate masks, but maybe we should just keep it to simple food and cake or we'll be too rushed. That's as far as we've gone. Any ideas on this? Thanks so much.
By Jen from Fresno, CA
---
Most Recent Answer

By mom of towers06/03/2010
KISS - Keep it Simple, Sister! Forego the cake and bring a variety of cookies (maybe pizzellas or biscottis), sub sandwiches, with an Italian flair, chilled grapes and strawberries, and individualized waterbottles (landfills, y'know) as a takehome!
I am giving a party for my 10 year old son, however his friends are 11 and 12. I need to think of amusing things for them to do at his birthday party (just boys). It is winter and I live in Quebec, so there will be no activities outside. He has his wii, but I don't want then playing with that all day. Can somebody please give me suggestions before I pull my last hair out? lol
By Janet
---
Most Recent Answer

By Tigertame402/08/2012
When my son was that age, video game parties were the in thing to do. We mixed up a bit in that i would make pizza dough and have the sauce and stuff. The boys would smoosh out the dough on to the pans and put on sauce and toppings to their tastes.

We would also make a huge web of yarn, cut long (like 6 or 8 feet and put a candy at the end. Then wind the yarn around furniture and stuff into a huge "web," and let them follow it to find the candy.

My husband would take the runes from The Lord of the Rings books or Egyptian Hieroglyphics and make clues to find "treasure" which he made from rocks spray painted gold. He would make a 'key' of the runes so the boys could figure out their clues and search for the treasure.
My daughter is ten in 3 weeks, what to do?
By Isabelle from Seattle, WA
---
Most Recent Answer

By black1208/25/2013
Go with a sleepover and get them to paint nails, do their hair, and dressup. You won't go wrong with that.
I don't know what to do. She wants a sleepover with 3 friends, but I am saying no I have to think about it. Also she wants to make her own pizza and lemonade and Coke, etc. I don't want to spent too much. What do I do? Please give me solutions.
By Amelie R from Sumerset
---
Most Recent Answer

By elle197210/07/2013
Her request doesn't sound out of line. Why not give her a budget and let her price the treats? It'll be a good learning time and if she sees it's too much, maybe she would be happy cutting back but still have her friends come over. You know the friends are the best part of a birthday!

My son turned 11 this year and wanted an endless guest list. I found a cheap place to rent ( our local YMCA) and didn't have to pay per guest, just for use of the gym. They played for two hours, and gobbled cake and punch,then water from the fountain when the punch was gone. He said it was the best party because he could invite ALL of the friends he could think of!
What do I do for my 10 year old girl's birthday? She says she likes to decorate and she loves animals, but she's had almost all her birthday's animal themes. She's been to theme parks and she likes to do outdoor stuff, but not too extreme and cold. What do I do?
By Karen from New Zealand, Auckland
---
Most Recent Answer

By cj.dahlien11/11/2013
You could use clean paint cans which have never been used and place in them, food items-ketchup, mustard, pickles and so forth or silverware. You could also use new paint brushes for applying ketchup and other condiments. Also you can have your daughter help make "paint rags" napkins by taking white material and splotching fabric paint. Just something to get you started.
What do you do if you have not very much money for your kid's 10th birthday? It is on the 12th of October. I am interested in something other than bowling or the cinema.
By Amber
---
Most Recent Answer

By louel5310/11/2011
I am assuming this is for a kids party. I always had a few friends over, 5 or 6, and they had a wiener roast and cake or ice cream cake if the birthday boy chose that. At 10, you likely don't have to plan much. They can make their own fun. If you want to do it up bigger, have a sleepover on the weekend. They can watch movies and eat popcorn. Again, you don't have to fuss. I am assuming these are boys, but if it is a girl, same idea applies. They like to do each others hair or put on nail polish and stuff like that. Birthday parties don't have to be expensive.
My son is turning 10 in November and he wanted to have a party at home with 10 of his friends. It's pretty cold here in November, so it would have to be inside or short lived outside. I haven't had an at home party in years so my brain is stuck on smaller kid games. Any suggestions?
By Emily S.
---
Most Recent Answer

By hopeful10/19/2011
Emily, this is an old fashioned game, perhaps you remember it. Have the kids drop clothespins into a small neck container such as a jar or bottle. Take a chair and turn it backwards. Have them kneel on the seat and drop the clothespins without leaning over the back of the chair. Of course there is a little prize for the winner.

Make sure that everyone goes home with a little something from the party. Of course the dollar store is the place for the prizes! Serve hotdogs and let them put their own favorite condiments on them. This can take up a little of the time.
What do I do for my ten year olds birthday party? I can't think of anything do. If you know what I can do, I will need good things and twenty things, ASAP. Thanks.
By Netia
---
Most Recent Answer

By T&T Grandma10/26/2012
Go bowling!
Her birthday is in two weeks and we don't know where to have her birthday party. We can't have it at our house. Any suggestions?
By AC
---
Most Recent Answer

By Vaylmer07/25/2012
I love Kansas Cindy's ideas! Also, check out the local playground. If you have some money to spend on this, maybe the bowling alley, especially since a lot of these have kids' specials in the summer and you can get a really good deal. The town pool might be a good idea - a lot of them are free for residents, and many of them have picnic tables. If you live in an area that has a lake or a beach, that might be fun. Really, any pretty picnic area would work. Happy 10th birthday! :)