Birthday Party Game Ideas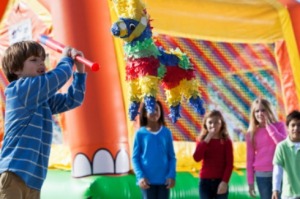 Creating a fun birthday celebration usually includes some games for the guests. This guide is about
birthday party game ideas
.
Solutions
Share on ThriftyFunThis guide contains the following solutions. Have something to add? Please share your solution!
December 27, 2004
0

found this helpful
If you want to play "musical chairs" at a kid's birthday party but don't have enough chairs or enough room, use cardboard squares for the children to stand on and play "musical squares."
Read More...
Questions
Ask a QuestionHere are the questions asked by community members. Read on to see the answers provided by the ThriftyFun community or ask a new question.
I'm having a party at McDonald's for my 4 year old son. There's not really a theme, but the party favors are "Construction Pals". I need ideas for at least one game/activity that can be done at the tables.

Sherry from Oxford, MS
March 20, 2008
0

found this helpful
i had hubby make lil tool boxes simple wooden ones we painted and i then put names on when they died kinda fancy big letters kids in my preschool class loved taking these home..if anyone has an old polarroid camera the ones that print the pics you could have them wear a const hat and vest and have them hold a play hammer take the pic then have them make foam pic frames to put pics in and sometimes dollar stores have const foams you could check walmart.. simple and fun
March 20, 2008
0

found this helpful
Back in the later 1980's when I had my daughter's party at Mc Donald's, THEY did games with the kids... There wasn't really any time to do more as the whole thing was sort of "timed" because there were kids coming for the next party. Call & ask them if THEY do the activities & if you'll have the time to do one game...
For a game for little 4 year olds??? Maybe you could take one zip-lock for each child & in it put together (loosely) a "puzzle" made from brand new clean wing-nuts, bolts & washers & have a race for who dismantles their bolts the quickest.... OR you could give them the parts (as a sort of puzzle) & a piece of wood with 2 or 3 holes drilled in it (to put the bolts in) & see who can put theirs together first... 4 year olds are just beginning to be able to really use their fingers in this manner, so it might be a bit of a challenge. Which could be fun. PLUS, they'll feel like "grown-ups" playing with REAL hardware!
* Another idea, cut up a piece of pegboard (you can buy smaller sections these days) & have them run small bolts through the pegboard holes.
March 21, 2008
0

found this helpful
How about bingo? DLTK-Kids (a fabulous site!) has printable bingo cards in various sizes, themes. By four, most kids can manage the game quite nicely. Here is the link for printable, customizable cards: http://www.dltk bingo/bingo1.asp
You can use cut pieces of paper, o-shaped cereal, or whatever as markers (I would suggest m and ms, but who would know who really won--too hard to resist eating the markers!)
When I play with preschoolers, I find that (individual) stickers make fine prizes.
They'll often play over and over, too! (If they're not,you can also give them a crayon to mark their card, too.)
By guest (Guest Post)
March 26, 2008
0

found this helpful
My kids have had several parties at Maccas. Here in Australia they usually have an area set aside for kids parties and they play simple games like pass the parcel, musical bobs Chinese whispers etc. We also added what is on the tray - you put several objects on a tray, let the kids see if for 60 seconds and they ask them to either call out or write out what was on the tray. You can also do this in teams.
Another popular one was to put 2 sets of letters of the alphabet into 2 bags and get the kids to go into groups and get each group to select 2 or 3 letters from each bag. Use a theme eg animals and get them to act as animals beginning with those letters for the others guess.
Simple colouring in sheets and puzzles are also good from sites like DLTK. Also ask what is included in your party plan from Maccas. Ours included the food (happy meal), a party coordinator from Maccas for 30 minutes - she did some games and gave out prizes. We also opted for the ice cream cake. The centre also had a kids play ground which the kids played on for 20 minutes as well. The whole party was 90 minutes.
Hope this helps.
I really need a plan for my party because it's in a week and I haven't even got the invitations out yet. I need some fun games as well.
By Lisa
January 18, 2011
0

found this helpful
A week is certainly cutting it close. ;-) What age group is this party for because that will make a difference in what games are appropriate.
January 19, 2011
0

found this helpful
My son's very favorite was:
Get several boxes. Put something inside each box, cotton, a dish of olives, cooked spaghetti, jello, anything that is icky to the touch. Cut a hole in the box and each person has to be blind folder, then stick their hand into the box and guess what it is. You might suggest as they stick their hand into the olives that it could be eyeballs and the spaghetti might be 'brains!
January 10, 2012
0

found this helpful
My 12 year old daughter is having a sleepover for her birthday. She will have 3 close friends staying, but is stuck on ideas for games. Do you have any ideas?
By Georgia from Auckland, NZL
January 10, 2012
0

found this helpful
Only three guests? This is a piece of cake.
Twister, Monopoly, Scrabble, one of those music or TV trivia games and if you have the machine a Rock Player, or Rock Singer video game.
Popcorn, Pillsbury Strudels, soda.
Sleeping bags, a fire (glow) light and some flashlights.
I'm afraid that my sister's birthday party is going to be boring! I need any help to make it a bit exciting. Any ideas anyone? games or something?
By jamilabazoun from Lebanon
Does anyone know any good birthday party games for a 6-7 girls pamper party?
By PrincessAnisaxxx from Scotland
Archives
ThriftyFun is one of the longest running frugal living communities on the Internet. These are archives of older discussions.
January 14, 2011
0

found this helpful
What games would you play for a 12th birthday party?

By Isabel from Racine, WI
Answers:
Birthday Party Game Ideas
My grandkids loved to play Sorry, Uno, Clue, Monopoly (but that takes a long time!), Go Fish, and Old Maid. We had a dart board with "dots" in it; they had regular darts (steel) with covers on them to prevent damage to the board and the walls! (they are 18, 17, and 14 now, and they still love to play these!) (10/03/2010)

By MzScarlett
October 3, 2010
0

found this helpful
What games can my daughter play at her 12th birthday?

By Abigail from Brunswick, OH
April 16, 2010
0

found this helpful
I am having a birthday party for my almost 8 year old daughter. Both girls and boys are invited. We are holding it at a park and I need ideas for games. I need them to be cheap and I need them fast as I have till Friday to do this. I am making pinatas. The party is going to be 2 hours long.

Dee from Nixa, Mo

Answers:
Birthday Party Game Ideas
Old standbys like grey duck (also known as duck duck goose; I think it depends on where you live) and red rover, red rover could be fun. (04/25/2008)
November 5, 2009
0

found this helpful
I need ideas for party games for my son's 6th birthday party in May. We own a campground, so I would like to have a weenie roast and make s'mores, etc. There would probably be about 16-18 kids. Everyone in his class that has had a party has invited the entire class. I could get 2 or 3 teens and 10 and 11 year olds to help.

We don't have a pool (just ponds). The kids could ride pedal carts or paddle boats. We have a game room, but I don't think I want the kids spending their time in there. Perhaps a scavenger hunt? I could get a clown. Perhaps a bouncy castle? Don't want to go too extravagant. Thanks for help.

Sandy from Stoughton, WI
Answers:
Birthday Party Games
How about some of the old fashioned games that people use to play at picnics. Have a sack race. Do you have a theme for this party? Since you want to roast hot dogs and s'mores why not have an egg and spoon race and for 6 year olds why not a pinata? Hope he has a wonderful birthday and remember they will remember the fun more than any "fancy" entertainment you provide. (02/16/2007)

By Debra in CO
Birthday Party Games
These come to mind: a nature scavenger hunt for things like a straight stick, the crookedest stick, a bird feather, a 4 leaf clover, a live worm, a tadpole (live) or the like. A water balloon toss game is fun, offer a prize after for the kid who picks up the most broken balloon pieces, too. How about potting some plants or cuttings as a favor. They could decorate flowerpots as a craft. Stick with an outdoor and nature theme, or an ecology theme to make use of the campground. How about a sing-a-long, maybe skits? (02/16/2007)

By
Birthday Party Games
I used to be a girl scout leader and a great outdoors game is Mr. Bear. Someone acts like he is a bear in hibernation and the kids sneak up on him whispering "Are you sleeping Mr. Bear?". The closer they get the louder they get until they wake up Mr. Bear and he chases them. Whoever he tags becomes his cub and has to help him tag all the other kids until everyone is tagged. He and his cubs go back to the cave over and over until everyone is caught. The kids take turns being Mr.Bear. It gets very loud and they need plenty of room to run. Young kids really enjoy it. (02/18/2007)

By marilynupright
February 15, 2007
0

found this helpful
What are some popular 13 year olds birthday party games?

Emma from NZ
Answers:
True or False
My daughters friends always enjoy playing this game. Each friend has to list 3 things about themselves. 2 are true and one is false. The other guests have to choose which one is the false one. It is a fun way to learn about eachother, be creative and have many laughs. Good luck. (08/30/2006)
Musical Clothes
Play the game called "Musical Clothes". My daughter had a Backwards party and we played this game... the girls said it was the best party and fun they ever had.

The game is played like musical chairs except instead of walking around chairs, you pass a HUGE bag filled with all sorts of WEIRD, BIG, SMALL clothing items, you can even include shoes. When the music stops the person stuck holding the bag must quickly grab something out of the bag without looking in the bag and in 10 seconds put it on... even if they don't know where the is worn or what it is.

WE had a blast! The girls NEVER saw what was in the bag, but was explained that no matter WHAT ITEM they pull out they MUST put the item on in 10 seconds as long as it was on a part of their body it was fine. (12/07/2006)

By 2UNIQUECAKES
August 24, 2006
0

found this helpful
I already have theme for my 11th b-day party but I need to know some FUN party games to do once we get home from the murder mystery restaurant we are going to. If you have any ideas that go with the theme that would be great but I'm open to all suggestions.
Sarah from GA
Answers:
Guesstures
Party games are crucial and need to involve everyone so no one gets left out. Guesstures is a fun ice breaker game for every type of crowd. It's a lotalot like charades. Or you could have a scavenger hunt (always a hit). I hope this helped, good luck! (05/12/2005)

By Amy
Card Game With Gifts
I have a game that is good for any occasion, birthdays, showers, etc. Go to the dollar store and buy five or six inexpensive gifts appropriate for the occasion and one gag gift. Wrap them all up and set them in the middle of a table or a pile on the floor.

Have everyone sit in a circle around the gifts. You will need two decks of playing cards. Deal one deck one at a time to the people sitting around the gifts, it's okay if some get more cards.

You take the second deck of cards and start calling the cards out. For example the first card is the J of Diamonds, the person sitting around the gifts with the Jack goes to the pile of gifts, sets the card down and takes one of the gifts. DON'T OPEN IT.

Keep calling the cards, when all of the gifts are gone the next card you call, the person who has that card takes one of the gifts from anyone who already has one, this goes on till you have called all of the cards and whoever has gifts can now open them.

Someone might end up with 2 or 3 gifts depending on the cards they have. This is a lot of fun at a bridal shower lots of women, lots of laughter. The one I had I wrapped up a roll of toilet paper as the gag gift, it was the biggest one so of course everyone want to "steal" that gift.

For a thirteen year old, if it's a girl, you could get stuff like lip gloss, scented candles, the dollars stores have cool jewelry, etc. This game can go as fast or as slow as you want, let the kids have fun. (10/17/2005)

By PICO
Birthday Party Games
I like to have a variety of games and a prize or two for the winners. For prizes, I go to the dollar store and grab things that make cute prizes like scented soap with a sponge, mini-photo albums, stationary ,chocolate candies, girly items wrapped in pink and for boys I'd wrap in a blue candy, mini basketball with over trash basket, water guns, humor prank toys and for some reason they love and find funny is the giant calculator.

For Games: It's a tradition for me to make a crossword game which you can personalize and print out online for free at mycrosswordmaker or puzzlemaker.com The category would be about the birthday boy or girl. For example, I would ask what is Mikayla's Grandfather's nick name? The people who know her best would have the advantage of winning or the fastest people to go around and ask, which is a fun way for people to meet and mingle the family members.

Then I'd have other games like I would draw a treasure map (I like to go all out by drawing out the property lot with directions on how to go about N, E, S, W and number of steps... Then I crumble, and IRON the map to create an old look with little browning and burn holes! For the treasure they're looking for I use a small item like a little locket with my daughter's picture in it.

I also like to play charades. Freeze dance is also fun. Then some games that are simple like throw the ping-pong ball on the basket or if it is a babyshower throw diaper in trash which female seem 2 score more then men!

Blindfold dress-up. Where you can't see what you are putting on and how. This is fun for boys and girls.

All these games can be played without having to really purchase anything other than the prizes. The more creative you get with games the more fun they are.

Well Hope You Enjoy! (10/18/2005)

By mcgyver408
Broom Dance
A good ice breaker for those too shy to start a dance is the "Broom Dance." Your child has to be willing to start it. Here's how it goes: Announce the rules to the game before you begin the music. Start the music, your child dances with the broom first (it could be for one second only); then your child asks one of her guests to dance and passes the broom to a guest of her choice. That guest has to dance with the broom for as long as he or she wants then chooses another guest to dance and passes the broom. This will get everyone dancing faster then you could ever believe. The last one with the broom gets a prize. (10/27/2005)

By Joanne
Find the Bubble Gum
A good game is to take a couple plates and fill them with whipcream. Then put a piece of bubble gum in the middle without using your hands the players will have to stick their face in the plate and find the bubble gum. Whoever finds the gum first and blows a bubble wins a prize. But, to twist it around a bit but a jelly bean or straburst in the whipcream too so it will make it harder! have fun (03/10/2006)

By Cheyenne
I have some games for you.
Some fun ones are:
Volleyball
Fortune teller: You have a bag for husband or wife, cars, houses, number of kids it is a lot of fun when you have everyone play it.
Capture the flag
Best PJ's: Vote for the pair you like the most)
Who am I?: You take a sticky note write down a name of famous person and stick it on their forehead and the ask Q's one at a time in a circle and see if you can figure out who you are.
Water balloon fight
Fear factor: You mix up really gross foods but nothing that people are allergic to and see who can have it but make sure that it is not so gross that someone throws up from it.
Murder Mystery game: You have a basket full of W's for witnesses 1 M for Murderer and 1 D for detective. The detective goes away and then the murderer kills someone and the detective comes back after the murderer has struck and the detective asks questions of people and tries to find out who did it.
Scavenger Hunt
Water Balloon toss
Fooseball
Ugly contest: See who can make themselves the ugliest or the funniest with makeup and clothes.
Talent show
Quarters: You take a cup full of pop and you try to fling a quarter into it and you get 5 tries and if you miss it the person on the left side of you has to chug the pop.
Shave the balloon
Blindfolded balloon hunt: Put water filled balloons in your yard and put candy inside those balloons and people can't use their hands. They have to use their feet and if they pop the balloon then they get the candy inside. They have to find the candy with the blind fold still on.
Well that is all that I have and I hope that I have helped you, you can use this for a guy or girls party (07/21/2006)

By Rach
Related Content