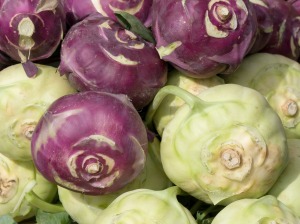 Kohlrabi or turnip cabbage can be canned to preserve a portion of you harvest. Pressure canning is not recommended for this veggie, however, there are a variety of recipes for pickling it. This is a guide about canning kohlrabi.
Solutions
Share a solution for this guide today!
Questions
Here are questions related to Canning Kohlrabi.
Can kohlrabi be canned? I have some kohlrabi and would like to can it but don't know how. Please help.
By Malisa
---
Most Recent Answer

By BLee09/28/2011
Sweet & Sour Kohlrabi

Ingredients
2 lbs. shredded kohlrabi
1 Tbsp. kosher salt
1-1/2 cups Cider Vinegar
1/2 cup water
1 cup white sugar
1/2 Tbsp. whole cloves
1/2 tsp. ginger
1/2 Tbsp. peppercorns
Making this is a two day process. If you try skipping the first step the texture does not come out right.

Also, if you do not have kosher salt, canning salt works just as well.

Day 1
1. Remove stems, leaves and roots of kohlrabi then peel
2. using a kitchen slicer with the smallest blade, shred kohlrabi. OR
3. using a food processor with a medium sized grating blade, grate kohlrabi making sure you get mice round pieces
4. place in bowl and sprinkle with salt
5. toss with hands making sure that the salt is evenly distributed
6. cover and allow to sit in a cool place for about 24 hours
Day 2
1. Drain Kohlrabi
2. Combine remaining ingredients in pot and bring to a boil
3. Using a canning funnel, pack kohlrabi into hot jars and cover with liquid to within 1/4" of rim
4. place seals and rings on jars and tighten
5. process in a water bath for about 20 minutes
6. using a jar tong remove jars to rack and allow to cool
7. seals should pop down
8. if one does not just put it in the fridge and use that one first
9. this should age for about a month before eating.

Makes about 6 pint jars