August 8, 2008
2

found this helpful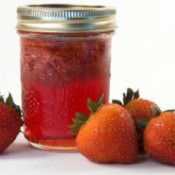 Tips and advice for saving money on canning supplies.
Plan Ahead
I do a lot of freezing and canning from the garden for the winter. My best tip is to plan ahead. I'm in RI and we have a store called Job Lot. Near the end of the season many of the "off lot" stores have odd lots of mason tops, screw tops and jars at really good prices. Even grocery has good prices at the right time. When you find a really good price, buy them all. Sounds nuts, but buy more than you need. Store them in zip lock bags and the seals stay fine. Just keep them in a cool closet or basement and you have lids forever.
I'm still using lids from a great deal I found about 12 years ago. I got 3 whole cases but, couldn't beat it, especially when I see the prices now. Just seal the boxes in bags and you have no problems. I put 4 boxes to a quart bag so as not to open more than I needed. People say it's a lot of work but it's not because it's actually fun!
Rummage Sales
Look for supplies at rummage sales. There are older people that are no longer able to can. You can pick up jars, canners and other necessities for a much reduced price here. Plus you can get invaluable hints on canning from the older generation.
By Dale
Garage Sales
I have gotten most of my 200+ various size canning jars at garage sales and rummage sales in just one summer (just started making jams and chunky applesauce last year). Thrift stores sometimes have them, too. I have paid from .50-2.00 for a box of 12, then I buy the lids at the store. I found several boxes sitting by the side of the road one evening with a FREE sign next to them. I could only take half or so because I had so many already.
By Janeen
Magnet for Lifting Lids Out of Hot Water
One of the greatest things I found for lifting out the lids from boiling water is what looks like a plastic stick with a magnet on the end. It sure has saved a lot of burns on my fingers. I think I bought mine for a dollar or two. Well worth every penny.
By jodi
Knitting Needle with Magnet
In the absence of one of those handy plastic gadgets with a magnet to pick up canning lids from the hot water, use a small magnet on the end of a metal knitting needle.
By Judy
RE: Saving Money on Canning Supplies
I have only recently been bitten by the canning bug. As far as supplies go I have been blessed with folks giving me their well intention project supplies for canning. I reuse most any canning jar as long as it is not cracked or chipped. I accept anything folks give me and I sort them out later. But, I have always bought new lids, rings are one thing - but the lids have to be new each year. If I receive jars that I really do not know about canning in - I recycle them, some myself, to hold my spices, herbs, and dehydrated items, seeds for the garden, even fruit or jello to send to work or school (in the small jelly type jars!) and some to glass recycling drop off points! Keep your eyes and your mind open - and who knows what you'll think of! ENJOY
Freecycle
I have received many jars from other folks on Freecycle. Also, I have discovered that there is usually one thrift store in every town where most people take their canning jars and supplies. Find it. If I have a jar with a chip that can no longer be used for canning, I put a ribbon or raffia around the neck and us it as a vase for flowers from my yard that I give to friends. Larger jars and old lids/rings can also be used as small cannisters or decorative storage.
By Ashley
Freezing in Recycled Jars
I realize you can't reuse jars for canning, But if you have a foodsaver, you can use, reuse, etc. any jars as long as they have the original 'rubber' seal inside the lid. I reseal and freeze just about everything in them. Of course you can use new mason jars, but why not use the ones you buy everyday with product in them.
By Anonymous
Resusing Lids
If you carefully remove your lids from the jar (without damaging the metal) you can reuse them. Put a small piece of tape on them to keep track of the ones you have used. I have done this but I just used the ones used for jellies, green beans, but not for meats since they have to be canned for 1 hr or longer. I always put them in boiling water for 1 - 2 minutes before using. This has saved me a lot over the years.
By Beth