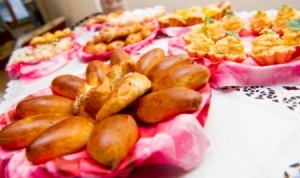 Church luncheon committee members are always looking for new ideas. This is a guide about church luncheon ideas.
Ad
---
Questions
Here are questions related to Church Luncheon Ideas.
I am looking for luncheon ideas for a Mother's Day luncheon. We will be having older ladies, as well as girls. We plan to have a silly fashion show, the speaker will be talking about how what we wear is not important, it is our inner beauty that pleases the Lord. What can we serve that all ages will enjoy? Any help will be greatly appreciated.
By Teresa
AnswerWas this interesting? Yes No
Ad
---
---
Most Recent Answer
By peg como [3] 04/10/20130 people found this helpful
I would make a strata. It's an egg based casserole with any kind of vegetables. There are many recipes online. You can also add ham, bacon, etc. I always make these for my brunches or luncheons. The best part is that you make them a day before and just heat them up. This, with a nice salad and rolls, are perfect.
---
I am hosting a luncheon at my church for the single women's ministry. This is my first time doing this and I really need help. I need ideas on a nice menu, maybe finger foods and some gifts that I can give the ladies who attend. My theme is "Forgiving and Rebuilding: Giving young women the tools to regain what was lost in the storm".
By Shay from Oxford, MS
AnswerWas this interesting? Yes No
Ad
---
---
Most Recent Answer
By Lelia Jo Cordell [51] 08/01/20100 people found this helpful
I personally like the emergency umbrella idea, sounds appropriate to your theme.
For menu, might be easiest to provide a variety of cold cuts, condiments and bread. The ladies can build their own sandwiches, and you can have several different kinds of chips, or a green salad and two or three kinds of dressing. If that isn't simple enough, I recall my soon-to-be daughter-in-law provided mini-weiners simmered in BBQ sauce and skewered on a toothpick as a finger food at a ladies' gathering. Cheese and crackers are also excellent finger foods, as is a relish tray or fruit tray.
Enjoy your fellowship.
---
I am looking for ideas for a church ladies luncheon with the theme of "Binding Hearts and Hands". We will be decorating approximately 20 tables and need to stay within a limited budget. I would appreciate any help anybody might have.
By Juanita from Galt, CA
AnswerWas this interesting? Yes No
---
Most Recent Answer
By Ash [2] 03/16/20100 people found this helpful
You could make a 'paper people chain' and put it around a glass hurricane with a candle. The candles could be different sizes and could be found probably in the church if it's large or could be brought by several people. Then, make (or you might be able to buy) the people chain (see link below for example). If you use sturdy paper and tape the chain into a circle they will probably stand freely, otherwise you can put a little tape or those 3m sticky things on the back.

http://cache2.asset-cache.net/xc/85 ... 31F26B7FC43712BEBA7779D2BB68A6ED4A4F
If the link doesn't work just google 'people paper chain', that's what I did.
---
I am in charge of a large gathering (approx 200) to celebrate the 40th ordination of a minister. All Lutheran churches in the area are invited. The problem is we have limited space, probably for 120 people and quite a few elderly parishioners. What's the best solution for not enough seating?
By Cheryl from Wheeling, WV
AnswerWas this interesting? Yes No
---
Most Recent Answer
By Elgie [5] 10/03/20130 people found this helpful
Is the space available for 120 for a sit down dinner or for a standing crowd? Is a special program planned where everyone needs to sit down? This all plays into your planning. It can be an afternoon "standing" tea, with plenty of chairs around the sides for the elderly who need them, or in small circles so they can visit. A brief program where the guests can still stand while a brief "honoring" ceremony takes place. If possible have a "history" wall of pictures and articles about the honorees past 40 years can get or keep conversations going. Also can do a "guest of honor" small table for the honoree to greet guest from. Lots of things you can do. Just have to coordinate the program with the reception/dinner(?) so they work together.
I am looking for ideas for decorations, food, and activities for our music ministry luncheon which will include the choir and musicians.
By Janet W
Solutions: Church Luncheon Ideas
Do you have knowledge about this guide topic? Feel free to share a solution!