Clay Pot Gal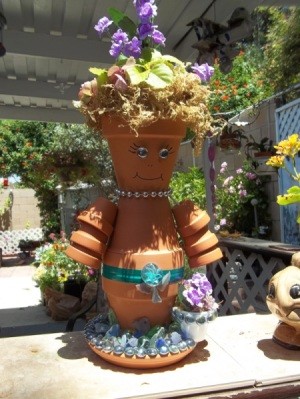 My good friend Andrea, lives in an apartment. Outside her door is a place she can put a decoration or plant. She had one that "disappeared". She went looking and found it on the floor above her. DH wanted to make this to replace it for her.
The creeping charlie hat is in a separate container that she can take out to water. The base is a clay saucer filled with colored tumbled glass and marbles that we glue in. The bottom pot is filled with sand for weight. The face pot has a dowel inserted through to the sand and to tie the small rope for the arms. It is a little over a foot tall, maybe 14-16 inches including the plant and artificial flowers.
She liked it so much she is not putting it outside the door, but on her kitchen counter so she can see it every day and remember "how much we spoil her". We are the ones who are blessed to have her friendship in our lives.
By Great Granny Vi from Moorpark, CA
Feedback
Read feedback for this post below. Click here to post feedback.

By
06/06/2012
Adorable! I second that you should make more and sell them, Vi!

As for Andrea's neighbor; she should call the police and report the neighbor that took her decoration! We've had a couple of door decoration theft instances in our building and once found on a couple of fellow neighbors patios the police here did indeed retrieve them with a stiff warning to the thieves :-) Oh, and the manager also wrote up a warning to them that they would be evicted if such an occurance happened again ;-)

By
06/05/2012
Now that is nice! I just love your Clay Pot Gal! You could sell these at garden centers for a lot of money.
Post Feedback
Add your voice to the conversation.