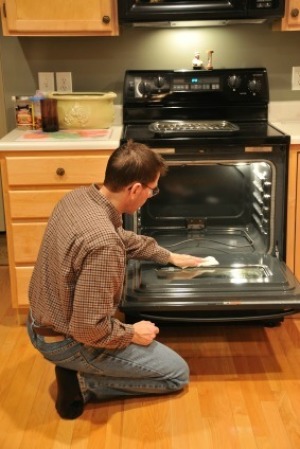 Stubborn baked on deposits are often what you need to clean off glass oven doors. This guide is about cleaning glass oven doors.
Ad
---
Questions
Here are questions related to Cleaning Glass Oven Doors.
I spilled a glass of orange juice and it ran between the glass oven doors on my stove. It has a few slits and I guess that's how it got in. I tried pouring soapy water in the slits and some of it came off. There are still a few drips. The stove is a month old. Help!

Thanks,
Liz
Ad
---
---
Most Recent Answer

By anjali (Guest Post)03/05/2007
i put my stove oven on self cleaning, i left one of my nonstick pan -(which had wood handle) inside oven by mistake, after few minutes it started burning, smoke was coming out from oven, i tried to open the door of oven but it was locked, it gave F2 error also,after few hours, when it was cool, i saw my oven glass door was yellow, i tried to clean it but it didn't work, any suggestion to clean it?

Do you know the best and quickest way to clean an oven glass door on the inside?
By Betty H.
Ad
---
---
Most Recent Answer

By barnsma [1]09/15/2013
I have always used a brillo pad. Years ago, I was taught to used straight ammonia for the metal shelves inside. I would set them in two large garbage bags and pour an entire bottle in and let them sit in the tub overnight. The next day I would let them drain, rinse them off and if needed, use a brillo on some of the parts that were more difficult to clean. It works very well. However, you may want to try soaking a towel in annomia and placing it on there for a while. Just be careful using annomia. Make sure it's well vented.
My new oven of only 2 years is now starting to look a bit "foggy". I tried cleaning the glass in the oven door (2-ovens) and can not loosen the foggy build-up on both sides of the glass. Any ideas? I have only tried Fairy liquid to date. Thanx.
By Gerry T.
---
Most Recent Answer

By Christi [7]09/10/2012
I make a brushable paste using baking soda & perioxide. Then I use a small paint sponge and cover the glass with the mixture. Wait about 20 min and then wipe it clrean with a micro towel, I have a stainless steel stove with black glass top & it works lokr a charm!
How do you clean in between the glass on the oven door?
By Sherrie from Fort Pierce, FL
---
Most Recent Answer

By Alyie05/02/2012
My husband and I had to take the door apart.
Open the door and unscrew the handle, and gray piece.
Definitely a two person job.
Solutions: Cleaning Glass Oven Doors
Do you have knowledge about this guide topic? Feel free to share a solution!