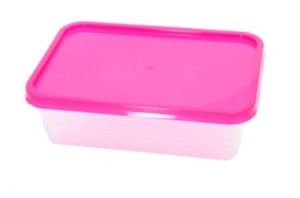 Tomato sauce and other products can leave noticeable stains on plastic containers. This is a guide about cleaning stains from plastic.
Ad
---
Solutions: Cleaning Stains from Plastic
Read and rate the best solutions below by giving them a "thumbs up".
To clean stains out of bowls, leave bowl sitting with white vinegar in it. Leave it for a few days, then rinse and wipe out.
Ever use a rubber spatula on food items like spaghetti or tomato sauce and have the spatula get stained? Or ever use a plastic food container for leftovers which stained the container? I dreaded using my Pampered Chef white spatulas when I needed them for spaghetti. I also did not want to have my containers stained. Now when I have any type of food stains, I rinse and place the item outside when the sun is shining. Presto! After a few hours my items are stain-free and like new.
By mfeld from Twin Cities, MN
Sunlight will remove tomato sauce type stains from plastics. Just place items in direct sunlight for a few hours around midday. It will bleach white laundry too.
Give a "thumbs up" to the solution that worked the best! Do you have a better solution? Click here to share it!
Questions
Here are questions related to Cleaning Stains from Plastic.
How do you get tomato stains out of white bowls?
By Michelle from Scipio, IN
AnswerWas this interesting? Yes No
Ad
---
---
Most Recent Answer
By Elaine 173 890 02/15/20100 people found this helpful
I use bleach also if the stain is there but to prevent the stain in the first place, if I am storing leftovers in fridge that is tomato based, I first spray the container with cooking spray to prevent it from seeping into the container.
---
I clean our rubber spatulas in the dishwasher. They now have been bleached in spots. Is there a way to remove those white stains? Thanks.
By Joyce S. from Dade City, FL
AnswerWas this interesting? Yes No
Ad
---
---
Most Recent Answer
By DCA 4 1,214 12/19/20140 people found this helpful
The white "stains" on your rubber spatulas are actually a removal of the dye color of the rubber in the white areas by the dishwasher cleaning agent. You can not remove the white area as it is not a "stain" but rather an absence of color.
How can I get stains out of Ted Backer PVC shopping bags? It seems to be ingrained.
By Shannon M.
I had taco sauce stain the plastic on a refrigerator door. Its a big stain. Any solutions for this?
By Ray L. from Palm Springs, CA
Archives
Thrifty Fun has been around so long that many of our pages have been reset several times. Archives are older versions of the page and the comments that were provided then.
Clean tomato sauce stains from your plastic containers using hot water filled to the top and plopping a couple denture tablets in.

By Rhonda

More Tips:
Removing Tomato Sauce Stains from Plastic
06/25/2004
Instead of buying cleaner for colored stains on plastic, like tomato sauce, etc. I submerge the item in really hot water for several seconds before I put on the soap and then I wash and rinse in hot water again. It comes out like magic!
By tiny bop
Bleach
09/15/2004
To remove tomato stains or any other stains from plastic containers use the following method:

Take about 1 cup of bleach & add 3 cups of water. Place this solution into the container that is discolored. Leave in place for about 2 hours. Rinse well with plain water being especially careful not to let the solution touch or splash on your clothes. Happy bleaching.

By joesgirl
Denture Tablets
11/07/2005
Clean tomato sauce stains from your plastic containers using hot water filled to the top and plopping a couple denture tablets in.
By Rhonda
Cooking Spray
11/07/2005
I don't know if this will work at all times, but try putting cooking spray in the container BEFORE putting your food in there. If you eat it all straight away, 99% of the time, it won't stain. However, if you keep it overnight, I think it will.
By KLS8800 (Guest Post)
RE: Cleaning Tomato Sauce Stains from Plastic Containers
11/07/2005
I mix baking soda and dish soap into a paste to clean my bowl. If the red isn't gone I set it in the sun and let it bleach out naturally.

Love & Prayers,
Linda

By lindaljh1
Pitted or Scarred Containers
11/08/2005
Just a warning... if the container is pitted or scarred throw it out! The chemicals in the plastic can leetch from the damaged plastic into your food and who knows what damage those chemicals can do to a person ... Rather to be safe than frugal?!?

That being said, a baking soda paste and a short "soak" works well on my plastics!

By Madelynnsmama
How do I get tomato sauce stains from plastics?
I wonder if anyone knows how to get tomato stains off plastic. I cooked tomato rice in a plastic pot and know it is stained, any ideas how to remove it? Thanks, Wonderfulone from Hamilton
Lets say you made spaghetti in a white plastic bowl and has stains on it. (Left it in the fridge to because of the leftovers.) After you wash it and it still has the stains. Just sit it outside for a couple of days and let the sun hit it. The stain will be gone. Just rewash, because of dirt and debris. It does work. I just did it not too long ago.
By dietvanilla from Shoemakersville, PA
---
My Tupperware has an orange stain in it from eating things like Spaghetti Os and Chef Boyardee. Does anyone know how to get these stains out?
By Grace from Selinsgrove, PA
---
RE: Cleaning Tomato Stains Off Plastic
I have tried half water and half bleach and then wash it really good and that seems to get them off. (11/27/2009)
By farthead
RE: Cleaning Tomato Stains Off Plastic
I've had luck with dishwasher detergent. (11/30/2009)
RE: Cleaning Tomato Stains Off Plastic
Put them outside on a sunny day. Can't remember where I read about this hint, but was probably on this site. Worked wonders on my tomato sauce stained Tupperware in one day of sun in Northern Virginia. (12/01/2009)
By Kathryen