December 28, 2015
0

found this helpful
If you have a closet to cover, or a window you keep getting drafts through, pushpin this over it. If you want, get binder clips and evenly space them. Then, get shower curtain rings and thread the clip rings through them. and slid a rod through the rings. You then have a nice curtain. This is one I won a contest for.
http://www.thriftyfun.com/Blanket-Curtain-Without-Sewing.html
December 28, 2015
0

found this helpful
Use at the end of the bed to add color, drape over a chair, or the sofa, re-gift....
December 28, 2015
1

found this helpful
Donate to homeless shelter; blankets are always welcome!
January 21, 2016
0

found this helpful
Fleece doesn't ravel. So if you'd like, you can cut it into strips and make winter scarves. Frankly, I like Janet's idea to use it to add color and texture in your home. The foot of the bed is a popular place to display something colorful or over a chair.
Last winter after being cold from our single pane sliding glass door and not having the money to replace it, we bought a large piece of polar fleece to cover the window. (It's an 6 X 8 Foot window, I looked online for the best deal and ordered 3 or 4 yards of 60 inch wide good quality fleece. I think it cost about $50.)

Although it is not transparent (so does give you a bit of a blocked in feeling when closed), it does an amazing job as an insulating curtain both for the summer and the winter. We noticed a big difference. You could also buy a bunch of the little lap blankets when they are on sale and use them for smaller windows or sew them together for bigger ones. The key is to have the fleece at least an inch or two bigger on the sides and top of the window. Fit it close to the window opening so no cold can get through the edges. We used push pins to hang it close to the opening.

When it is sunny, you can tie open the curtains to get some solar heat. You can hang some more decorative curtains over the fleece so it looks better. It definitely cut our gas bill during the coldest part of the winter.

If any of you have done something similar or try this, let us know.

Susan from ThriftyFun
Instead of buying super expensive fleece hammocks and bedding for ferrets or other small fuzzy animals, I buy old fleece winter hats and baby blankets from the thrift stores.
The hats that have ties or velcro straps can be secured to the sides of the cage. My fuzzies love them and they are so cheap I can toss them out when they get too worn out or unwashable.
By akGirl from Anchorage, AK
I have little squares of fleece leftover from making blankets. Any suggestions for uses?

Connie from Owosso
November 13, 2008
0

found this helpful
I am starting to make slippers with the fleece scraps. You'll need some Jiffy Grip for the sole, then a piece of fleece, depending on how big the slipper, perhaps 8 in. long and 5 in. wide, then a piece of knit ribbing for the ankle. I found an old slipper someone had made my granddaughter years ago, so I just took that as a pattern. You really just need to trace the foot for the Jiffy Grip, then the same for the fleece, only you need to make it a little larger so it can come up to the ankle, then attach a piece of ribbing. Confusing? I hope not. I just wrote it like I make it. I'm visiting at my daughter's right now, but if anyone is interested, I could upload a photo when I get home tonight.
December 13, 2008
0

found this helpful
Use the squares as advertisements for the next fleece blanket project (if you're doing it as a church youth group project or as a teen activity at a school/library). My church uses the squares and puts a sticky label on it with the information needed for donations for the next year.
January 15, 2009
0

found this helpful
I make more blankets with the scraps. I cut the scraps into squares, then single crochet around the block and then join the squares together. Makes a nice patchwork blanket
April 3, 2010
0

found this helpful
I use my scraps to make teddy bears to donate to law enforcement agencies to give to kids who have been in accidents or domestic abuse situations. They're nothing fancy, but they're soft and cuddly. It gives kids something to hold on to. I found a simple one piece pattern on the internet. Cut two pieces the same for front and back. I bought eyes and noses since I was afraid to use buttons. The features could be embroidered if you wanted to. I used my copier to enlarge/reduce the pattern to use with different size scraps. To dress up the bears I put a ribbon bow around the neck and tacked it several places to keep it in place.
Read More Answers...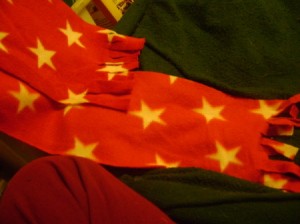 I have made beautiful red scarves out of the fleece from the remnant bin at Walmart. I thought this pattern and design might be beautiful and I was right!
I dearly love to make fleece scarves, and I wear them all the time because they are so soft and warm. I buy the yard remnants and I was able to make five scarves out of a remnant that cost less than five dollars.
A good tip would be to buy a new pair of scissors each year that you plan to make scarves. The kids wear out my scissors, so it is easiest to buy a cheap but new pair of scissors.
I fold the fabric in half and cut the scarves as wide as I like to have them. They are all a yard long. I like to make the wider scarves. I have made less wide ones, but the wide ones are warmer and more popular!
Then I cut the fringe on each end. I like my fringe to be as long as my index finger at least. I don't really measure, I just estimate it from sight.
The scarves they sell at Walmart are beautiful, but we chose to buy fancy hats and make our own scarves this year. Fleece from the remnant bin is so warm. The scarves for sale at Walmart are not as warm as the ones I make, they are more for fashion.
I saw on here how a reader made a felt flower she planned to put on her fleece scarves. I am going to do that also. Soon I will make pink scarves for Valentine's, although I might have to buy the pink fleece.
By Robyn from Tri-Cities, TN