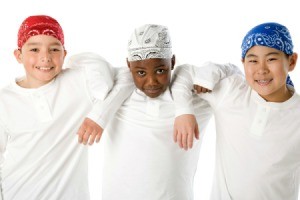 I need a free du rag pattern. Thanks.
By kathie from Vienna, OH

Answers

Marjorie
Silver Feedback Medal for All Time! 290 Feedbacks
March 1, 2011
2

found this helpful
Just the other day I saw that Dollar Tree sells Do-Rags for $1.00.
Buy a cheap one and use that as a pattern to make your own.

March 2, 2011
0

found this helpful
Hello Kathie. I have a brother that works in construction and he usually wears a do rag (also spelled doo rag) to protect his shaved, ("almost hairless, anyway, head"; she teases as only a big sister can - yes, I'm bad!) scalp from sunburn. He folds his own from square sized bandannas. I don't know how he does so, but found this site that might help you learn how to fold them, and then you could stitch them if you want a "pre-fab" made do rag.
www.ehow.com/how_2363869_tie-do-rags.html
I know a lot of the store bought ones are pre-folded and stitched, but my brother prefers knowing how to fold and tie them himself (without any stitching) for a more custom fit. Good luck with your project! :)

March 2, 2011
0

found this helpful
Hi KansasCindy!
If you type "Du Rag pattern" in your search engine you should be able to pick and choose. I use Google and got this response: About 163,000 results (0.04 seconds).
Hope you find something you like.
September 29, 2019
0

found this helpful
Answer

this Question

My sister has a ton of fabric. She is looking for a simple pattern to make doo-rags for cancer patients. Does anyone have one to share? Thank you.
By debbie clapper from Berwick, ME
Answers

June 18, 2009
0

found this helpful
fosteringlove.tripod.com/id12.html-or search for"doo rag patterns"good luck.

June 25, 2009
0

found this helpful
Interested to know what a doo-rag is?
Editor's Note: Wiki says,
"A do-rag, also spelled doo-rag, du-rag, durag is a piece of cloth used to cover the head. A popular folk etymology claims that the term derives from drive-on rag, a term first used by U.S.
soldiers during the Vietnam War to refer to a muslin bandage often used as a head covering."

June 25, 2009
0

found this helpful
McCalls 3193 is a child's pattern for shorts, shirts and what they call a "headwrap". You might be able to use that--just cut bigger than the pattern. The easiest method I found was to buy a doo rag and cut it apart and use that as my pattern
Answer

this Question

How do you make a do rag from a purchased bandana?
By Sue H from Perkasie, PA

Answers
June 25, 2013
0

found this helpful
Starting with a patterned hankerchief, fold it in half to make a triangle, wrap the longest part of that triangle around your forehead, using the two tip ends to tie a knot behind your head. Tuck the third tip end and the excess cloth under the tight knot you tied.
I like to pull the whole thing down to my neck and then pull it back up to my ears so that it catches all my hair, then I'll tuck in that excess to make it all look neat.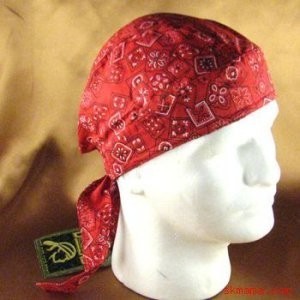 Answer

this Question