You have probably seen soda can crafts in your neighbor's garden, at craft fairs, and on craft web sites. This is a guide about crafts using soda cans.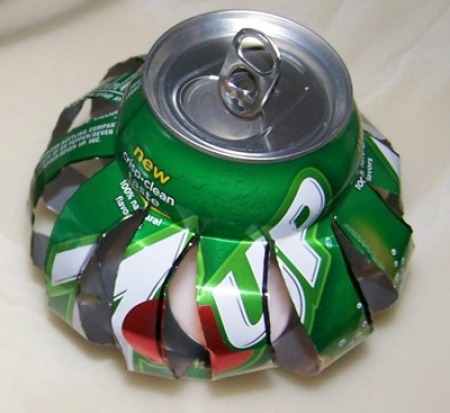 A quick outdoor decoration that costs nothing and you get to quench your thirst while making it. Make a whole string of them for your next barbecue.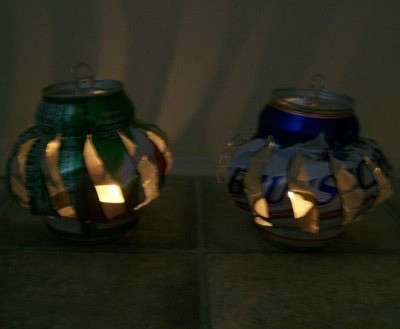 Approximate Time: 30 minutes
Supplies:
aluminum soda cans
sheet of card stock
pencil with eraser
push pin
craft knife
tea light
fine point marker
paper punch
Instructions:
Print out the pattern page and cut both from your heavy paper such as card stock. If you are making your own strip it should be 8 x 1 1/4 inch wide with 12 evenly marked notches along the long edge.
Tape the long strip into a ring overlapping, it should fit snugly around a can. Now place the ring on a flat surface notched side up, slip a can in the ring. The notches are at the correct height for you.
Use your push pin and punch a hole at each notch.
Turn your can over and repeat marking the notches making sure that the notches line up directly one under the one above.
Now take the other pattern piece; lay the curved edge so it connects a dot on the top circle to the one below and over one. Do not connect with the one directly below. This is what makes the swirl effect. With a fine point marker draw along this edge for all 12 lines.
With your cutter start at one hole and push your cutter in very carefully. This is a little tricky at first, but once you do one line you will get the feel of how much pressure you can use. I found the best method was to push in and put slight pressure down at the same time cutting just the width of the cutter at a time. Don't try to go to fast or you will go off the line at first.
When you have all 12 slits made sit your can on a table; slightly put downward pressure on the top of the can, be careful it will be very easy to squash.
While holding it down part way insert your pencil, eraser first, between two of the ribs and put a bend outward in the bottom and top of each rib at the point where the slit starts. Round out the ribs in a lantern shape with the pencil or your fingers, being careful the ribs are sharp.
You can paint your lantern if you want to cover the can.
Slip a tea light in-between two ribs and hang your lantern by the tab. Make a string of these lanterns and slip each one on a bulb of a string of Christmas lights.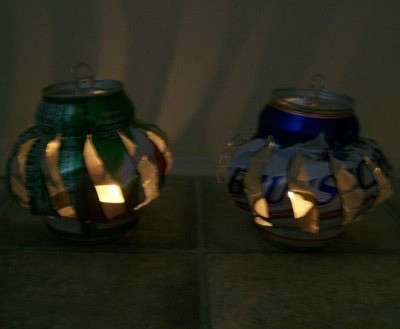 By Ann Winberg from Loup City, NE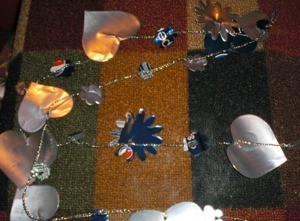 Pierce the side of the can near the top with a knife.Carefully cut out the top, beginning where you pierced it. Then cut down the side and cut out the bottom.
Cut shapes freehand or use a diecutter or trace a pattern on one side with a marker and cut them out. Chain stitch cord or thread or string in between each shape or string them in whatever way you want to adding beads if you like.
I used metallic cord so it should last a little while if I decided to hang it outside.
It is about 8 feet long.

To make a cheap wind chime, I used a 1x4 inch board, cut 4- 3 1/2 inch pieces, and drilled 4 small holes, 3 inches apart, and 2 holes in the top of the board. I used fishing line to make the hanger, and I use soda cans, any kind of soda will work. I paint the board the same color as the cans. I use fishing line to hang the cans.
I have a Redneck or Hillbilly Windchime.
By Barbara from Spring Hill, FL
By sabrina 1
I saw at a craft fair that someone had these model airplanes and models boats and cars made out of soda cans and beer cans. I've been searching all over for how to make a sailboat out of beer cans. Can anyone help me?

Sabrina
---
Most Recent Answer
By guest (Guest Post) Flag
November 2, 2008
I went to a bar last night that had these model airplanes hanging up over the bar. I asked about them because I really want one. They were made by the owner's friend, son. The owner is on holiday but when he gets back I'm gonna get his contact details. You have to collect the cans yourself and then he charges 10 pound to make it for you.
I would like directions on making a wallet from tin can or soda pop cans. I would like other projects made with soda cans as well.

KATHI from Iron River, MI

---
Most Recent Answer
By Diana Morgan 4 Flag
September 14, 2015
On you-tube there are videos that show you how to make purses from soda cans. More than likely there is a video for a wallet there also. Basically you can cut squares or rectangles from the can, then you punch holes in the squares or rectangles with a regular hole punch (I would use a leather punch if you have one - with 1/4" holes for the punch) all around the square. You then crochet with a sturdy yarn or string around the squares. Attach the squares together with crochet. You could use Velcro for the clasp. You can use paint or duct tape before punching the holes if you want it one color.
I would like to find a pattern for making a windmill out of soda cans.

Erin