Save some of those beautiful flowers gracing your garden by drying them. This is a guide about drying flowers.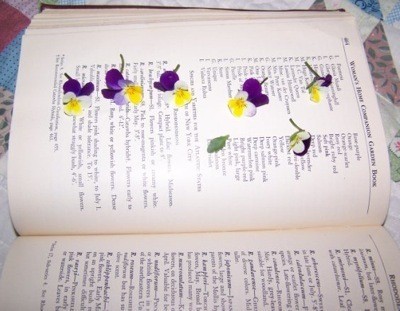 Filter

: All Articles
Sort

: Relevance
Lay the open side toward the spine of a book, slightly press open the larger ones to assure they will lay flat. Then slowly close the book, watching to make sure you don't bend a petal. This book is full of all sorts of leaves and blossoms.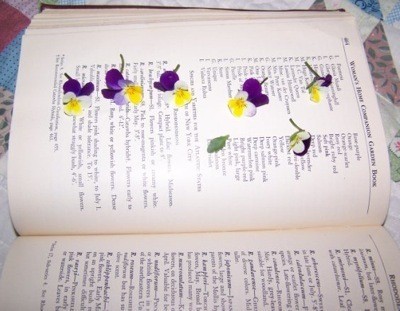 This is a guide about how to press flowers. Pressed flowers can be used in many craft projects. Pressing them is also a way to preserve special blooms.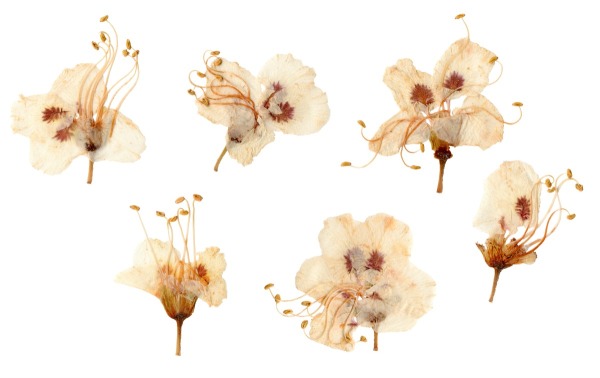 I'm hoping someone will give me 'tried and true' instructions on how to dry fresh flowers. My daughter is getting married soon and although it's unconventional, she has promised to give me her bridal bouquet as a memento of that special day.

We are extremely close, so her gift to me will be very special and precious. I would much prefer some advice from someone who has actually done it successfully. Websites are sometimes a hit or miss affair.

Cettina from Malta, Europe
Answer
Was this helpful?
Helpful?
Yes
Best Answer
I used this product bought from Walmart about 7 years ago, sold in the craft section. I bought the can for the same reason and preserved my daughter's bouquet. Since then I have used the same crystals for many other flowers. The box will tell you step by step directions. She still has her roses that we dried and put onto a grapevine wreath for her home. You just get a shoe box with lid put some granuals in the box add your flowers and add more granuals to each little crack and crevice, keep layering with the mixture then cover in dark closed area for like 7 days you'll find then dry and ready to use. After done put you mixture in a shallow pan and let dry out in the sun then put back in your container for other uses later. This stuff will last you forever as long as you dry it out good after each use. It's called flower drying art silica gel, but its like sand. Good luck.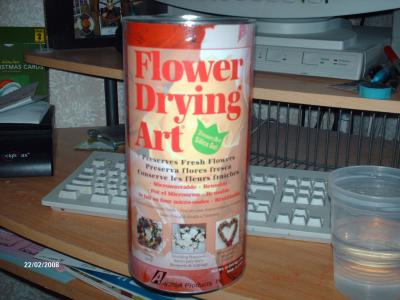 Reply
Was this helpful?
Helpful?
Yes
By guest (Guest Post)
Flag
Best Answer
As said earlier some flowers will not dry out and stay together but I do this professionally for my business, and all you have to do is remove flowers from form and rubber band together and hang from say your curtain rod. It takes from 1-4 weeks depending on moisture in the air, but it works well after they are dry spray with hairspray to keep intact.
Reply
Was this helpful?
Helpful?
Yes
Read More Answers...
This is a guide about drying flowers in a bridal bouquet. One way to preserve your bridal bouquet is by drying the flowers.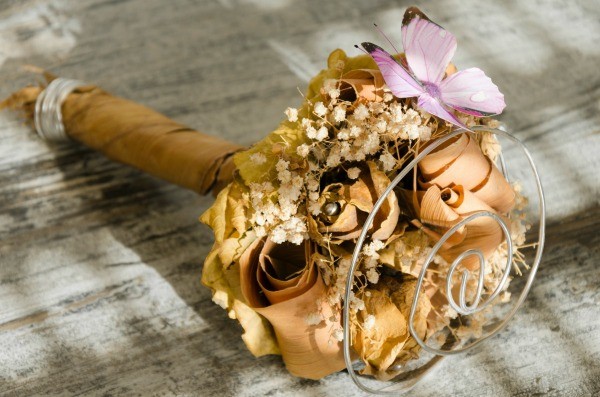 How do you dry a rose to keep it forever?

Cassie from Dublin
Answer
Was this helpful?
Helpful?
Yes
By guest (Guest Post)
Flag
Try Dry Ice.
Reply
Was this helpful?
Helpful?
Yes
Just pick the flowers with the stems on and put them in a vase of water. Leave them in the vase and replenish the water as needed, until the daffodil flowers are completely dry. It takes about a week. I don't know why they dry so well this way, but it is simple and works great. I use the dried heads in wreath making.
By Anne from Green Bay, WI
Comment
Was this helpful?
Helpful?
Yes
We have beautiful flowers in our country like roses and carnations. I would like to dry them without changing their color. Any ideas how I can do it? Thanks.

By Dorothy
Answers:
Drying Flowers
After being in the floral business 34 years and speaking from experience, you will not be able to preserve the color of the chosen blooms to dry them. You can hang them upside down and tied together in a cool dry location, dark is good until they are dried. You should be able to buy at a craft store or online, a floral spray mist/tint, this will help to bring the color up some but it will not bring it back to the original natural color.

Also, carnations are known to shrivel up and become not all that attractive once dried. Roses hang upside down while still a bit closed as they will open a little more once hung to dry. A hook cut from wire is best to use. Rubber band the bottom of the stems 3 or 4 to a group, slide the hook in and under the rubber band and then put the other end of the hook over a coat hanger and pinch closed. Hang up the coat hanger in the basement or attic, garage or even a closet if you have room, should take about 2 weeks to be completely dry. Don't put too many together or they will mold and get smelly, not to forget it will not be attractive on the blooms.

Hope this will give you inspiration to go forth with this project! (09/22/2009)

By Beau D
Comment
Was this helpful?
Helpful?
Yes
Tips and ideas for drying flowers. Feel free to post your ideas.
Answers:
Drying Flowers
Even with the increased popularity of plastic and fiber flowers (silk for example), many people still prefer "the real thing" preserved in a lifelike manner. Flower preservation has become a popular hobby. Flowers such as marigolds, zinnias, goldenrod, yarrow, roses, and hydrangeas are readily available and the costs of additional materials needed are relatively inexpensive when compared to that of other hobbies.

You can preserve colored fall leaves, magnolia leaves (for wreaths) and mistletoe (for holiday decorations) with glycerin, giving them a very natural appearance. Many people like to preserve the flowers from a wedding bouquet.

Preserving flowers and foliage can be fun year round. Some of the more common methods employed to preserve flowers and foliage are covered below.
(08/01/2007)

By lewis_admin
Comment
Was this helpful?
Helpful?
Yes
Does anyone have the instructions for drying flowers in the microwave using kitty litter?
Deb
Answers:
FEEDBACK
I'd recommend using the new dessicating litter. It really is the same as silica for flower drying. I don't know if clay litter would work. By using the microwave you can take several days off the drying process.
Make sure to leave a 1" long stem on each flower so you can attach florist's wire to it later. Never put any wire or metal in your microwave.
Put some kitty litter in a microwave-safe dish. Make a shallow spot in the middle just large enough for your flower to sit in, head side up if possible, if not, lay the flower on it's side.
Sprinkle more kitty litter on top of your flower as gently as possible until it is completely covered.
Cook the dish in the microwave for 60 seconds on high if you are drying thin-petaled flowers like pansies. For thicker petaled flowers, like roses, add another 60 seconds.
The dish will be very hot so be careful. Let the dish and kitty litter cool down completely, before you carefully remove the flower. If it is not cooled completely the flower will still be limp and will lose it's shape.
Use a small, soft paint brush to gently brush off any leftover litter. (12/01/2000)

By admin2
drying flowers
I used to work in a flower shop, and I've seen attempts at the "kitty litter method", I've never heard of using a microwave. If these flowers are something you truly want to last, ie. a wedding bouquet. Don't mess around with kitty litter or your microwave. If you are really serious about saving them as a keepsake you will want to pay the money to have it done professionally or do a little more research and do it yourself in a professional manner.(12/01/2000)

By admin2
Comment
Was this helpful?
Helpful?
Yes
I am looking for free way to dry roses. Thank you for any help on this subject.


Aquarius_Justme from Ontario Canada

Answers:
How to Dry Roses?
02/25/2001
Hang them UPSIDE DOWN in a place where they might get a breeze, esp. a warm breeze. In one office where we got lots of flowers, I found that behind the copier, there's a vent. I hung roses upside-down (rubberband around the stems and paper clip through the rubberband) somewhere where they wouldn't get bumped. After a week they were hard and pretty.
By raptorrunner
How to Dry Roses?
02/27/2001
I received some long-stemmed roses and dried them by putting a rubber band around the bottom of them, attaching them to a coat hanger and hanging them upside down in the garage. They turned out just beautiful. Then my daughter brought over some dried hyderangea from her yard and made me a wall tree using a 4' artificial Xmas tree as a base and covered it completely so that you could not see the green at all. We bought an angel bowl wall vase for the bottom of the tree and put small white lights throughout the tree plus some small "robins" and a "z" (shape of design) ribbon across it. I receive never-ending compliments on it. Lori
By AZLEADFOOT2
How to Dry Roses?
03/02/2001
I tie a string to mine and hang them upside down until dry! Takes about 1 week this way.
By Diane in MICHIGAN
How to Dry Roses?
03/02/2001
Before the roses become ugly, take them out of the water, strip the remaining leaves off and group a few together with a rubber band and hang upside down in a dark place to dry. Hanging upside down keeps the stem and flower head in a straight upright position.I don't know if this is the correct way to do it, but I spray mine a number of times with clear aerosol spray ... makes them shiny and sturdy. Add some artificial greenery to your arrangement. It looks pretty and lasts for a long time and it is practically FREE since you would otherwise have thrown out dead flowers!
By Syd - Dunkirk, MD
How to Dry Roses?
03/03/2001
Yes a dehydrater will do the trick. Also, try tieing them together with a rubberband or string then just hang them upside down from a hook or make a drying rack out of wood or twigs. They will dry beautifully.
By B. Brudon
How to Dry Roses?
03/04/2001
You can also dry them in the microwave in very fine cat litter. They really retain their color this way. Just make sure that you sprinkle the cat litter in between the petals so they will hold their shape.
By marbles
Drying Roses
10/25/2005
As the roses start to fade, place them in a vase with NO water, allow to air dry (allow for plenty of circulation). Once completely dry, place in a ziplock bag. I have done this with every rose my husband has ever sent me and I plan on using the petals when our 2 daughters get married!
By Diana
Drying Roses
10/28/2005
The best way I have found to dry roses is to bundle them in no more than 5 roses somewhat loosley, and tie with double rubber bands and hang upside down in a darker room for several days or even weeks. As the roses dry the rubber bands will shrink with the stems so they won't fall out of the bundle.I use a paper clip that has been opened up and insert it in the rubber bands and then you have something to hang it from. Remove all leaves. Hope this helps.
By Connie
Comment
Was this helpful?
Helpful?
Yes