I'm hoping someone will give me 'tried and true' instructions on how to dry fresh flowers. My daughter is getting married soon and although it's unconventional, she has promised to give me her bridal bouquet as a memento of that special day.
We are extremely close, so her gift to me will be very special and precious. I would much prefer some advice from someone who has actually done it successfully. Websites are sometimes a hit or miss affair.
Cettina from Malta, Europe
Answers
February 22, 2008
0

found this helpful
Best Answer
I used this product bought from Walmart about 7 years ago, sold in the craft section. I bought the can for the same reason and preserved my daughter's bouquet. Since then I have used the same crystals for many other flowers. The box will tell you step by step directions. She still has her roses that we dried and put onto a grapevine wreath for her home. You just get a shoe box with lid put some granuals in the box add your flowers and add more granuals to each little crack and crevice, keep layering with the mixture then cover in dark closed area for like 7 days you'll find then dry and ready to use.
After done put you mixture in a shallow pan and let dry out in the sun then put back in your container for other uses later. This stuff will last you forever as long as you dry it out good after each use. It's called flower drying art silica gel, but its like sand. Good luck.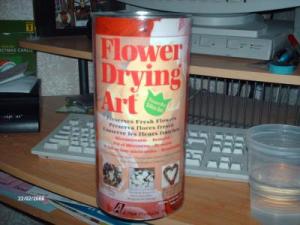 By denise w (Guest Post)
March 1, 2008
0

found this helpful
Best Answer
As said earlier some flowers will not dry out and stay together but I do this professionally for my business, and all you have to do is remove flowers from form and rubber band together and hang from say your curtain rod. It takes from 1-4 weeks depending on moisture in the air, but it works well after they are dry spray with hairspray to keep intact.
February 22, 2008
0

found this helpful
That silica is great stuff. It works well. Just make sure that the flowers you 'dry' are kept out of moist areas of the house.
Moisture can cause them to become moldy.
By Carol (Guest Post)
February 27, 2008
0

found this helpful
I've used the Flower Art Drying too. Just be warned, if your daughter has peonies, they will not dry. I learned that the hard way with my bouquet.
Answer

this Question