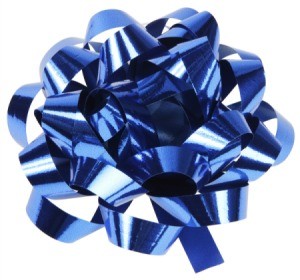 Sometimes we need some help locating replacement instructions. This guide is about finding an EZ Bow Maker instruction manual.
Ad
---
Here is a video I found about using the EZ BowMaker. If you have any tips on bow making, please add them to the feedback below.
Questions
Here are questions related to Finding an EZ Bow Maker Instruction Manual.
I have lost the instructions to my Deluxe EZ Bow Maker. Where can I print a set of instructions?
By Angela from Tampa, FL
Ad
---
---
Best Answer

By Angela [1]05/28/2008
I still have the instructions for mine. I'm not sure where you can get them online as their website doesn't work for me. Here is the information from the back of the booklet; perhaps it will help.
EZ BOWZ, LLC.
2354 Chapman Hwy.
Sevierville, TN 37876
(865) 453-3060
FAX (865) 429-3743
(800) 311-6529
web: www.ezbows.com (this site never loaded for me)
email: helpdesk@ezbows.com

Hope this helps you. E-mail me if you need more assistance.
Angie
I bought my EZ Bowmaker last year after Christmas and never opened it until today. The dowels that were supposed to be in the box apparently were never placed in the box to begin with. How would I go about getting the dowels?
By Dolores T.
Ad
---
---
Most Recent Answer

By Connie M.11/24/2013
There is nothing special about the dowels. Just go to a store like Home Depot and buy a 1/4 dowel. Then cut it to the length you want (about 6") and insert two side by side. You will then be able to make a bow demonstrated on UTube. Mine has a 3rd, shorter dowel but I don't have manufacturer's directions, so I'm not sure what it is for.
I bought the EZ bow maker whilst on holiday in America, but left the instructions in our accommodation. So I don't know how to use bow maker. Is there some way to get a manual?
By Frances
---
Most Recent Answer

By Elaine M P. [2]01/10/2015
I know this is an old post but did you ever find or still want instructions for the EZ bow maker? I have them let me know, thanks.
I'm hoping Elaine can get me a copy of the instructions for the e-z bowz maker. The phone number on the package is no longer in business. I lost my instructions this past Christmas and I'm trying to get new instructions before I put it away.
By Lisa M.
---
Most Recent Answer

By Dinah Ackerson [2]02/26/2015
In a search I found an instruction manual for the EZ Maker. Go to this site and download or copy:

http://www.docstoc.com/docs/1791039 ... %A2Z-BOW-MAKER%E2%84%A2-INSTRUCTIONS

Where can I get some sticks, and an instruction book for my E-Z Bow Maker? I purchased the kit yesterday from a Hobby Lobby store and it didn't have the items listed above.
By Diana from Corsicana, TX
---
Most Recent Answer

By DeBushe [18]11/18/2013
You can get any size dowels ("sticks") at a hardware store such as Lowe's or Home Depot. Then just cut them to the proper length with a hacksaw.
Or you could return the item to the store and ask them to open boxes until you find one with everything in it.
Or you could write to the manufacturer and request the items that are missing.
Does anyone have instructions on how to use the Deluxe EZ Bowmaker? I recently purchased one at the local Goodwill but it did not include instructions.

Gao from Marion, NC
---
Most Recent Answer

By Poppy S.05/17/2015
Full Instructions here:
http://www.readbag.com/ezcraft-pdf-ez-bow-maker-instruction

Solutions: Finding an EZ Bow Maker Instruction Manual
Do you have knowledge about this guide topic? Feel free to share a solution!