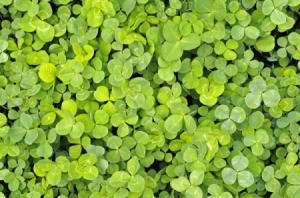 Sometimes this legume is growing in your lawn or garden where you don't want it. This guide is about getting rid of clover.
Ad
---
Solutions: Getting Rid of Clover
Read and rate the best solutions below by giving them a "thumbs up".
I had a pretty big clump of clover in my garden and yes, it was intrusive.
I counted it a blessing because I would go out each day and cut mostly the clover heads and not the long stems and feed the heads to my chickens that aren't able to get out and forage much.
The chickens had a hard time trying to get the long stems down their throats so that is why I cut them high. After a while, the clover was gone. I wouldn't spray anything unless it was an ant invasion and then I would spray at the source only.

By Billie [1]
Give a "thumbs up" to the solution that worked the best! Do you have a better solution? Click here to share it!
Questions
Here are questions related to Getting Rid of Clover.
I have clover that got in my garden, when I planted some iris bulbs. Now it is every where. Any clue on how to get rid of it with out killing my iris or other plants? I've dug it out several times and it just gets thicker.

Hardiness Zone: 5b

Cindy from Elko, NV
Ad
---
---
Most Recent Answer

By likekinds [66]04/12/2013
You can kill all or most all weeds in your lawn with a properly applied 2-4-D amine solution. Since clover is not a weed, 2-4-D amine, alone, is not very effective at killing it. You can buy 2-4-D amine which contains Dicamba. This combination is highly effective at killing weeds AND clover while not harming your grass.

You should note that 2-4-D will also kill your iris. I think the best way to handle your problem is to apply 2-4-D with Dicamba to your lawn, according to label instructions. Do not apply it on a windy day. Do not apply any closer than 2 feet of your iris. Do not allow any of the solution to come in contact with the iris. Do not allow the wind to drift any solution towards the iris.

As for the clover that's in the iris and the area immediately around them, I'm afraid you have no choice but to dig it all out by hand. Depending on how many iris you have, it could be a big job. If you love iris as I do, it will be worth it.

Hopefully, if you rid the rest of your lawn of clover and keep it out, you may never have to disturb your iris again due to clover.

In case my advice is not 100% accurate, please speak with your county agricultural agent at the Cooperative Extension Service. They can advise you further.

Good luck!
How do I get rid of clover?
By Jjo
Ad
---
---
Most Recent Answer

By likekinds [66]06/28/2013
2-4-D amine or other weed killer that contains Dicamba. Follow label instructions carefully.
What is the best weed killer for a small leaf type clover. The roots are approximately 2'' long.
Hardiness Zone: 8b
By David from San Antonio, TX
---
Most Recent Answer

By Elaine [129]03/19/2010
I agree, I can handle the clover but Creeping Charlie is another matter. I broke down and sprayed last fall because it was taking over my flower beds but normally I don't use chemicals.
We have creeping thyme in between pavers in our front walkway. There are 4 leaf clovers overtaking the thyme. Is there anything that can kill the 4 leaf clovers and not the thyme? Thanks.

Schmitty from So. Cal
---
Most Recent Answer

By Kim Churchman [3]06/10/2008
Just rip out the clover, because unless you apply weedkiller to each leaf individually with a paintbrush, you will kill both.