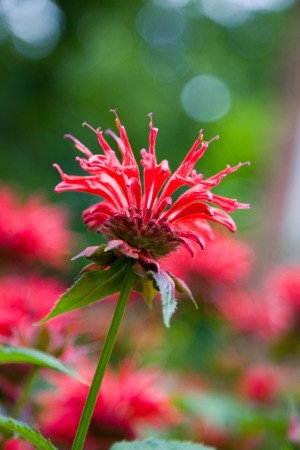 A wonderful flower for attracting hummingbirds to your garden. This guide is about growing bee balm.
Ad
---
Solutions: Growing Bee Balm
Read and rate the best solutions below by giving them a "thumbs up".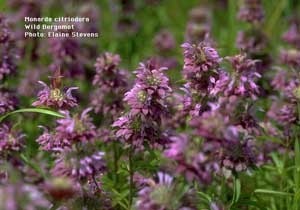 Botanical Name:
Monarda didyma
Common names:
Bergamot, Bee Balm, Oswego tea
Description:
Bergamot is grown for its decorative flowers and aromatic foliage. The plants consist of tubular, crown-like flowers on top of 3 to 4 foot stems with dark green aromatic leaves. Usually bright scarlet in color, the flowers bloom in mid to late summer and also come in salmon, pink, mauve, purple or white, which, along with most gardeners, bees and hummingbirds also find attractive.
Life Cycle:
perennial
Exposure:
full sun or partial shade
Cultivation:
Bergamot like moist, fertile soil so work plenty of compost into the ground before planting each spring.
Propagation:
seeds or cuttings; divide clumps in autumn every two years; named cultivars must be propagated by cuttings or division.
Parts Used:
leaves; sweet orange-like fragrance
Harvesting and Storage:
cut fresh leaves for use as needed
Medicinal Uses:
aromatherapy
Culinary Uses:
use leaves in salads, fruit salads, fruit drinks, teas (flowers), pork and other meat dishes.
Other Uses:
use flowers and leaves for wreaths, posies, aromatic bath water, cut flowers, perennial border and beds, potpourri, perfumes, scented oil and candles
Editor's Note: This is not the same bergamot as is used in Earl Grey Tea. That flavoring is derived from Bergamot oranges but the scent is very similar.
By Ellen Brown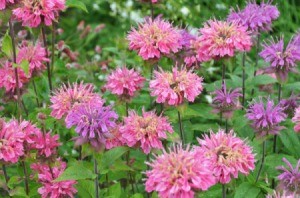 Botanical Name:
Mondarda didyma
Life Cycle:
perennial
Planting Time:
spring
Height:
3' to 5'
Exposure:
full sun to light shade (hot climates)
Soil:
nutrient rich, moist, well-drained soil
Hardiness:
zones 4 to 8
Bloom Time:
summer
Flower:
variety of colors including maroon, pink, white, purple and scarlet
Foliage:
green
Propagation:
division in spring
Suggested Use:
beds, borders, and wildflower gardens
Growing Hints:
Purchase a young plant or sow seeds directly outdoors two weeks prior to the last spring frost date or in early fall at least two months before the first frost date. Sow seeds 1 inch apart at a depth of 1/8" to 1/16". Start seeds indoors 8-10 weeks before the last spring frost. Thin seedlings to 12" apart. Avoid powdery mildew by keeping good air circulation around plants.
Interesting Facts:
Bee Balm is a must have to attract hummingbirds. Its flower petals can be used to make tea as well as adding color and taste to green salads. Stem leaves can be made into a tincture and used as a bug repellant.
By Ellen Brown
Give a "thumbs up" to the solution that worked the best! Do you have a better solution? Click here to share it!
Questions
Here are questions related to Growing Bee Balm.
Can I grow Bee Balm in a pot for the first season?
Hardiness Zone: 6a
By PUDBON from Halifax, PA
AnswerWas this interesting? Yes No
Ad
---
---
Best Answer
---
Are there seed pods on a bee balm plant and can I start a new plant from them? Thanks.
Hardiness Zone: 6b
By Warren from Halifax, PA
AnswerWas this interesting? Yes No
Ad
---
---
Most Recent Answer
By kathleen williams 76 1,661 10/04/2009 Flag
Yes, info below.

Flower Type: Perennial
Bloom Time: Summer
Height: 3'
Exposure: Full Sun, Light Shade in hot climates

When to Sow Outside: Spring, two weeks before average last frost or late summer/early fall at least 2 months before first fall frost.
When to Sow Inside: 8 - 10 weeks before last frost.
Seed Depth: 1/8" to 1/16"
Seed Spacing: 1"
Days to Emerge: 5 - 10
Thinning: 12" apart, good luck.